MUSIC
The Mountain Goats played East River Park on Saturday; here's a sort-of-review.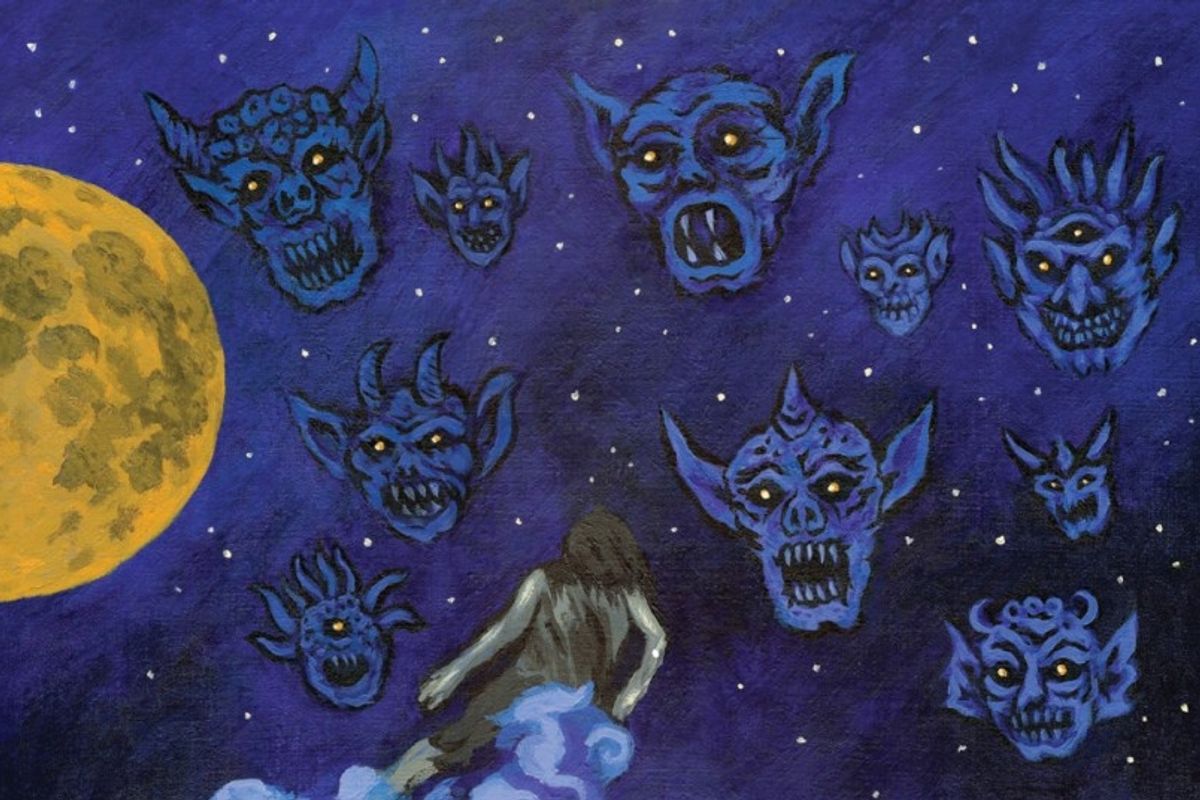 One Saturday, you hear that the Mountain Goats are giving a free concert in Manhattan's East River Park.
Maybe you go.
Maybe you sit on the grass and listen to John Darnielle thrash on his acoustic guitar and shout, "I am drowning / there is no sign of land" and other lyrics about death and violence into the cool summer night.
Maybe you look around and see that you're surrounded by adults who've brought champagne and picnic blankets and their dogs. Maybe you begin to wonder where all the young punks are, where all the kids with their pin-covered jackets and secret canisters of whiskey have escaped to. After all, aren't the Mountain Goats a favorite band of young misfits, of wannabe death metal players and goth kids finding solace in Darnielle's confessional songwriting?
Maybe then it hits you. You were that emo kid—you and all the others. It's just that now, you've all grown up.
Maybe, as you're realizing this while listening to "No Children" and watching the ferries on the river, you start thinking back to the years when you were still in secondary school. The memories come back slowly, as if beamed through a transistor radio, but soon enough you're back in those sunless halls. From above, you watch yourself waiting all day for the moment when you could disappear into your headphones to hear these songs, which—even though many of them were about things you'd never experienced—could carry you away from your fear of the other kids' laughter, from the tests, and, later in the evening, from the shadows of your suburban house.
Maybe it wasn't the Mountain Goats for you. Maybe it was Death Cab for Cutie, or Green Day, or Brand New, or some other band whose music conveyed that same nexus of misery, isolation, and persistent hope.
You remember how, despite its often desolate subject matter, that music always gave you hope. It promised that someday you'd get out, away from the cliques and the feeling that you'd never belong, that you'd never look right or say the right things. It promised that there was a world away from the house you felt trapped in, a world beyond your small, silent town.
Through those long winters, the music was there with you. You'd listen to the story of Jeff and Cyrus, or maybe rap or metal or folk or something completely different, something about sex or drugs and death, or any other extreme, unbridled feeling. You'd follow someone into the dark. The Devil and God were raging inside you. You understood.
The music was there on the nights you spent in your room writing, because nobody understood you like a blank page. It made you decide, one day, to take the chords you learned in music class and put your own poems on top of them, to make something out of that union. It made you pick up a guitar and play it until your fingers blistered. You held it like an amulet in those halls, that music, that anger. You thought nobody else had ever felt like you did, except for the people in songs like Bright Eyes' "Poison Oak," people who could also see their tearful words turn back into steam in the night. In part of your mind, maybe you even began to think that everything you felt and saw made you different, and able to see or create things that nobody else could.
Still, even with the music, sometimes it seemed like you'd never make it out of middle school alive. And then you thought high school would never end.
But it did. And maybe then you went to college and lost your mind a little and went on road trips and fell in love and tried out religion, and you decided to try listening to happier or less self-centered music at least sometimes, and maybe you somehow got a job and moved into your first apartment. Maybe none of it feels quite real, but it is, and the future has slipped into the here-and-now.
And in this version of the here-and-now, you're sitting by an amphitheater by the East River, hearing the Mountain Goats play. You're surrounded by hundreds of other people who are just like you, misfit kids from the suburbs, all of whom moved to Brooklyn.
You already knew that you were never that unique. In New York, there are thousands of people just like you, bookish kids from the suburbs who came to the city with dreams of creating beautiful things. In a moment of lucidity, you can see all of who they were and who they are. You see a pair of worn combat boots and a stick-and-poke tattoo or two here and there. You see that half of them have bangs, and nearly everyone is gay. And everybody has a new understanding of those old lines: And the cornet blows / where the oleander grows / and us too / not the same people that our old friends knew.
The Mountain Goats Attention All Pickpockets www.youtube.com
You know things don't really ever get easier, but that's started to matter less. You're probably more concerned about the state of the world than about what other people are thinking of you. Those sunless school halls that used to be your universe don't cross your mind. Now there are bigger bullies to worry about, and the world is far more complicated and more doomed than you imagined.

But still, sitting there in that park, maybe you decide to let all that drop away for a bit. You think back to that kid you were, back when the world seemed like it was ending every day, and you allow yourself a very brief moment of complete stillness. And you think, we made it.
The sun goes down, and the river starts to shine. The Mountain Goats play "This Year," and the memories become even more visceral. You think, maybe, this is the Jerusalem; this is the feast and the dance. You know that while change is inevitable, there are certain moments of eternity within the rush of time.
The Mountain Goats - This Year (Video) www.youtube.com
And then everyone is standing up and dancing; someone pops champagne, it explodes over your head, and you wish you could time travel back to your old terrified self and say, you are going to make it through this year if it kills you, kid. But you know that John Darnielle (or your version of him) was there, whispering it through sound waves the whole time.

There are moments when time collapses, and you can see the past and future, and when you're all the selves you'll ever be at once—the old crone in the climate change-devastated wasteland, the twenty-something living in Brooklyn, the kid writing crazy novels in the dead of night. The best kinds of concerts can create those moments, you think, can freeze time and open up a window into a more universal, collective worldview.
In truth, you really have no idea what will happen next. You could get hit by a car on the walk to the train, and it could all be over. But every moment in your life so far has led you here. And for once, you know you're exactly where you're supposed to be.