megan fox pregnant
Clearly divorce suits Megan Fox, because when she stepped onto the red carpet last night she was positively glowing!
Fox, 29, was out and about at CinemaCon in Las Vegas promoting her upcoming movie Teenage Mutant Ninja Turtles and what no-one could fail to notice is that she was rocking a baby bump!
The Most Scandalous And Sexy Movie Scenes In History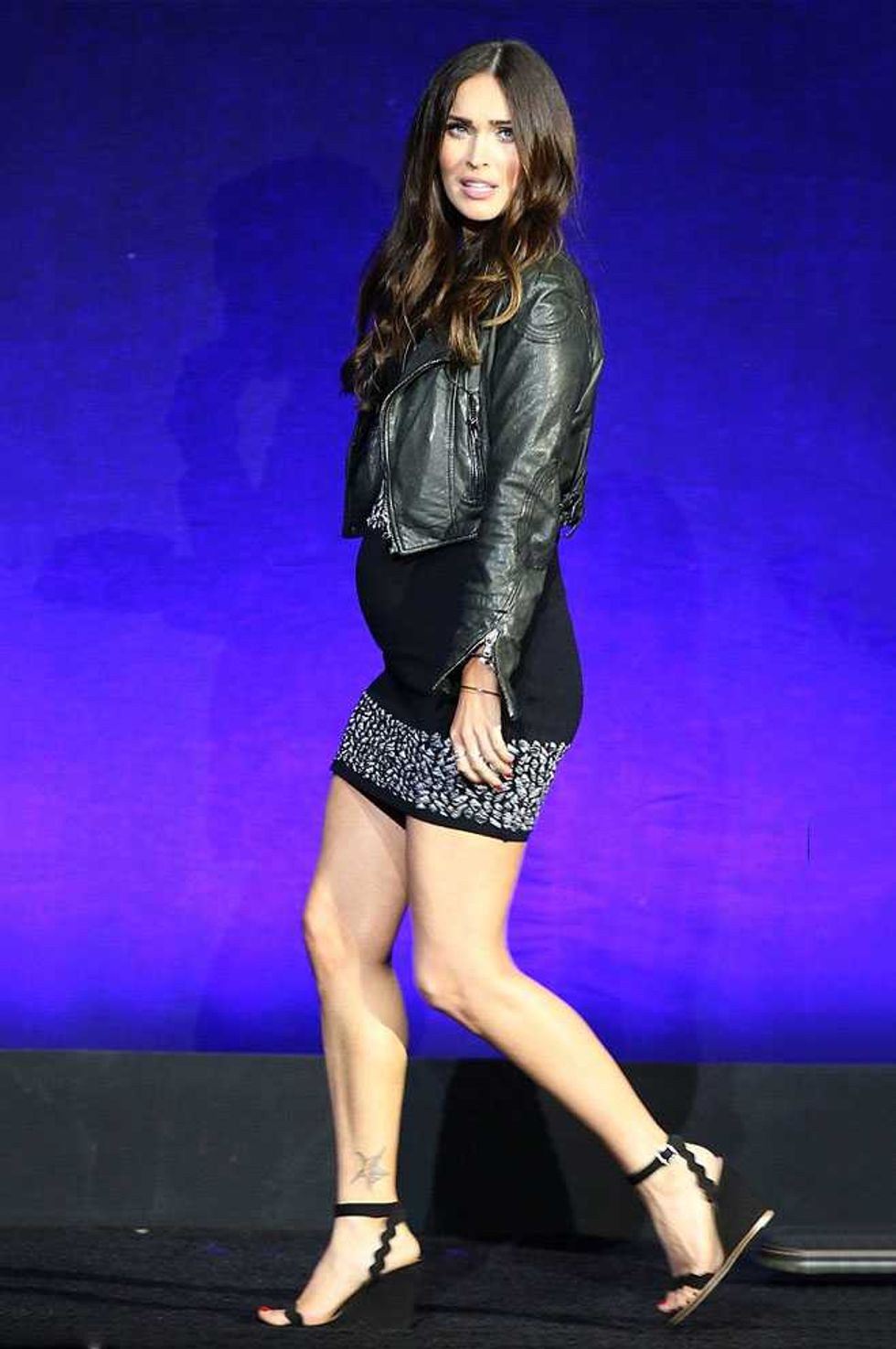 This was Megan Fox's way of announcing her pregnancy.
This is a teeny bit confusing because Fox and her husband of five years, Brian Austin Green, 42, announced their split last August, having already been separated for six months! Divorce papers to end their union have been filed (he is seeking spousal support) and the divorce is still pending.
The couple who had been together eleven years, have two children together, Noah, 4, and Bodhi, 2, so if the baby Megan is carrying is Green's it will be their third child together. Despite being estranged, Fox and Green have been spotted in public spending time together lately without their kids (presumably they've been spending time together in private too!).
There's been no hint of a bump in pap shots as recently as March, but there was definitely no mistaking it last night when she wore a fitted Versace dress as she walked the red carpet with her co-stars—multiple sources confirmed the pregnancy news.
Is Monogamy Necessary? 10 Celebrity Couples Who Have Open Relationships
The Transformers star gave a frank interview to Mens Health back in 2014 in regard to her marriage to the Beverly Hills, 90210 star and maybe they've been able to work through the issues about her career that were said to be the cause of their problems. She said at the time;
"You can't live in a fantasyland and think that everything's going to be perfect all the time. You will go through phases where you're just not getting along. You're not communicating well. That's going to happen, and it's going to feel impossible to you sometimes. It might not even make sense to you sometimes. Arguments are normal.
You have to be patient and sit through that and remember that this is a part of human communication and interaction…Brian is my soul mate. I happen to believe that. He's definitely meant to be the father of my children. That makes it easier for me to work through things, because I always see the spiritual side of things. I look at the end game."
Well congratulations to Megan, and if appropriate, Brian...
megan fox pregnant
megan fox pregnant