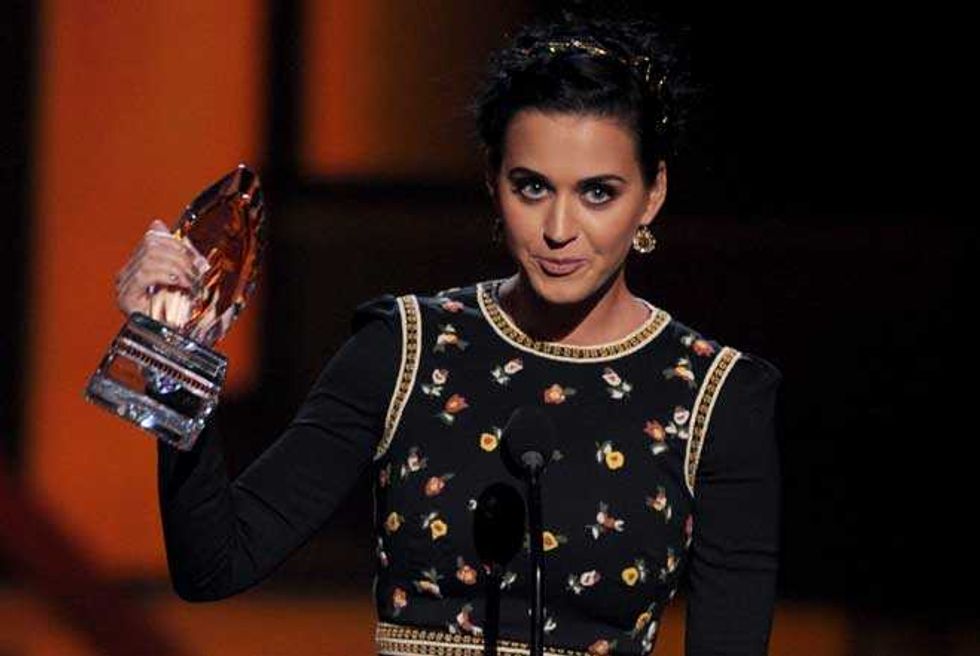 The People have spoken. The 39th People's Choice Awards went down on CBS last night—what, you mean you didn't watch?—and as usual, much of the Top 40 elite was honored at the fan-voted ceremonies. Rihanna, Nicki Minaj, and (of course) Taylor Swift were among the honorees, for Favorite Hip-Hop, R&B and Country Artist (figure out which one is which!), and as they have throughout the year, One Direction represented in full effect, getting the big two wins in Favorite Song ("What Makes You Beautiful") and Favorite Album (Up All Night).
But the biggest winner of all was that juggernaut of the People's Choice Awards, Katy Perry. After winning twice in 2010 and three times in 2011, Katy continued the trend by collecting in four categories tonight—though one of the wins ws really Katy's fans honoring themselves for all their hard Choosing work, as the Katycats beat out the Lovatics, the Directioners and yes, even the Beliebers for "Favorite Music Fan Following." Imagine how many of those things Katy might win next year, when she'll probably have an actual album out—they might just have to close down the music wing of these awards entirely.
Aside from all those obvious winners, a couple less-obvious fan choices were made in the music categories last night. For one, The Wanted triumphed in the Favorite Breakout Artist category, despite the presence of their far more popular peers One Direction, who had the year's Favorite Album and Favorite Song but apparently must lose to The Wanted in terms of interviews or album liner notes or something.
Far more surprising, however, was the winner of the Favorite Male Artist—singer/songwriter token "Hey we need a fifth nominee, what person whoobviously won't win had a medium-sized hit this year?" nominee Jason Mraz, who triumphed over Justin Bieber and Chris Brown. Sorry, Beliebers and Team Breezy—your lunacy just can't compare to that of the Mrazzies. No shame in getting beaten by the best.