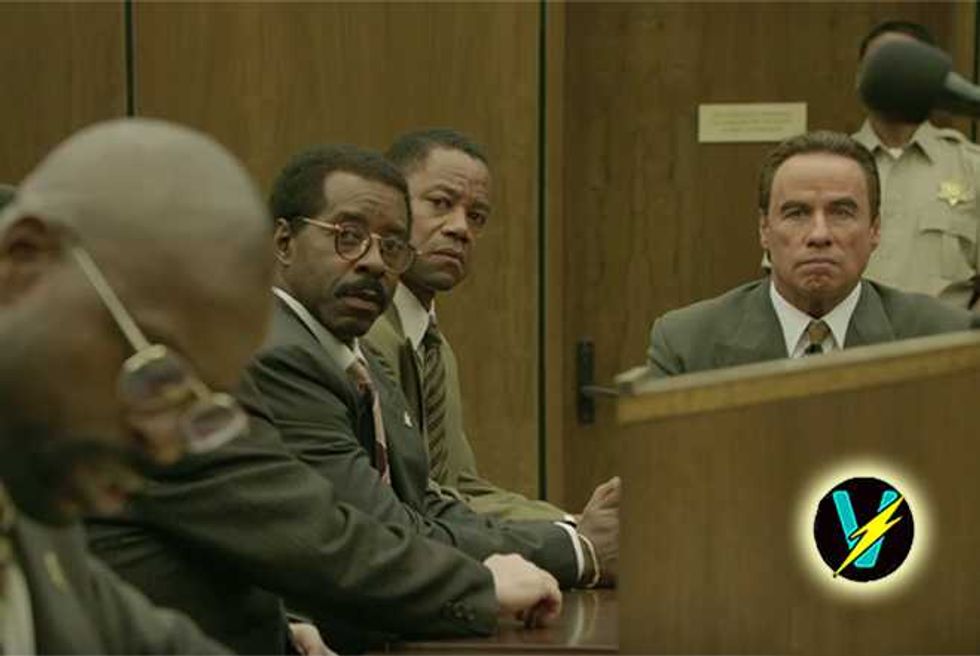 people v oj simpson trailer
Oh boy, are we all in for a televisual treat next year—courtesy American Crime Story: The People v. O.J. Simpson.
If there's one thing Glee and American Horror Story creator Ryan Murphy knows how to do really damn well, it's producing gloriously camp TV shows. And, if the trailer for his latest masterpiece is anything to go by—he's upping the ante yet further this time round.
Conspiracy Theory Thursday—Khloe Kardashian's Real Dad Is OJ
American Crime Story: The People v. O.J. Simpson, is the first installment of a new limited series, produced by Murphy, which is set to air next February, on FX.
Based on Jeffrey Toobin's best-selling book, The Run of His Life: The People v. O.J. Simpson, the show tells the story of the now infamous murder trial, from the viewpoint of the defense and prosecution attorneys involved in the case.
Ron Goldman's Father—Rob Kardashian Hid Evidence For OJ Simpson!
It's got all the hallmarks of must watch TV—a truly insane story that gripped the nation and remains controversial to this day, an award winning production and writing team, and a stellar cast.
Like, a REALLY stellar cast—Cuba Gooding Jr. as O.J. Simpson, John Travolta as defense attorney Robert Shapiro, David Schwimmer as defense attorney Robert Kardashian, Sarah Paulson as prosecutor Marcia Clark, Courtney B. Vance as defense attorney Johnnie Cochran, Bruce Greenwood as Los Angeles County District Attorney Gil Garcetti, Selma Blair as Kris Kardashian [now Kris Jenner], and Connie Britton as Faye Resnick.
Kanye West Thinks OJ Simpson Is 'Amazing'
But, forget the acting pedigree—going by the trailer, the wigs and makeup alone are going to steal the goddamn show.
There's Paulson's ratty looking old rug masquerading as a hairdo; Travolta's fake bushy eyebrows and layers-thick pancake makeup; Schwimmer with God only knows what the fuck on his head and face….
This is epic!
Nicole Brown Simpson's Sister Tanya Forgives O.J. Simpson, But Will 'Never Forget'
Oh, and then there's the dialogue!
"Nobody gets killed in Brentwood," opines Paulson, as Marcia Clark.
"I'm not black. I'm O.J.!"  Declares Gooding Jr., as Simpson.
"CHOOSE A SIDE!" Screams Vance, as Cochran.
"If it doesn't fit, you must acquit," says nobody in the trailer, but you just KNOW that's coming.
Q: She Is The Jeopardy Contestant With The Most Annoying Voice Ever
American Crime Story: The People v. O.J. Simpson premieres February 2, 2016 on FX
For more entertainment, world, music and pop culture updates and news, follow Max Page on Twitter