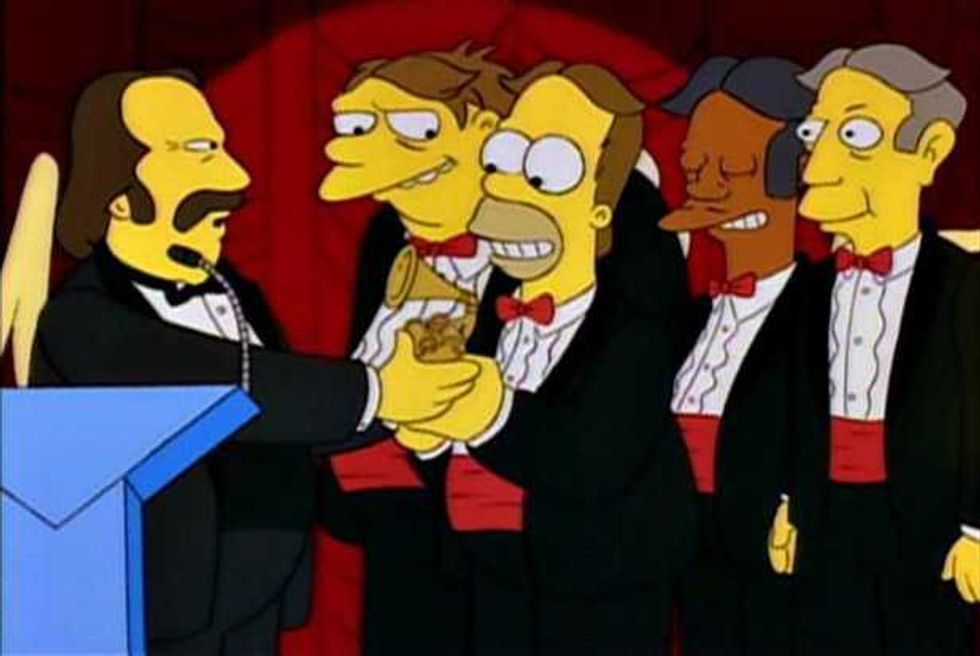 Now that we're at the proverbial All-Star Break of the 2011 pop season, we at Popdust feel it's time to stop futzing around and get down to business with discussing what's really important—hardware. As in, who's going to be going home with what awards at the end of the year? Surely, there's a lot of pop music left to be played in the '11 calendar year, but with six months now in the books, we're at least at a point where we can start talking about who's in the lead for the genre's most prestigious honors.
So take a look at our award-winners for the first half of the season—the best newcomers, supporting players, and of course, the season's MVP—and let us know if you disagree, or if you see anyone else making a second-half surge to snatch away the top prizes.
MOST VALUABLE PLAYER: LADY GAGA
Say what you will about Born This Way, but there's no doubt that Lady Gaga owned the pop discussion in the first half of 2011. The title track was the most anticipated song, her Grammys appearance was the most anticipated performance, "Judas" was the most anticipated video and the album was the most anticipated album. And little if any of it disappointed—"Edge of Glory" is still one of our favorite singles of the summer, the Grammys performance was one of the most iconic in recent memory, and even if Born This Way's one-million debut week was minorly Amazon-and-iTunes-assisted, it was still one of the biggest and best pop albums released this year. It'd be impossible to imagine the first half of 2011 without Lady Gaga, and we wouldn't much want to, either.
Runner-Up: Chris Brown (I know, we're as surprised as you are)
ROOKIE OF THE YEAR: THE VOICE
A singing competition involving swivel chairs? Putting Christina Aguilera on at-least-partially-live TV after a bad album cycle and assorted debauchery? Yet another American Idol ripoff, because that obviously worked out for American Juniors, the Star Search reboot and the godawful parody that was Superstar USA? (We watched two episodes. We're so sorry.) If you'd predicted The Voice would be a flop once the details came in, nobody would disagree with you. But while The Voice has its downsides (Carson Daly, Alison Haislip, every backup dancer), it's nevertheless a much better watch (with surprisingly good ratings) than the too-seasoned Idol that's lurching onward these days powered by little more than auditioner gawking, name recognition and the times Steven Tyler makes a funny. And in just one season, it's had plenty of moments: Dia's "Heartless"! Family-man crooner Javier Colon's ascent to victory! Everything Cee Lo has ever said or done! We know which singing competition we're looking forward to most, and it's not the one with Jennifer Lopez or even (yet) Simon Cowell.
Runner-Up: Wiz Khalifa
COMEBACK PLAYER OF THE YEAR: JENNIFER LOPEZ
We certainly didn't see this coming when it was announced last year that Jennifer Lopez would be taking over the Sympathetic Ex-Pop Star Judge chair that Paula Abdul held for eight seasons on American Idol. Not only did J. Lo end up as the show's most popular and reliable judge, but she was able to use her Idol success as a springboard towards relaunching her pop career, returning her to the Top 40 for the first time in over half a decade with the smash hit "On the Floor." We're thrilled to have Jennifer back in our lives, and this time without all the relationship drama and the bad romantic comedies—the best of both worlds. (For now, anyway.)
Runner-Up: Cee-Lo (Good year for music competition show-based comebacks)
MOST IMPROVED PLAYER: ADELE
Adele was no one's bet for breakout star of the year when 2011 started, as she seemed likely to be remembered by history as part of the Amy Winehouse and Duffy-led wave of late-'00s British chanteuses that had one big hit and then disappeared. But Adele quickly proved that "Chasing Pavements" was just an opening act to her true US breakthrough, as her heartbreak-on-vinyl sophomore release 21 topped the charts and stayed there for an incredible ten non-consecutive weeks, and romantic-devastation anthem "Rolling in the Deep" became the most omnipresent pop hit since "Hey Ya!," dominating the airwaves and receiving the cover treatment from everyone from John Legend to Linkin Park. Whether Adele will be able to maintain a career's worth of this incredible success in hard to predict, but she's made for one of the great stories of 2011 thusfar.
Runner-Up: LMFAO
ROLE PLAYER OF THE YEAR: CLARENCE CLEMONS
All right, so this might be a little bit of a sentimental choice, given the Big Man's recent death, and given how other such supporting players as Skylar Grey ("Coming Home," "Words I Never Said," "I Need a Doctor") and Lil Wayne (every single other hit song besides those three Skylar ones) have put together such fine resumes this year. But still, Clarence's contributions to pop this year were the most delightfully surprising, emerging from out of nowhere on Lady Gaga's "Edge of Glory" and "Hair" with that clarion call of a saxophone wail, still one of the most comforting and exciting sounds in all of pop music. And if this is an ill-gotten win just due to Clarence's demise, well, consider it a lifetime achievement award. How many times should he have won throughout the '70s and '80s?
Runner-Up: Skylar Grey
For lots more awards, including our selections for Fans of the Year and pop's Least Valuable Player, click NEXT.
LEAST VALUABLE PLAYER: ENRIQUE IGLESIAS
Not only is Iglesias responsible for several of the worst singles of the last 12 months—"I Like It," "Tonight (I'm [Something]in' You) and "Dirty Dancer," all songs which emphasize the worst aspects of the Eurodance trend in pop music and which we'd be happy to hear on the radio just about never again—but his contributions were the least memorable parts in each of them songs. Handicapped by such high-profile guests as Pitbull, Ludacris and Lil Wayne (you didn't hear DMX or Ja Rule stopping by to do a guest verse on "Bailamos," did you?), Iglesias is irrelevant to each of his recent hits, any of which could've been performed by Jason Derulo or Jeremih with nothing gained or lost. Add to that him blowing his chance at being part of this year's biggest summer tour—Britney's Femme Fatale—due to petty billing squabbles, and it's clear that of any current Top 40 mainstay, Enrique contributed the least to contemporary pop music this year.
Runner-Up: 50 Cent
BUST OF THE YEAR: DR. DRE
One word: Detox. Put it out by the end of the year, Andre, and you're absolved. Jerk us around for another 12 months, and you're the biggest bust in pop every single year until the damn thing gets released. It's that simple.
Runner-Up: Willow Smith
FEUD OF THE YEAR: COMMON AND LUPE FIASCO VS. BILL O'REILLY
Rappers feuding with the political right isn't surprising—it's been going on since Charlton Heston sarcastically read off the lyrics to "Cop Killer," if not long before. Few, however, would've expected the two rappers to really ruffle the feathers of conservative talk show blowhard Bill O'Reilly in 2011 to be Common and Lupe Fiasco, two Chicago-based rappers known for their generally thoughtful and conscientious lyrics and decidedly un-gangsta public images. Both would come under fire on The O'Reilly Factor, the former for his old lyrics in praise of Black Panther Assata Shakur, and the latter for his statements calling Pres. Obama "the biggest terrorist" in the country. Jon Stewart would come on the show to defend Common, while Lupe himself showed up to throw down against the smug host, both faring admirably in their efforts. The two showdowns might be the only two times we turn on The O'Reilly Factor all year, but they were well worth the investment.
Runner-Up: Nicki Minaj vs. Lil Kim
CITIZENSHIP AWARD: TYLER, THE CREATOR
The award dedicated to the artist with the greatest off-the-court contributions has to go to Odd Future capo Tyler, the Creator, who has proven to be pop's greatest twitter ambassador in 2011. Starting feuds with Tegan & Sara, complaining about being harassed by the cops, or just waxing poetic about how he is A FUCKING TABLE, Tyler's twitter feed is never less than transfixing. But to key in solely on Tyler's social media work would also do a disservice to his other contributions to the pop community, including his shit-starting with Chris Brown, his dressing up like Justin Bieber, his storming off stage at South by Southwest, and his starmaking turn in a recent Funny or Die clip. The entire OFWGKTA has done an excellent job of keeping things entertaining in 2011 on and off the radio dial, and no one has played a larger part in that than Tyler.
Runner-Up: Christina Aguilera
FANS OF THE YEAR: THE BELIEBERS
Justin Bieber's crew could just about win this one in perpetuity, but they've had to step up their efforts in 2011 thanks to an unforeseen presence on Justin's horizon: Selena Gomez. Ever since she hooked up with The Bieb, every little thing that poor Ms. Gomez does is subject to the utmost of scrutiny from the Belieber Nation. Photographed without her purity ring? Slut! Fails to mention Justin at an awards show? Heartbreaker! Meeting in seclusion with the ghost of Anton LaVey? Devil worshippper! (OK, they'd probably have a point with the last one.) The Beliebers can't hold on to their boy's innocence forever, but they're certainly trying their absolute damnedest, and for that, they deserve commendation.
Runner-Up: The Little Monsters
Agree with our winners? Think we gave someone the snub? Got a few categories of your own to contribute? Let us know all about it in the comments section!