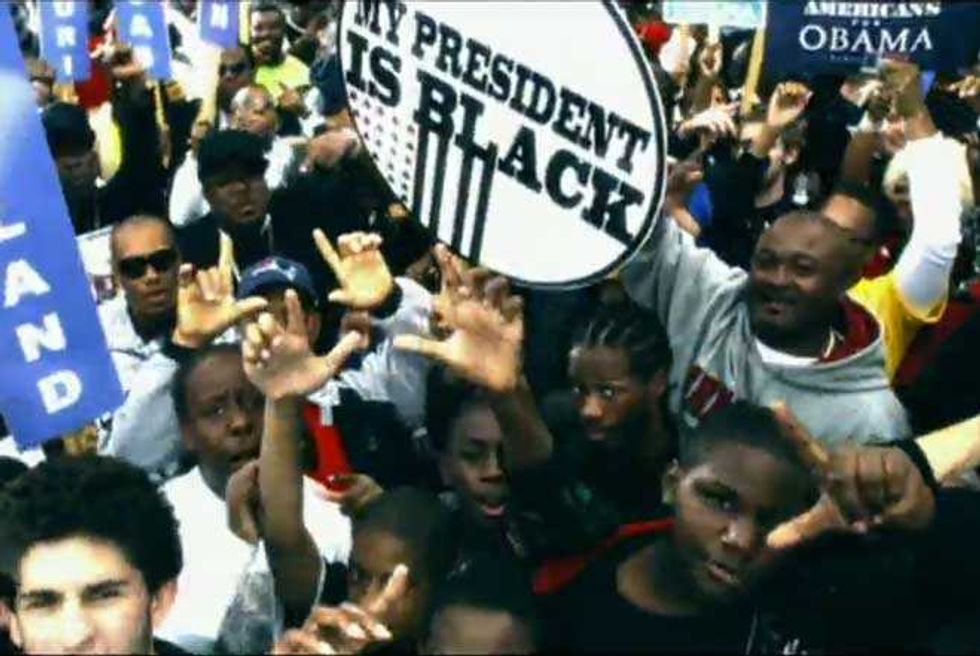 Amidst all the sadness with Selena Gomez and Justin Bieber ending their relationship, we must remember that this is a time of celebration as well—for at least half the country, anyway. Incumbent President Barack Obama was elected to a second term this last Tuesday, and if you're not already too busy cranking the Adele, you might want to take a moment this weekend to properly rejoice in our 44th president getting his second crack at it. Here are ten songs to help you do so.
AL GREEN, "LET'S STAY TOGETHER"
The President himself might already be siningg along to this one, as joyous a love song as ever written and one we know the Commander in Chief knows at least the first couple lines to. Hopefully our country will take the song's message over the next four years and stick with our man whether times are good or bad, or happy or sad.
DRAKE FEAT. KANYE WEST, LIL WAYNE & EMINEM, "FOREVER"
It may not mean nothin' to y'all, but there are plenty of people out there who do want this Barack-and-Michelle shit forever, man. Underrated side benefit of Obama winning the election—Kanye's "You would think I ran the world like Michelle's husband" line from this one gets to make sense for another four years.
AEROSMITH, "BACK IN THE SADDLE"
Technically he never left, so there's no real way for our president to be "Back" in the saddle per se, but there's no doubt that Obama was feeling the swagger of this song's creeping intro and badass guitar riff as he gave his second victory speech in five years. Feels even better the second time around, we're sure.
JAMIE FOXX FEAT. T.I. AND JUSTIN TIMBERLAKE, "WINNER"
Give the President the rock, he's open. Obama must feel like Jordan in Game Six these days, the guy you want with the ball in his hands late in the game, because he can close with the best of them. When you watch the President, whether giving a State of the Nation address or fist-bumping with his special lady, you are looking at a winner for sure.
GEORGE GERSHWIN, "RHAPSODY IN BLUE"
Did the president hear the climactic strains of this Gerswhin classic as the CNN Big Board was gradually overwhelmed with Blue, signifying his electoral college majority vote? If he didn't, a couple of us certainly did.
For lots more jams to celebrate the president's re-election with, including 2 Chainz and the Foo Fighters, click NEXT.
FOO FIGHTERS, "I'LL STICK AROUND"
The repeated yelps of "I DON'T OWE YOU A-NY-THI-ING!!" might be misleading here, as most would probably agree that Pres. Obama has not done enough in his first four years as our country's leader to simply coast from here on out. But as for the sticking around part...well, you don't see Mitt Romney waiting by the door to the White House with a bunch of suitcases and his own personal interior decorator.
BON JOVI, "THIS IS OUR HOUSE"
Speaking of the White House, the democratic party must be pretty pumped that they get to hold it down for another four years. "This is our time / This is our night." All true, and worth fist-pumping along to.
2 CHAINZ, "SPEND IT"
TWO TERRRRRRRMZ! The rapper born Tauheed Epps was the subject of any number of re-election-related puns over the internet this week, so we figured we had to make room for him on this playlist. Hopefully the President doesn't relate to too much of the debauchery and selfishness on display in this song, but we wouldn't be surprised if he was muttering "I'm ridin' 'round, and I'm getting it" to himself a whole lot over the course of Tuesday night.
PUFF DADDY FEAT. MA$E, "CAN'T NOBODY HOLD ME DOWN"
Mitt Romney ain't gonna take Pres. Obama's pride or hold him down—oh no, he simply must keep on moving. Also acceptable in this space would be Rick Ross' "Hold Me Back," though there are a couple dirty words too many in the final parts of that one for us to be comfortable picturing our Commander-in-Chief enjoying it in any proper capacity.
YOUNG JEEZY FEAT. NAS, "MY PRESIDENT"
This song is actually pretty terrible. But it's worth listening to at least once every four years.
What songs are you using to celebrate (or bemoan) the President's re-election? Let us know about it in the comments section!