Anthony Slater broke the news that JaVale McGee has made the Golden State Warriors 15-man roster. Get ready NBA: Tragic Bronson is back. Standing at 6'-11" with an enormous 7'-6" wingspan, the loping JaVale has always had the potential to be a game-changing rim-protector. Unfortunately, his career thus far has been defined by mental mishaps and frequent visits to the Shaqtin' A Fool highlight reel.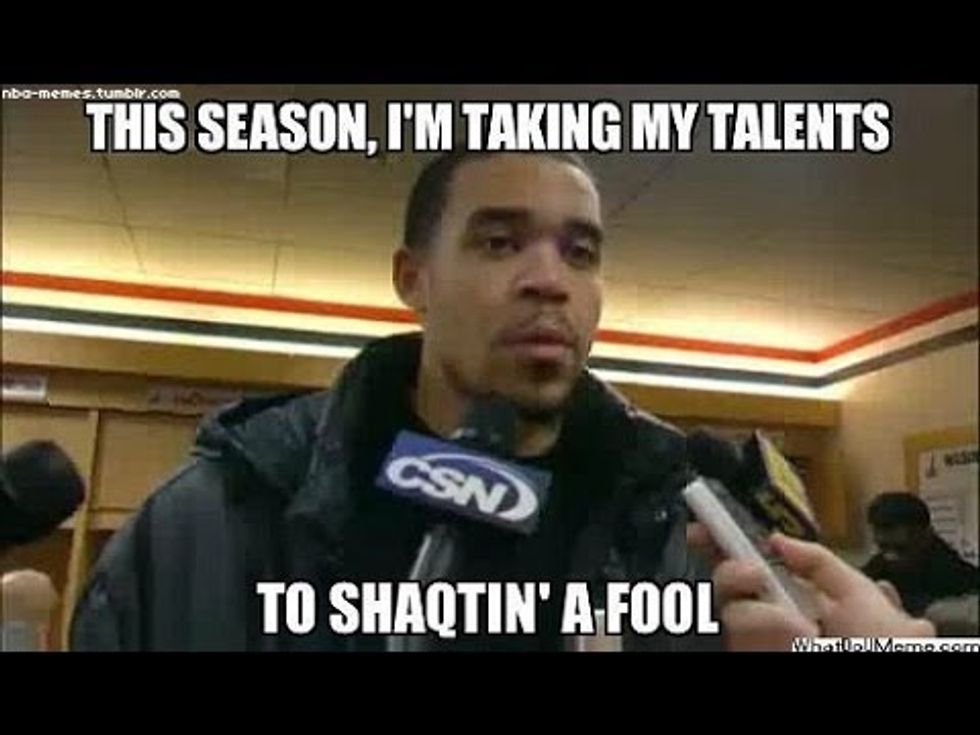 With the departure of Andrew Bogut, the Warriors desperately needed to add big man depth behind replacement, Zaza Pachulia. When Bogut went down in the Finals, it spelled disaster for the Warriors interior defense. Festus Ezeli, now with the Portland Trailblazers, looked lost; James Michael Mcadoo was bullied up and down the court; Anderson Varejao, who LeBron cited as one of his favorite teammates, fell his way out of favor with the referees with every theatrical fall on screens, rebounds, and shots.
The Warriors have supplemented their reserves of big men with Zaza Pachulia, David West, and now, JaVale McGee. Pachulia, a terrific passer to replace Bogut out of the high post, is a smart positional defender, but not enough of a riser to really contest attempts at the rim. West, while known throughout his career as a big bodied bruiser, is more enforcer than shot-blocker. At this point in his career, he'll be asked to play spot minutes at the 4 and 5, mostly in pick-and-pop situations.
Enter, Tragic Bronson. With a standing reach recorded at 9'-6", throw in a 32.5" max vert, you're looking at a monster roll man to complement Shaun Livingston and Andre Iguodala's fantastic playmaking sense out of the second unit. Put him in with the starting unit and he should be able to feast on weak-side cuts in a motion system that keeps the lane wide open. So much attention will be focused on closing out perimeter shooters, JaVale should find space in the seams to get to the rim airborne.
More importantly, JaVale should be able to help shore up a defense that struggled mightily in the last two games of the Finals. Remember, this is the guy who racked up 12 blocks back in 2011 against the Bulls, including 7 in the first half (sidebar: this game goes down as one of the most infamous triple-doubles of all time). This is the kind of guy who picks up goaltending calls on jumpers. This is the kind of guy who dunked three balls at once. Whether you love him or hate him, laugh or cry, Tragic Bronson can be an impact player at the NBA level. And he's back. Oh, he's back.
Related Articles Around the Web