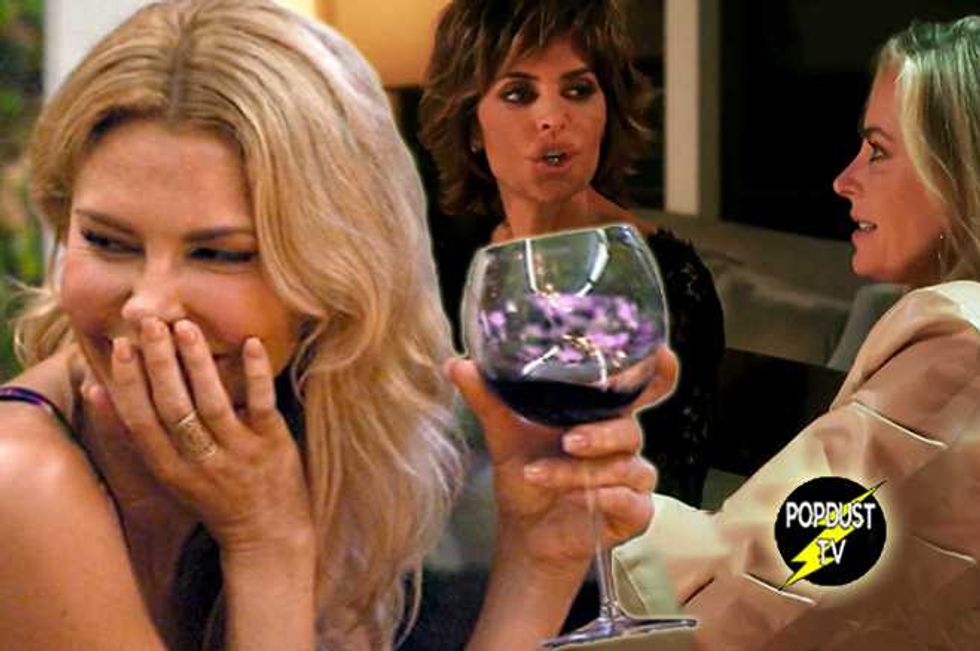 This week on The Real Housewives of Beverly Hills, the ladies of the 90210 took the saying "wined and dined" a little too literally. There were make-ups, break-ups, tears, tantrums, and wine throwing.
Money can't buy you class, folks.
Lisa Vanderpump finally agreed to sit down with Brandi Glanville. There is no denying how awkward it has been between the two of them all season. Brandi was kissing Queen V's ass like a pathetic peasant because she finally realized how badly she had fucked up. Lisa, on the other hand, was SO over their friendship. However, she decided to meet for lunch to clear some things up.
Long story short, they both apologized.
Brandi admitted she felt like a scumbag for having spread rumors that Queen V lived "deep in the Valley"…..oh, the horror! Lisa, in turn, apologized for bringing Scheana Marie around. In case you were blissfully unaware—Scheana is the former-mistress of Eddie Cibrian, Brandi's douchebag ex-husband. Brandi graciously accepted and said she's ready to have fun with Lisa again—Lisa, however, looked like she would rather play in oncoming traffic.
Meanwhile, Yolanda Foster was busy making another one of her children America's Next Top Model—all while still dealing with the aftermath of Bella's DUI. In order to hold her accountable for her actions, Yolanda decided to make Bella pay her own legal fees. I support that 100%. She's in college making more money than I've ever seen. She also took away Bella's phone and social media privileges. Any parent of a teenager knows the deal—take away their cell phone and suddenly they need to enter a psych ward.
Lisa Rinna, Eileen Davidson, Yolanda, and Brandi met for dinner. They were having what appeared to be a great time, until it became apparent that Brandi forgot to take her crazy meds again. A self-proclaimed soap opera super fan, Brandi, begged Eileen to act out a scene from Days of Our Lives. Eileen said no several times. So, Brandi decided to toss a glass of wine on her.
I think we can all collectively agree that she is a fucking lunatic. On what planet does she live? Eileen handled it rather gracefully. I, on the other hand, would have drowned that crazy bitch in the Pacific Ocean with a smile on my face. All the women looked shocked, while Brandi sat there and giggled. This lady is cray cray to the CRAY.
Kyle Richards was preparing for her daughter Alexia to leave for college. So, it only made sense for her to teach her how to do the laundry. Cause, ya know, Alexia's only friggin' 18-years old, so of COURSE she doesn't know how to wash her own clothes. Kyle cried as she told the teen that if she doesn't like school she can always leave. Alexia looked at her like she had 11 spinning heads.
The next night, Yolanda and "my love" AKA hubby, David Foster, hosted a fab dinner party. I wish I was friends with Yolanda—she could make a peanut butter and jelly sandwich look chic. Anywho, all the women were invited. Even wine tossin' Glanville.
Upon her arrival, Brandi pulled Eileen aside to apologize. It was a half-ass apology at most though—she handed Eileen some necklace as a gift and said she got caught up in the moment. Eileen accepted the apology.....probably because she knows Brandi is truly off her mother fucking rocker.
Yolanda played the piano and it was time for dinner. The gang was seated around a table that included Babyface. Lisa Vanderpump got confused and called him "Papaface." Yolanda gave a speech thanking "my love", as well as congratulating Lisa on her restaurant and Eileen on her Emmy. Brandi was chatting with Babyface's wife, Nikki, and asked to see her engagement ring. Brandi informed her that it is too small. She needs a muzzle.
After dinner, they all gathered around the piano while David and Babyface sang for them. Lisa Rinna pulled Eileen aside to discuss Brandi. Lisa R thinks Brandi is batshit crazy—Eileen thinks Brandi is just needy and craving attention.
Hmmmm, ya fucking think?
Ending on a truly heartwarming note, Babyface asked the ladies to pick a random subject for him to sing about. Brandi, being the class act she is, suggested "finger banging".... So.....a perfectly civilized evening at the Fosters was drawn to a close with Babyface singing a tune about finger banging your wife.
The Real Housewives of Beverly Hills airs Tuesdays at 9pm on Bravo.