Texas troubadors and resident rockers The Rocketboys made a little noise during Glee's season six (and final) premiere, with their track Viva Voce serving as the backdrop to one of the episode's opening sequences. The track ultimately hit No. 7 on the iTunes Rock singles chart and No. 31 on the iTunes Rock Albums (as a result) and is found on their latest EP, titled Left Right—produced by U2 and The Killers' collaborator Joe Chiccarelli, mastered by Emily Lazar (Linkin Park, Christina Perri) and released via Black Magnetic Records. Now, Popdust is extremely honored to premiere the official music video for the band's new single Loud and Clear, also a cut from their new project. "I wanted to write a song about pressing on, keeping on, but I wanted it to be honest and not too idealistic. 'Loud and Clear' is basically about working hard to achieve your dreams," the band shares with Popdust. "It tries to acknowledge that just because we work hard doesn't mean we deserve anything." The band is comprised of Brandon Kinder (vocalist and guitarist), Justin Wiseman (keyboards), Josh Campbell (bass), Josh Rodgers (drums) and Lang Freeman (guitar).
"There are a lot of entitled people out there who think they deserve more than they've been given. Tons of people work hard and never get anywhere. The chorus specifically came as a response to the Lumineer's 'Stubborn Love' that says 'keep your head up.' I was thinking, 'what would it mean to keep your head down?' Then I realized that would be a perfect fit. Ultimately, I hope all this work pays off and that's why I keep my head down."
Sit back, relax and enjoy The Rocketboys' outstanding Loud and Clear clip:
Here are the dates and cities for upcoming shows:
May 12 – Tulsa, OK
May 13 – Lawrence, KS
May 14 – St. Louis, MO
May 15 – Chicago IL
May 17 – Newport, KY
May 26 – Denver, CO
May 27 – Salt Lake City, UT
May 29 – Vancouver, BC
May 30 – Seattle, WA
May 31 – Portland, OR
June 2 - Orangevale, CA
June 3 – San Francisco, CA
June 4 – Los Angeles, CA
June 5 – San Diego, CA
June 6 – Phoenix, AZ
June 7 – Santa Ana, CA
June 8 – Los Angeles, CA
June 9 – Tucson, AZ
June 25 – Austin, TX
June 26 – San Antonio, TX
July 24 – New Orleans, LA
July 25 – Birmingham, AL
July 26 – Nashville, TN
July 28 – St. Louis, MO
July 29 – Indianapolis, IN
July 30 – Newport, KY
August 28 – San Marcos, TX
Find out more info and keep up with The Rocketboys on their official website.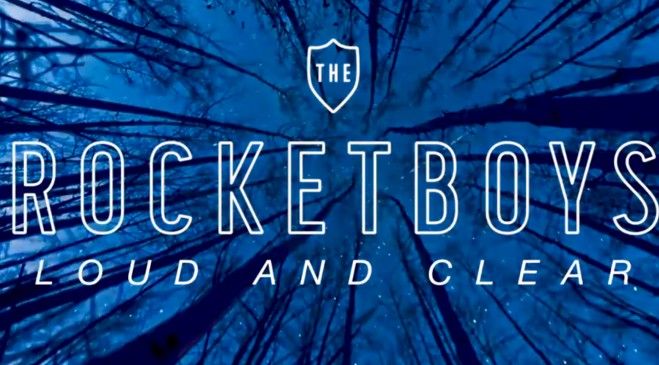 [PHOTO CREDIT: Chad Zellner]
Stay tuned for The Rocketboys updates. Be sure to follow @Popdust and @JasonTheScott on Twitter!