The Shape of Water is a love story about tolerance.
On The Surface
It's been called an unlikely love story, a tender fairytale, an erotic and innocent fable, and Guillermo del Toro's The Shape of Water is all of these things and more. Its love story is unlikely in the sense that a human woman and an amphibian creature fall in love and get it on, and familiar in the sense that outcasts and marginalized groups find trust and camaraderie with one another against the odds of social and class warfare. Set during the Cold War, The Shape of Water is fantastically rooted in human territory with good guys and bad guys and the in-between where moral codes, traditions, and caution give way to good old-fashioned love. Love is the source of oxygen in The Shape of Water, the life source that seems to give Eliza (Sally Hawkins), our mute protagonist, her last chance for one of life's most human and wondrous experiences.
Deeper Meanings
One of Del Toro's most romantic and visually stunning pictures, The Shape of Water is a beautiful ode to old cinema and a grand love story that surpasses the familiar notes of most romances. Filmed with an aquatic theme, each scene utilizes muted green, blue, and murky grey tones to evoke an underwater paradise. But there's a sinister tone to this world, and most Del Toro worlds, where the tenderness and innocence of humanity fights to keep the ugliness at bay. Eliza's endearing group of friends is comprised of artist neighbor, Giles (Richard Jenkins), a gay man attempting to reconcile the social realities of his desires with his need for companionship in a culture of underrepresentation, Zelda (Octavia Spencer) a Black woman who works day and night with Eliza as a cleaner at a government facility, often experiencing microaggressions and outright racism from her superiors, and her amphibian lover boy (Doug Jones) who's tortured and tested on like a lab rat. These misfits form a tender connection supporting and protecting one another, even encouraging each other to take risks despite the odds against them. Think Amelie (2001) with a touch of underwater magical realism.
Classroom Takeaways
So again, yes, this is about a woman who falls in love with a scaly, slimy, amphibian with webbed toes, and yet, that's not really what it's about. The Shape of Water is a love story about tolerance. Del Toro's heroes are freaks, usually mythical creatures that carry ancient wisdom (Pan's Labyrinth, 2006) or anti-heroes who smoke cigars (Hellboy, 2004). And Doug Jones is Del Toro's secret weapon, the man inside the suit who enacts these characters with elegance and charm. Jones is regal and sensual as the Amphibian Man, a god from the sea who sets his sights on the human outcast Eliza—both parties incapable of speaking and both parties waiting to be released. Their interactions are anything but perverse as they both struggle to find footing in a world that doesn't see them as complete, intellectual beings—and sensual beings as the film isn't shy to show that both have needs. Finding humanity in the nonhuman, finding inhumanity in humans—just a normal Guillermo del Toro picture where empathy has no boundaries, race, gender, or form.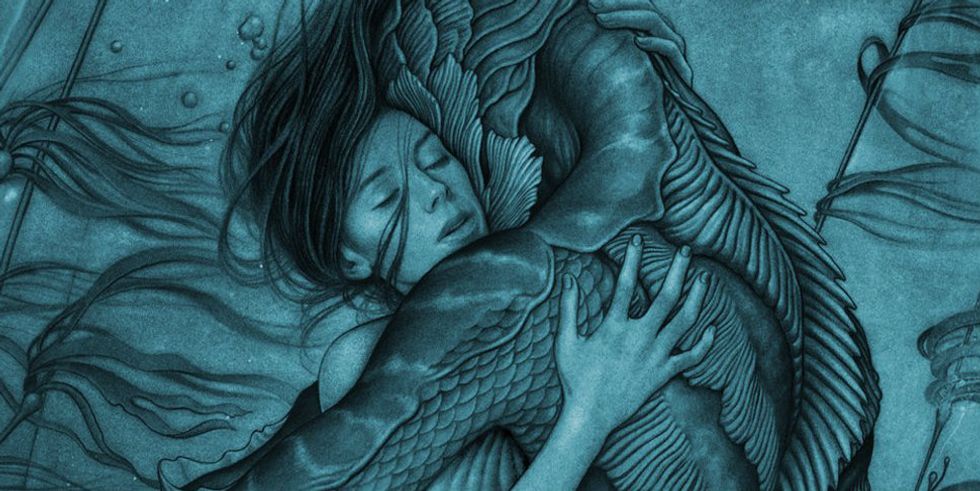 'The Shape of Water'Fox Searchlight
POP⚡DUST Score: ⚡⚡⚡⚡⚡
Shaun Harris is a poet, freelance writer, and editor published in avant-garde, feminist journals. Lover of warm-toned makeup palettes, psych-rock, and Hilton Als. Her work has allowed her to copyedit and curate content for various poetry organizations in the NYC area.
POP⚡ DUST | Read More About Film/TV...
WTWD? | What The Walking Dead: Episode 7
REVIEW | What "Riverdale" Says About Teen Relationships
BOX OFFICE BREAKDOWN | What's coming to theaters this weekend?