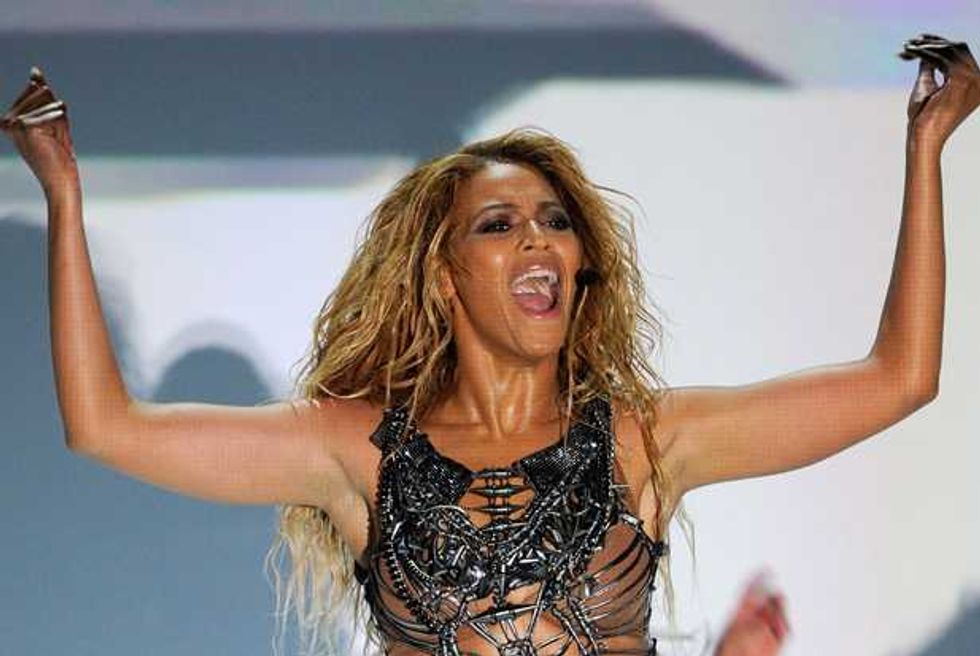 Count us among the millions who will preach that Beyoncé can do no wrong, yet there's no denying that the Diplo-produced, militaristic female anthem "Run The World (Girls)" caught those who were expecting another "Halo" or even "Single Ladies" smash off-guard. Of course, she's had success with faster, more unconventional tracks ("Ring The Alarm," "Get Me Bodied") but those that really ingratiate themselves into our brain (and never let go) are the lighter, sing-along anthems that instantly make your heartbreak go away thanks to sassy head-bobbing and finger-wagging you never knew you had in you before.
Which is why "Best Thing I Never Had," the official second single from 4, is entirely poised to become another B megahit in the vein of "Irreplaceable." With a twinkling piano melody that's somewhere between Tupac's "Changes" and Phil Collins' Disney music, it's a serving of Diet Female Empowerment, without the aggressive drums of "Run The World (Girls)" but enough of B's vocals to resonate with her audience.
The song begins with a karmic proclamation establishing she is better off now that the shady guy is out of her life ("What goes around comes back around"). And just like "Irreplaceable," it's person-specific, targeted at the one person Bey, and every other woman, knows did her wrong, instead of simply asserting her and her army of females' power over men in general. This crafts it to be more of the standout jam from the album than even "1+1," and the repetitive chorus "I wanted you bad/ I'm so through with that / Because honestly you turned out to be the / Best thing I never had" makes that entirely possible without feelings as menacing and monotonous as "Run The World (Girls)." There also some brilliant digs—colloquial kiss-offs—that any lady can use at her leisure ("You don't deserve my tears / I guess that's why they aren't there"), or that any tween can post as her Facebook status ("It sucks to be you right now" and "You showed your ass and I saw the real you") for years to come.
But that's not to say that B skimps on the vocals. When the song builds to its breaking point ("Thank god I found the good in goodbye / I used to want you so bad") you can hear Beyoncé's emotional and physical strain come together. As she scratches and growls her way through these lyrics, we understand that it's a song about getting through heartbreak as well as understanding and loving oneself; accepting that you made the right decision even if it was difficult.
With the title's obvious resemblance to Drake's breakout hit "Best I Ever Had" from two summers ago, how soon before the inevitable mashup arrives? Can Beyoncé appropriate Drake's phrase by turning it into a female empowerment slogan rather than the Canuck's cutesy term of endearment? Probably. "Best Thing I Never Had" might not be as triumphant as "Irreplaceable," or as catchy (will a hook like "to the left, to the left" ever be recreated or topped?), but for those looking for a good track to pump in your car while singing about overcoming your recent broken heart, we think you've found your answer.
POPDUST SAYS: