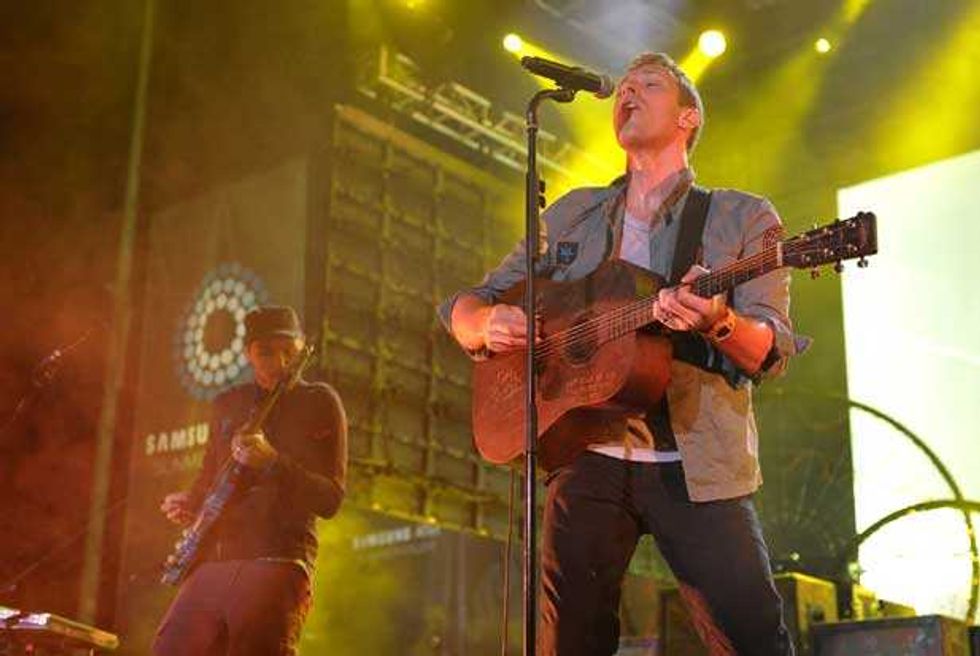 When "Every Teardrop is a Waterfall," the first single from Coldplay's upcoming Mylo Xyloto, came out, we basically had one reaction: This could not be any more of a first single from an upcoming Coldplay single. It just sounded exactly like what we expected, even if we didn't really even know what that was beforehand. Not a bad thing, necessarily—Coldplay are good enough at what they do that being predictably themselves is often good enough. And now that we have a bit of a changeup with second single "Paradise," we might be quickly nostalgic for how good and comfortable we had it with "Teardrop."
"Paradise" isn't a bad song, but we're not sure if it's any good just yet either. It sounds interesting, certainly, especially at first when the strings-and-twinkling-synths intro gives way to an absolutely huge-sounding beat—halfway between T.I.'s "What You Know" and EMF's "Unbelievable," if you can believe that. But the promise of the intro and beat is quickly stunted by the trite, eye-rolling lyrics of singer Chris Martin's repeated verse: "When she was just a girl / She expected the world / But it flew away from her reach / So she ran away in her sleep." This leads directly into the uninspiring chorus: "She dreamed of para, para, paradise / Every time she closed her eyes."
Things get more stirring as the song continues, with Martin adding some singalong "woah-ah-oh-oh"s in future choruses along with some heavy backing vocals, and the main hook transforming to "This could be para, para, paradise." Maybe it'll all sound better live with thousands of Coldplay singing along with it, but the hook mostly just comes off as increasingly monotonous as the song goes on, and even a backing track as hard-hitting as this one sounds initially can't save the entire song from coming off as boring and insubstantial. A disappointing choice of second single, especially considering how promising some of the live versions that Coldplay have played of future Mylo Xyloto cuts have sounded.
POPDUST SAYS: