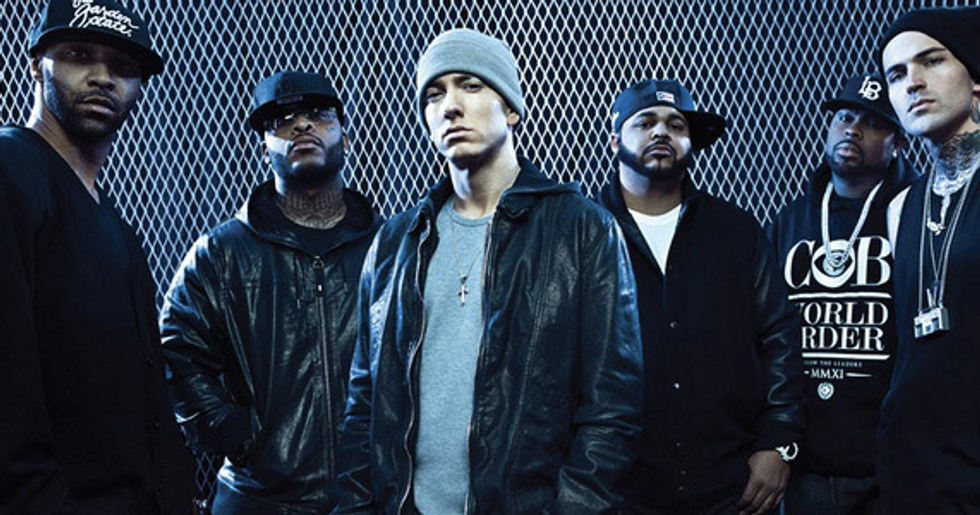 The first song recorded with all the members of "Shady 2.0" since their signing and appearance on the cover of XXL, "2.0 Boys" is a stellar showcase of the skills of all MCs involved. Too bad its beat is only passable and its hook nearly nonexistent.
Slaughterhouse (Royce da 5'9", Joell Ortiz, Joe Budden, and Crooked I) all proved themselves in the rap-nerd internet world after their attempts to break through solo met with varying levels of failure. Royce da 5'9" famously came up with Eminem and Dr. Dre but had a disastrous falling out and no success recovering. Joell Ortiz was signed and dropped from both So So Def and Aftermath, though he was arguably never a priority at either label. Joe Budden got closest to big success with 2003's Just Blaze-produced, Grammy-nominated hit "Pump It Up"—but he and Def Jam parted ways due to differing expectations about his second record. Crooked I was tied up in all sorts of contracts with labels that were unable to put out any of his records for a number of reasons (Death Row, for example, didn't really function when Suge Knight went to jail), and in 2007, after 12 luckless years started releasing one freestyle a week for a year (a precursor to G.O.O.D. Fridays et al.) When he, Royce, and Ortiz were invited to be on a Budden track called "Slaughterhouse," the four hit it off and realized that they were all stuck as "good rappers" in the post-Rakim NYC-rap battle sense, but without any mainstream success—so why not team up? Some time afterward, the group, named for their first collaboration, was signed to Shady Records, along with Yelawolf, who had been building his own buzz on a different Interscope subsidiary with the retail mixtape Trunk Muzik 0-60.
The "Shady 2.0" deal at first looked to be Slaughterhouse's big break. (Yelawolf probably would have made it either way.) But if "2.0 Boys" is exemplary of the music that will follow, "Shady 2.0" is less about underwriting the cost of getting Slaughterhouse in the studio with good producers to write great rap songs, and more about reaffirming Eminem as a "good rapper" in that rap-battle sense. (After all, as 8 Mile enshrined on film, that's his origin story.) All six rappers have great verses with clever punchlines, sure, but one would expect no less from any of these rappers.
The beat, though, is "hard" but not that interesting, especially since the hook is just Eminem singing an utterly un-catchy two-line chorus. It stays out of the way of the vocals—which is exactly what Slaughterhouse doesn't need. They already know that their vocals alone won't make a hit.
Of course, maybe this is one last showcase for those who don't know who they are, before they start bringing in better producers for their actual record. Budden rhymes, "My men think in sync, roll with the best crew/ Move to the beat of the same drum without Lex Luger," which might be a savvy big-up to a young producer who wants to branch out from what he's done with Waka Flocka Flame and Gucci Mane.
The song's good for a listen or two, if only for the "if you don't know, now you know" factor, but there's not a lot of pop to it. Here's hoping for better from everyone involved in the future.
POPDUST SAYS: