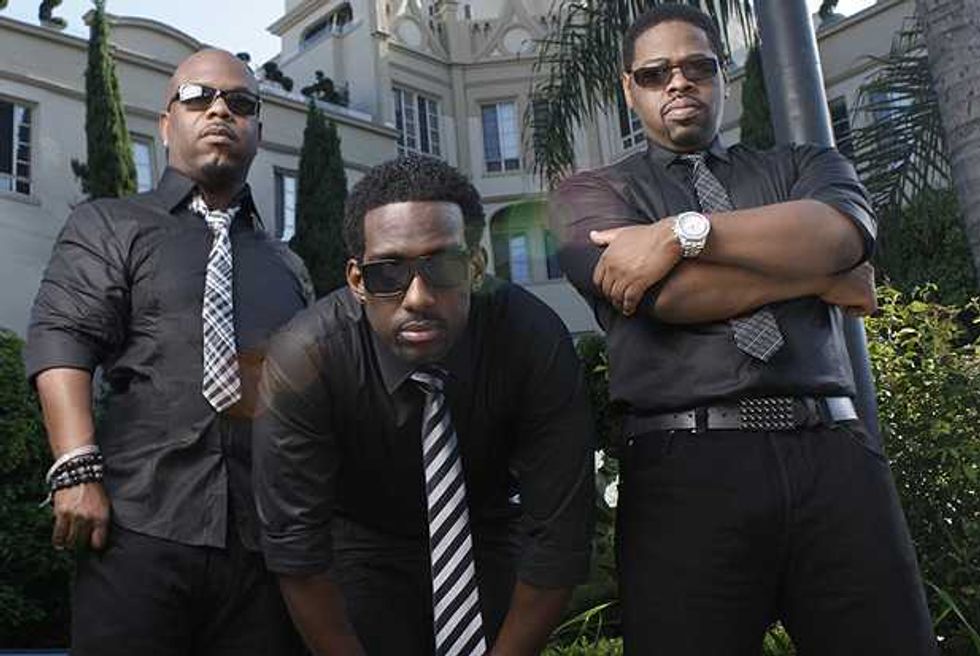 By the standards of most two-decade-old R&B groups, Boyz II Men are having a pretty good year. Their "Uhh Ahh" was sampled heavily by Beyoncé on her much-beloved (by the internet if not by the Top 40) single "Countdown," group member Shawn Stockman has gotten the most exposure any B2M'er has gotten in years thanks to his judging position on The Sing-Off, and the trio has been announced as a guest on the most hotly anticipated holiday album in years, Justin Bieber's Mistletoe. Yes, things are going well for Boyz II Men in 2011—though you're not too likely to see that reflected on next week's charts, after the first week of release for their new album Twenty.
It's hard to overstate just how popular Boyz II Men were in the early-to-mid '90s. Their first two albums, CooleyHighHarmony and II, sold nine and 12 million copies, respectively. Their first #1 single, "End of the Road," stayed on top for 13 weeks—and that wasn't even their second-most successful single of the decade. They were so big that they had a #1 single that nobody even remembers. And for that period of five years or so, it seemed like the Boyz were never going to not be that popular.
But when the end came, it came quickly. Third album Evolution sold ten million fewer copies than the album it followed; the group never had a platinum album again. Replaced by a newer, whiter generation of male R&B groups—you might know them better as "boy bands," though many of their earlier singles (especially those of the Backstreet Boys) were basically carbon copies of the Boyz II Men sound—B2M faded so quickly from the spotlight that by the end of the '90s, they were already a retro act.
Things got little better for Boyz II Men in the 21st century. As it became abundantly clear that their days as hitmakers were in the past, the group was dropped from Arista in 2003, and as public interest waned in their original material, the group was forced to remake themselves as an interpretive act, recording three albums of covers (Throwback, Vol. 1, Motown: Hitsville USA and Love) in the '00s. Now, the group has reached something of a last-resort for once-popular recording acts still attempting to sell records—they've re-recorded a number of their old hits, tacking new versions of eight of their biggest hits to the end of their Twenty album.
It's sort of a shame, because the album is actually pretty good. It's not exactly a game-changer, but it has both the kind of super-intimate, convincingly emotional love ballad ("Put Some Music On") that the Boyz did better than anybody else two decades ago, and some newer-sounding jams ("Believe") to prove that modern R&B hasn't left them completely in the dust, either. But will anyone even notice? The fact that the group handicapped their efforts with these re-recordings is them admitting that they know they can't sustain interest in an album of all-originals at this point in their career—like Chuck Klosterman described seeing the late Jani Lane of Warrant live 15 years back, the group is into the "one for you, one for us" career mode, where they're basically bribing the audience to listen to their new stuff by agreeing to dutifully perform the hits afterwards. Once you get into the re-recordings, it's officially too late to turn back anyway.
Of course, they're still ahead of the curve compared to most of their R&B peers—groups like Color Me Badd, All 4 One and Shai, who were all nearly (well, nearly nearly) as popular as Boyz II Men during their heyday, and now all of whom have either disbanded, have fully committed to the nostalgia circuit, or simply can't drum up anything resembling public interest for their latest projects. R&B middle age isn't an easy transition for anyone, and even if venues like the Silver Legacy Resort Casino in Cabazon, CA and the Cellardoor Winery in Lincolnville, ME—both stops on the upcoming tour—seem like they should be beneath a group that sold a combined 21 million copies of their first two albums, hey, at least they still get to play somewhere.
Still, for those of us old enough to remember how big (and just as importantly, how good) Boyz II Men were at their prime, it's kind of a bummer to listen to Twenty and know that they'll probably never even get a fraction of that popularity and relevance back again. The new songs are pretty good, and the old stuff still sounds great, but the chasm between the two groups of songs is just too much for the group to overcome, and it only gets bigger with each passing year. Evolution sucks.