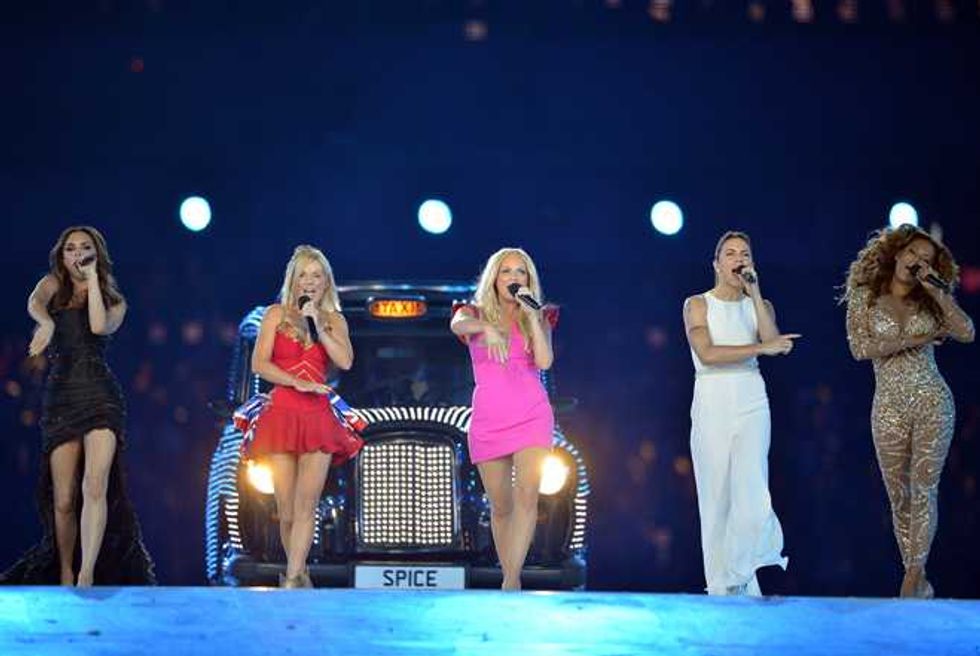 Only a matter of national importance could bring '90s pop band The Spice Girls back to life and last night, the London Olympics woke the dead. Honoring their country and their queen as only they could, the girls zoomed into Olympic Stadium on five bedazzled London taxi cabs to perform their hits "Wannabe" and "Spice Up Your Life" as part of the games' big Closing Ceremony.
Each Spice Girl has her own unique and heavily-branded style and each stayed true to form. Posh, who always favored classic, all-black ensembles, went to British designer Giles Deacon for her black gown. Ginger, whose look has become synonymous with the Union Jack dress she wore at the 1997 Brit Awards, rocked an updated version custom-made for her by Suzanne Neville. Baby, often seen in pink, donned a bright pink Maggie Cook mini.
Sporty wore a long white jumpsuit and swapped out heels for silver wedge sneakers. Scary, meanwhile, went all-out in a very J.Lo-esque sparkly bodysuit by Lebanese designer Zuhair Murad.
Though the crowds went wild for the performance (British prime minister David Cameron and London's mayor Boris Johnson were actually spotted dancing during their set), it's unlikely that the five will reunite for more concerts. As Victoria Beckham told the DailyMail, "I don't know about a comeback tour but I loved being back with the girls. We are so proud to be English."