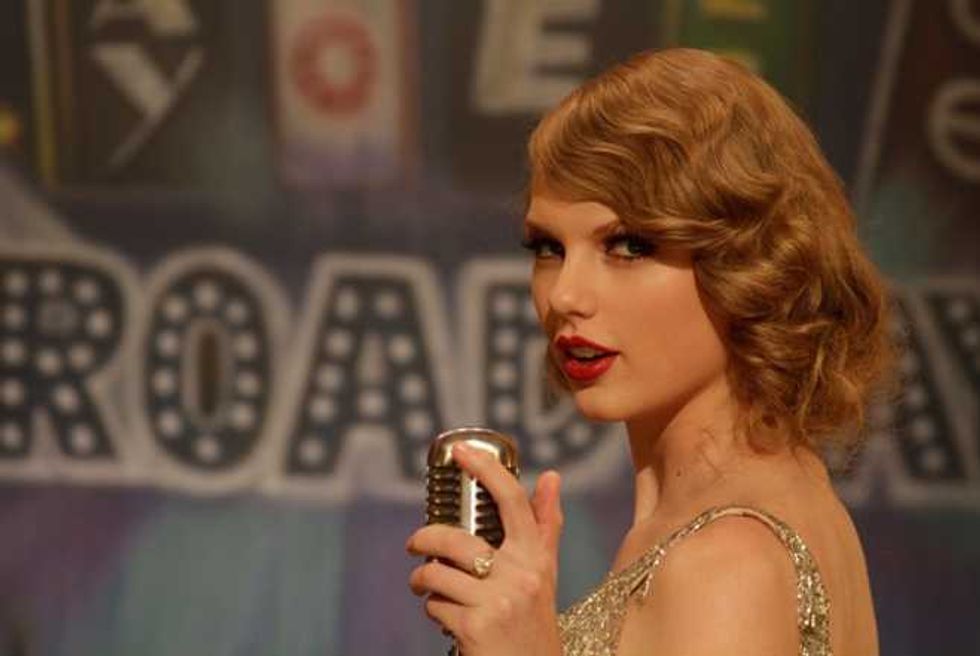 Say this about Taylor Swift, she knows what she wants and she knows how to get it. Date a Kennedy? Done! Break sales records on iTunes? Easy-peasy! But there's one thing Taylor's always been best at: giving swift lyrical jabs to the haters, horrible boyfriends and mean girls who stand in her way. Want to follow in her footsteps? Read our comprehensive guide to Taylor's best put-downs, and then put them to use in your own life! Just put one barb in front of the other, and you'll be clawing your way to the top in no time.
1.
IF YOU GET DUMPED BY A COUNTRY BOY:
"I hate that stupid old pickup truck, that you never let me drive."
2.
IF YOU GET DUMPED BY A SELF-PROFESSED "NICE GUY":
"Every smile you fake is so condescending."
3.
IF YOU WANT TO EMASCULATE AN EX WHO'S SHORTER THAN YOU:
"He didn't like it when I wore high heels. But I do."
4.
IF YOU GET DITCHED BY A PLAYER:
"And the saddest fear comes creeping in: that you never loved me, or her, or anyone."
5.
IF YOUR EX HAS DELUSIONS OF GRANDEUR:
"I was a dreamer before you went and let me down. Now it's too late for you and your white horse to come around."
6.
IF YOUR BOYFRIEND WANTS TO STAY TOGETHER AFTER HE CHEATS ON YOU:
"You shouldn't be begging me for forgiveness at my feet. You should've said no, baby, you might still have had me."
7.
IF YOUR EX KEEPS PESTERING YOU:
"So he calls me up and he's like 'I still love you,' and I'm like, 'I just … I mean this is exhausting, you know, like: We are never getting back together. Like, ever.'"
—"We Are Never Ever Getting Back Together" 
8.
IF YOU GET DUMPED FOR A THESPIAN:
"She's an actress. She's better known for the things that she does on the mattress."
9.
IF YOU GET DUMPED FOR A HIPSTER:
"But no amount of vintage dresses gives you dignity."
10.
IF YOUR CRUSH IS CRUSHING ON A WET BLANKET:
"There's a fire inside you that can't help shine through. She's never gonna see the light no matter what you do"
—"Invisible"
11.
IF SOMEONE OLDER SUGGESTS YOU'RE ACTING TOO IMMATURE:
"I don't know about you, but I'm feeling 22"
—"22"
12.
IF YOUR CRUSH HAS A HUMORLESS GIRLFRIEND:
"She's going off about something that you said, because she doesn't get your humor like I do"
13.
IF YOU'RE FORCED TO SIT BEHIND THE OTHER GIRLS WHO THINK THEY'RE SO COOL:
"We'll be outta here as soon as we can"
14.
IF PHOTOS OF YOUR EX'S WEDDING GET POSTED TO FACEBOOK:
"And my heart's not breaking, cause I'm not feeling anything"
15.
IF YOU HAVE A STAGE 5 CLINGER ON YOUR HANDS:
"All I know is I was enchanted to meet you"
Ed. note: …and then leave.
16.
IF SOMEONE PROPOSITIONS YOU FOR A ONE-NIGHT STAND AND YOU ARE NOT OK WITH IT:
"The lingering question kept me up, 2 a.m. who do you love?"
OR!
17.
IF YOU'RE TRYING TO PROPOSITION SOMEONE FOR A ONE-NIGHT STAND:
"It's a love story baby just say yes"
18.
IF SOMEONE LESS FAMOUS THAN YOU THROWS SHADE:
"And I can see you years from now in a bar, talking over a football game, with that same loud opinion but nobody's listening."
19.
IF YOU PAY TO SEE THE NATIONALS AND STRASBURG LEAVES EARLY:
"Hey Stephen, why are people always leaving?"
20.
IF YOU GET DUMPED BY AN OLDER GRAMMY WINNER:
"Maybe it's just me and my blind optimism to blame. Or maybe it's you and your sick need to give love and then take it away."
—"Dear John."
21.
IF YOUR AWARD FOR VIDEO OF THE YEAR IS INTERRUPTED BY A DRUNKEN RAPPER:
"32 and still growing up now. Who you are is not what you did, you're still an innocent."
—"Innocent"
22.
IF YOU HATE SOMEONE AND REALLY WANT TO TWIST THE KNIFE:
"All you are is mean and a liar and pathetic and alone in life and mean and mean and mean and mean.
That Taylor Swift, she's stone-cold killer.
For even more inspiration, check out our comprehensive list of every Taylor Swift song, ranked from worst to first.