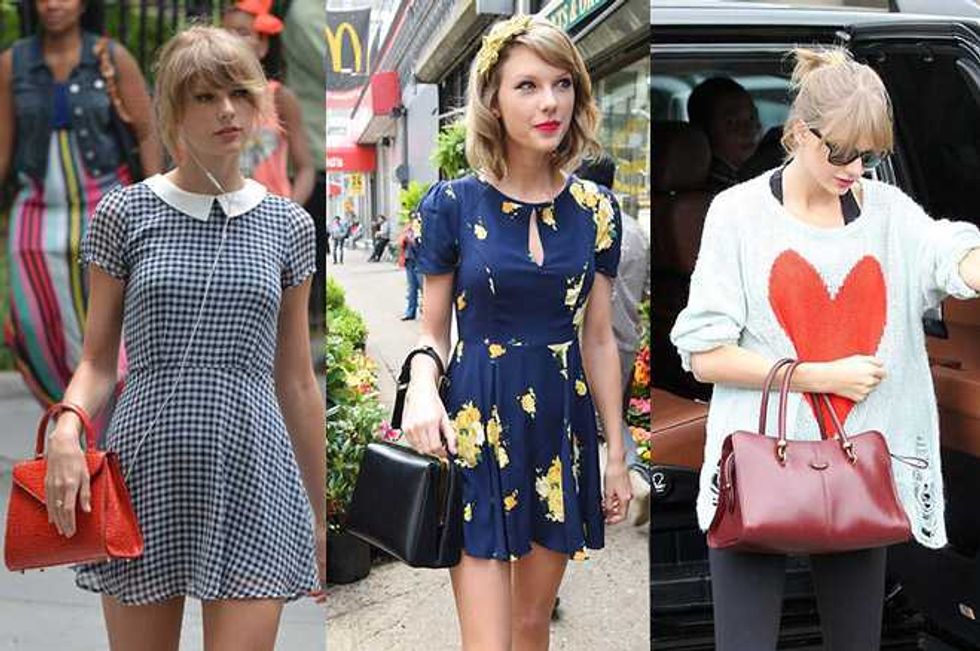 Forget about boyfriends and implants, has anyone noticed how many handbags Taylor Swift owns?
I dare you to count them. I've just tried and believe me, it's exhausting.  I had to stop at 20.
How can Taylor stand to change her handbags so often? Ladies, you know how annoying it is. You always leave something in the old bag and you go nuts looking for it. You have to adjust the amount of crap you carry depending on the size of the bag. It's such a production!
Taylor's handbag situation makes me want to look at galleries of other celebrities to see if she has any rivals for sheer quantity.
I am also fascinated by the way she holds the satchels on her wrist instead of using her hands. I don't believe I have ever seen a live human carrying a bag like this.
When does 'owning' handbags become 'hoarding?'
Right now, I have three handbags, unless I have to count the ones I'll never actually use, in which case the total is 6.
After experiencing Taylor's handbag mania. I feel like a grocery bag is probably the sanest solution.
How many handbags are enough, Popdust readers? Weigh in!