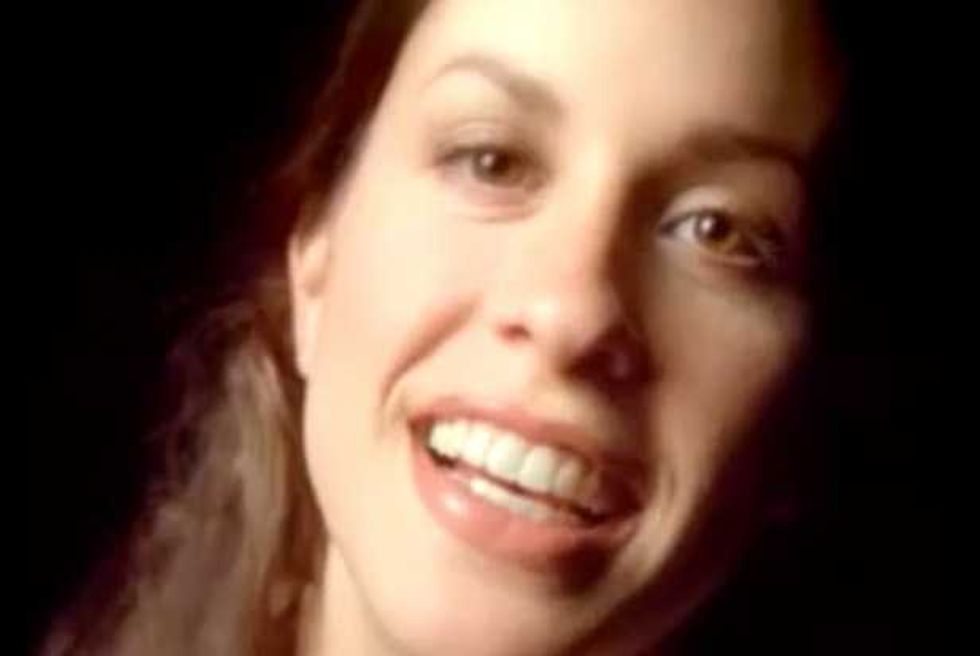 The average response to last night's premiere of Lady Gaga's video was the very reasonable question, "Why isn't anything happening?" Gaga had set a benchmark for over-active music videos over the last four years, and to see her spend five-plus minutes doing nothing but dancing around an empty street corner and fire escape was jarring, to say the least. The reasons (or at least the speculation) as to why the video ended up as such have been well-detailed, but what fans are left with is a video that just seems to be lacking something. A storyline, a big dance number, a co-star beyond a quiet and stationary Clarence...just about anything, really.
However, as relatively uneventful as Gaga's video is, it's still got enough juice—dancing, interesting sets and costumes, smoke machines, whatever—to be kept out of the discussion of the all-time bores. Compared to the videos on our list of the ten least-eventful music videos in history, "Edge of Glory" may as well be a half-hour Michael Jackson epic. Check out the comatose clips that put Gaga's latest to shame, but be careful if reading at work—we don't have any Five-Hour Energy Drinks to lend you if you start nodding off.
10. THE ROLLING STONES, "WAITING ON A FRIEND" (1981)
To be fair, it was pretty obvious from the title here that the Stones weren't going to be delivering us an episode of Mission: Impossible. Indeed, the first two minutes of "Waiting on a Friend" is Mick Jagger doing just that—assuming he was still calling Keith Richards a "friend" at that point in their relationship—while chilling on some steps outside of a St. Mark's Place apartment. The two then walk around the corner to a bar, meet up with the other Stones, order a drink, and take the stage to clumsily mime through the song's outro. It feels like four minutes of hanging with the Stones—which, to be fair, while uneventful, is actually kinda cool.
9. LIVE, "I ALONE" (1994)
For their alt-rock smash hit "I Alone," Live decided that the sight of frontman Ed Kowalczyk with no shirt and a rattail would be transfixing enough to command viewer attention for four minutes without the band doing much else. They weren't far off—Kowalczyk's bug-eyed expressions and shirtless antics are nearly goofy enough to keep you from noticing that the rest of the video is just the band moshing around a barren set for four minutes. Least explicable is why, unlike the band's bassist and guitarist, the drummer doesn't even bother to pretend to be playing his instrument, spending the whole time gracelessly skanking around the set instead. Couldn't afford a spare drum set, guys? C'mon, Throwing Copper sold eight million!
8. LAURA BRANIGAN, "GLORIA" (1982)
No artist of the MTV era got as much mileage out of a couple of disco balls than Laura Branigan, whose "Gloria" music video spoke to a misguided belief that nothing screamed "HIGH-BUDGET" like a couple such glittering trinkets rotating from the ceiling. That was just about all Laura had to work with, with the rest of "Gloria" looking like a glorified homemade karaoke video—and not all that glorified, either. The most ridiculous part of the video comes during the song's instrumental break, where Laura's robotic sashaying is replayed in slow-motion—likely because they didn't record enough footage for a four-minute clip. Still, can't argue with the results—"Gloria" went to #2 and became one of the biggest hits of 1982.
7. R.E.M., "TONGUE" (1994)
Speaking of disco balls. R.E.M.'s "Tongue" should probably be disqualified from this list due to the inclusion of dual settings and storylines in the video—which is at least one more of each than the other nine videos on the list—but both are so devoid of action that it begs inclusion nonetheless. The frame of the video is a group of teenagers watching R.E.M. play on TV, with shots going back and forth between the kids' hijinx and the band's performance, but the kids aren't doing much besides making sandwiches and semi-flirting, while the band looks like they're playing the most boring song of their career. (The fact that they actually are playing the most boring song of their career doesn't help, either.)
6. MADONNA, "LOVE DON'T LIVE HERE ANYMORE" (1996)
A throw-on Rose Royce cover for her Something to Remember compilation, Madonna gave the music video for "Love Don't Live Here Anymore" the effort that it deserved. Presumably blowing the entire video budget on renting out the empty ballroom where the video takes place, Madonna spends the 4:40 walking around the room and rubbing up against one of the support columns, while director Jean-Baptiste Mondino (who also directed Madonna's slightly more memorable videos for "Justify My Love" and "Human Nature") executes the world's slowest-ever zoom-in on her. Interesting if you're the support column, perhaps, but less so for the rest of us.
For videos five to one, including some lazy alternative rock bands and a very bored Toni Braxton, click NEXT.
5. LIL WAYNE, "A MILLI" (2008)
Easily the most prolific popular music artist of the 21st century, so demanding was Lil Wayne's schedule around the time of Tha Carter III that he was shooting music videos while he was shooting music videos. Already on set filming the more story-intensive video for "Got Money," Weezy decided that as long as he was there, he might as well knock out the video for "A Milli" as well, and recorded a video in a four-minute one-take while prepping for the "Got Money" shoot. In the one-shot, Wayne gets dressed and styled, greets fans, drinks from a censored cup and generally walks around a lot. So insulting was the video's phoned-in nature—Wayne only sporadically remembers to rap along, and even takes a bathroom break at one point—that MTV wisely decided to put a clip of the rapper's live FnMTV version in rotation in its place. (The zooming "A MILLI" graphic behind Weezy on the FnMTV stage was more exciting than the entirety of the filmed music video.)
4. THE REPLACEMENTS, "THE LEDGE" (1987)
The Replacements recorded one of the most infamous anti-music videos in the medium's history with 1985's "Bastards of Young," which was just a shot of a blaring speaker in black-and-white for three-and-a-half minutes, until somebody kicks the speaker in at the end. However, the speaker-kicking alone is about ten times the action that was contained in 1987's "The Ledge," another B&W clip featuring some very tense shots of the band eating breakfast and lounging around. The video has the dubious distinction of being by far the most boring clip to ever get banned by MTV, due to the song's subject matter (a first-person account of suicide), though the only drama actually contained in the video is over whether or not the band will sit down on the room's empty furniture at the end. (They don't.) Ironically, Pearl Jam's "Jeremy," a much more visually-detailed story of teen suicide, would become one of the most iconic videos in channel history a half-decade later.
3. TONI BRAXTON, "I DON'T WANT TO" (1997)
Exhausted due to a hectic touring and promotional schedule, Toni Braxton only took a day in 1997 to film the video for "I Don't Want To," her follow-up to the monstrously successful #1 hits "You're Making Me High" and "Un-Break My Heart" clips. The exhaustion shows, as Braxton couldn't be assed to do anything more in the video than pout and look cute in her tanktop and ripped jeans. Like "Love Don't Live Here Anymore," the video is just Toni in an empty room, but unlike Madonna, she doesn't even feel like walking around much—instead, mostly standing awkwardly while singing directly into the camera, looking like she'd rather be anywhere else. Unsurprisingly, the song did not become her third straight chart-topper.
2. THE PIXIES, "VELOURIA" (1990)
One of the most unforgivable music videos in history, alt-rock pioneers The Pixies decided to saddle their beautiful, epic, soaring love song "Velouria" with just about the most leaden video humanly possible. The clip features the band running down a quarry, slowed down to about eight frames a second. That's it. Not like the band's other videos were remarkable for their cinematic ambition—"Alec Eiffel" took place in a wind-tunnel, and that was about as high-concept as the Pixies ever got—but the ratio of song to video excitement in "Velouria" reached levels that were positively unsustainable. "So simple but you can't stop watching it!" boasts the video's YouTube description. No. Just no.
1. ALANIS MORISSETTE, "HEAD OVER FEET" (1996)
15 years later, and still no music video can touch "Head Over Feet" for sheer inactivity. The video consists of nothing but a close-up of Alanis' head—a "feet" version played in other countries—as she lip syncs the song, stirring only to play the song's harmonica solo, in which actually get a glimpse of her back for a few seconds. The most inexplicable thing about the video is how every so often, Alanis just decides to stop lip-syncing, picking back up again when she feels like it—it's not exactly like the other demands of the video performance were so rigorous that the task of singing along could easily slip her mind. It remains one of the most perplexing music videos we've ever seen, and one that Lady Gaga couldn't possibly out-malaise if she tried. (And really, we don't suggest that she try.)