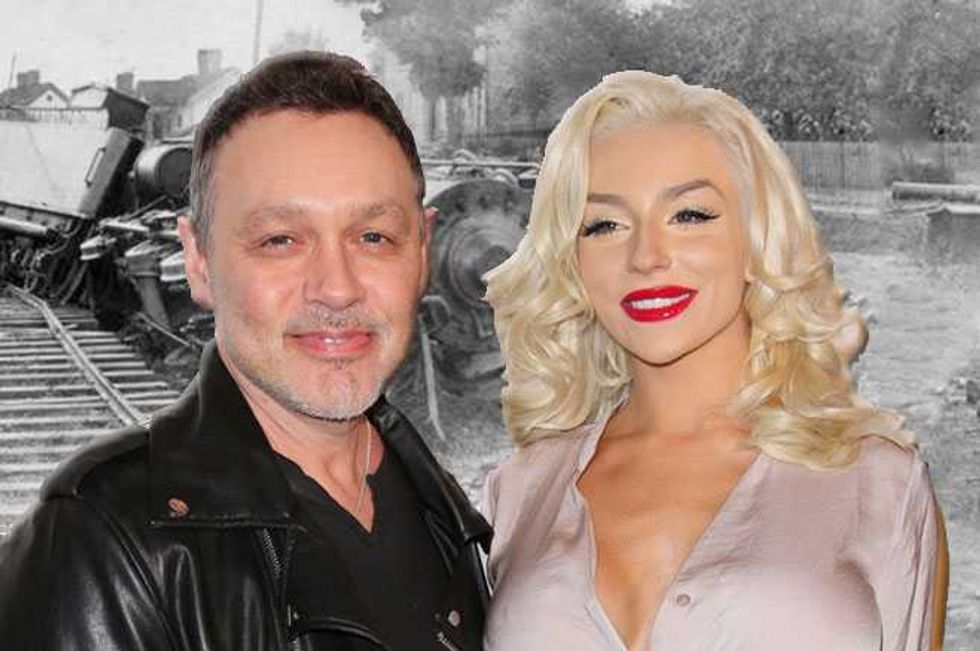 Reports are emerging that Courtney Stodden is pregnant with her first child.
The news that should send child services into DEFCON 1 is being reported by Reality Tea, who claim to have seen a video announcement that the teen bride and her 55 year old husband Doug Hutchison sent to friends and family.
The video apparently shows 21 year old Courtney in the bathroom waiting for the results of a pregnancy test.  She sees the positive lines and sits down saying she is "a little overwhelmed".
She's right to be overwhelmed.  The thought of an innocent child being born into the train-wreck situation that has become young Courtney's life would scare the shit out of anyone.
Poor Courtney escaped from the clutches of her ambitious mother into the arms of an equally controlling husband at the tender age of 16.  Well, not exactly escaped—more like was pimped out by momma-from-hell Krista Keller, who was desperately attempting to fulfill her dreams of fame through a daughter she'd been sexualizing to that end since the age of 12. The kid never stood a chance.
Courtney, an ardent PETA supporter is, according to everyone who meets her, a sweet girl.  If you see her on reality shows by herself, she comes across as a gentle soul with an air of a rabbit caught in the headlights.  She is not stupid but just doesn't seem to know how to extract herself from her life—there's definitely the air of Stockholm Syndrome about her.
If the pregnancy news is true, Courtney could with support, be a great mother. However she really stands no chance of anything resembling a normal life until she cuts the two adults who have shaped her into the mess she is now out of her life for good.
How much damage that poor baby is going to endure if it is in any way subjected to Krista and Doug just doesn't even bear thinking about.
Let's hope once she has responsibility for another life, Courtney will see the light.