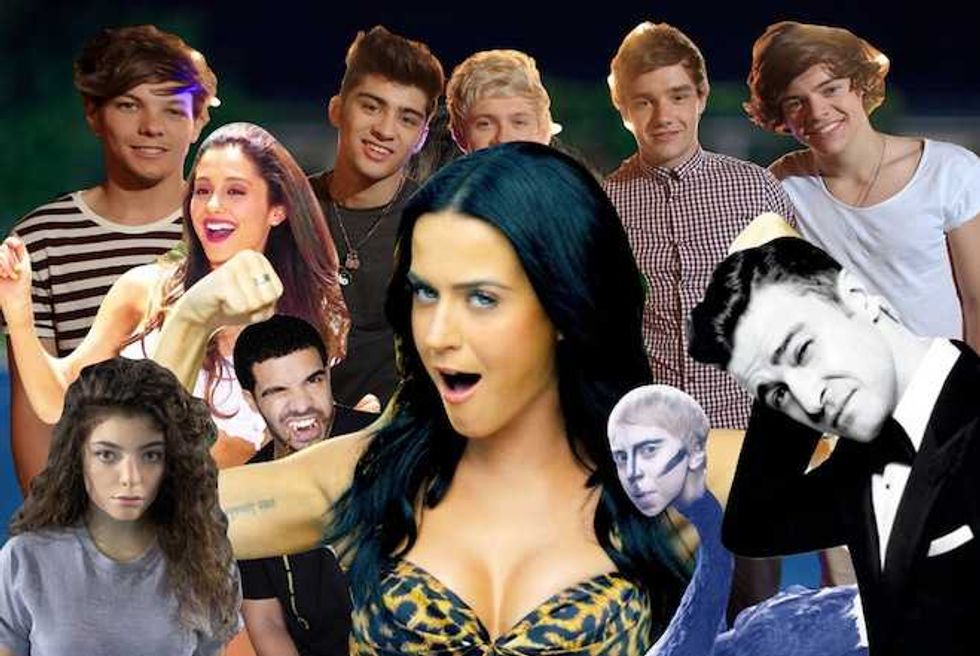 After a first half of the year where it felt like most of the big traditional pop stars were taking it easy while unexpected party crashers like Robin Thicke, Daft Punk and Macklemore & Ryan Lewis ruled the roost, finally the big stars came roaring back—Katy Perry pun semi-intended—in the year's third quarter. New singles from Lady Gaga, Britney Spears, Eminem and the aforementioned Ms. Perry had their expected impact, as have long-awaited albums from Drake, Jay Z and even a second full-length effort from the comeback kid of 2013, Justin Timberlake. But that's not to say the year tapped out of new blood, either, especially as evidenced by the surprise breakout by a 16-year-old singer/songwriter from New Zealand who just might end up trumping them all.
We here at Popdust have decided to sum up this dramatic  period of pop music with the best way we know how: a countdown of our 40 favorite songs from the three-month stretch. We only hope the year's final quarter packs as much intrigue, and half as many hits.
40. 2 CHAINZ FEAT. CAP 1, "WHERE U BEEN?"
"Bought a new crib just to fuck you in!" There's nobody even half as good at being 2 Chainz as 2 Chainz, is there?
39. FRIENDS, "THE WAY"
There are maybe two intelligible words in the entirety of "The Way," but the song's Dev Hynes-produced, impossibly seductive '80s slow-funk groove means the song can only really be about one thing anyway. (It didn't really matter what "Purple Rain" was actually a metaphor for, either.)
38. SAGE THE GEMINI FEAT. IAMSU, "GAS PEDAL"
If you can get behind the wheel after hearing this one without hissing "speedup....gassss pe-dalllll" to yourself the entire time, you are a stronger-minded person than we are.
37. THE INTERNET, "DONTCHA"
You're gonna be stunned when you hear that a funk jam this slinky, unassuming and generally as timeless as this is even possible in the year 2013. Then wait till we tell you that it was made by two members of Odd Future.
36. BILLY CURRINGTON, "HEY GIRL"
One of country's quintessential nice guys attempts to get his inner Ryan Gosling on, might have more success (but come off as way more of a dick) if he didn't seem like he was laughing at himself the entire time.
35. JAY Z, "JAY Z BLUE"
Mommie Dearest. Biggie grunts. "Cue that Stevie Wonder music." I dunno, we kinda like it.
34. NELLY FEAT. NICKI MINAJ & PHARRELL, "GET LIKE ME"
The 2002 dream team of Nelly and Pharrell reunites, decides to invite along Nicki Minaj and ape an old David Banner hit (but not the one entitled "Get Like Me," oddly). If it wasn't quite a recipe for success along the lines of "Blurred Lines" or "Get Lucky," it's a pretty cool hang just the same.
33. ROBIN THICKE, "FOR THE REST OF MY LIFE"
Robin Thicke eschews the irony, controversy and corny "rhymes with" jokes to get back down to business with the year's most obvious (and effective) close-the-door, shut-the-blinds ballad. No Diane Martel vid for this one yet, but you can bet it would be fuh-rea-ky.
32. CHVRCHES, "LUNGS"
You'd think that the impossibly slow roll-out of CHVRCHES singles in advance of debut full-length The Bones of What You Believe would have made us immune to their impressive brand of tender-yet-surprisingly-blunt synth-pop by now. You got lucky this time, CHVRCHES.
31. EMINEM, "BERZERK"
We could certainly do without the K-fed references and the part where Em mimes scratching noises for like half a verse, but there's a joyfulness and legit energy here that we've been missing from Eminem since like six rehab cycles / public flameouts ago. As always, a little Billy Squier goes a long way.
For songs #30-21, click NEXT.
30. ARIANA GRANDE, "PIANO"
What do you prefer—mopey, heartbroken ballads about how love is a losing battle, or up-tempo, handclap-heavy, jams about grabbing hands and rocking to the pi-a-no? Yeah, that's what we thought.
29. AVICII, "WAKE ME UP!"
All non-twerking-related trends in 2013 pop music, condensed into one surprisingly successful genre-bending package. How one of the guys from Incubus got in there, we may never know for sure.
28. FUTURE, "HONEST"
You have to watch comedians Joe Mande and Noah Garfinkel's lyric video interpretation of "Honest" to gain a full appreciation of it. That it wouldn't even matter if they were right tells you just about all you need to know about "Honest."
27. JANELLE MONAE FEAT. MIGUEL, "PRIMETIME"
In which Janelle Monae takes a break—mostly—from her interstellar fixations to slay a quality slow jam like we know she can. And if there's a faster way to our top 40 these days than the ol' "feat. Miguel," our trend analysts need to get on that shit already.
26. LANA DEL REY VS. CEDRIC GERVAIS, "SUMMERTIME SADNESS"
Well, that's one way to give Lana Del Rey's draggy, dolorous and laughably serious ballads a little levity—lay them over a slamming house beat and chop Lana's voice until she just sounds like another EDM diva with a couple too many vocal affectations. Hey, it works for her, clearly.
25. AVRIL LAVIGNE, "ROCK N ROLL"
The motherfuckin' princess makes her self-conscious return, strong enough in her convictions (and doubly so in her hooks) that we dare not question. If it's not quite as much fun as its music video, that's just because nothing else this year has been either.
24. ANNIE, "INVISIBLE"
The perennially underappreciated Norwegian pop heroine comes back after a long absence more mysterious and bewitching than ever, proving on the acid-drenched "Invisible" that the only duet partner who can prove her equal is just herself, pitched down to male register. To be honest, we sort of knew that already.
23. SKY FERREIRA, "YOU'RE NOT THE ONE"
Underground pop's wayward child throws over haunted synth-driven '80s romanticism in favor of slightly less-haunted guitar-driven '80s romanticism; could still soundtrack an entire Pretty in Pink remake before you were done watching The Price Is Right.
22. WALE FEAT. SAM DEW, "LOVEHATE THING"
It'd probably be a shorter list to count the number of R&B-influenced singles in 2013 that aren't in some way indebted to Marvin Gaye than those that are—usually by the artist's own admission. But when you get a song like "LoveHate Thing," which hits with such a classic soul impact from the first notes of its piano-and-guitar-led shuffle and gorgeously pained backing vocals that you could swear it was sampled off some forgotten single from Let's Get It On...well, Marvin was kind of the man, wasn't he?
21. JESSE MCCARTNEY, "BACK TOGETHER"
Just in case there was any of Justin Timberlake's suit-and-tie swag left to pilfer after "Blurred Lines," Jesse McCartney beat the second half of The 20/20 Experience to the punch with a jam as slick, air-tight and reflexively glee-inducing as any JT is currently conquering the world with. We might not be seeing Dream Street reunions at the VMAs anytime soon, but "Back Together" deserves your $1.29 and then some.
For songs #20-11, click NEXT.
20. A$AP FERG FEAT. A$AP ROCKY, "SHABBA"
One of the year's coldest beats, and "Shabba" is so packed with catchphrases and so overflowing with personality that it barely even needs it--put that a capella over Flo Rida's "I Cry" and it's still a cult classic. Sing it with us now: "Eight gold rings like I'm sha...SHABBBAAAAA RRRRRRRRANKS!!" You can feel Chaka Demus seething with jealousy from a continent away.
19. MARTIN GARRIX, "ANIMALS"
The only thing that could possibly keep you from going ballistic during the once-a-year-if-we're-lucky build up and drop to this one? The depressing fact that Garrix, the dance wunderkind behind the record, was born just 17 years ago—in May of 1996, to be exact, about a week before the first Mission: Impossible movie came out. And if that fact doesn't make you want to get off the internet and invent a new form of public transportation or something, nothing will.
18. MIKE WILL MADE IT FEAT. MILEY CYRUS, WIZ KHALIFA & JUICY J, "23"
If you had any doubt that Miley Cyrus and Mike WiLL Made It were officially the pre-eminent power couple of the high school cafeteria that is popular music, they made a banger like "23" and actually went back to high school in the video to drive the point home. We'd feel bad for Juicy J and Wiz Khalifa for having to third-and-fourth-wheel it, but they seem much happier being the Jay and Silent Bob of the pop world anyway.
17. JUSTIN TIMBERLAKE, "TAKE BACK THE NIGHT"
It's amazing how breezy six minutes sounds by current Justin Timberlake standards sounds--especially when you've got a horn riff to kill time that's nearly as potent as "Suit & Tie"s was. By the way, the first half of The 20/20 Experience wasn't quite as good as people said, and the second half isn't nearly as bad. Just sayin'.
16. BIG SEAN FEAT. KENDRICK LAMAR & JAY ELECTRONICA, "CONTROL"
Admit it—if we left Kendrick Lamar's name out of that artist credit above, you'd have trouble remembering what song we were talking about here, wouldn't you? No matter–few musical memories of 2013 will resonate as personally as where you were and what you were doing when The Kendrick Verse dropped, an invective so earth-scorching that within 24 hours they were selling t-shirts promoting it. Even Phil Jackson had to recognize.
15. JAY Z FEAT. JUSTIN TIMBERLAKE, "HOLY GRAIL"
For Jay Z's first new single as a solo lead artist in nearly half a decade, "Holy Grail" wins half the battle just by sounding properly momentous—hooking one of the few guys considerable as Jigga's peer to sing the intro and hook, invoking the ghosts of legends ranging from Kurt Cobain to Michael Jackson, and laying it over a ponderous (but not too ponderous) piano-grounded beat from The-Dream and Timbaland. It wasn't a game-changer, but it was a game-winner, and given Jay Z's status as the sort of professor emeritus of hip hop, that was good enough.
14. ARCADE FIRE, "REFLEKTOR"
Not a lot of bands get to come back from a three-year absence with an obscurely titled eight-minute disco jam that kind of sounds like Golden Earring's "Twilight Zone," but the Arcade Fire's complete lack of self-consciousness about their scope and reach (and their unwillingness to follow to the beat of anyone's drum but that of their own six or seven drummers) is largely what made them one of the biggest bands in the world in the first place, and their unique largesse is on glorious display throughout the transfixing "Reflektor." Anyway, no less an arbiter of taste than David Bowie shows up to nod his approval, so who the hell would you be to judge?
13. DRAKE, "WU-TANG FOREVER"
Interaction with samples from two extremely different sources—Zodiac's minimal 90-second instrumental "Loss Config.," which gives the song its spooky, throbbing non-hook, and Wu-Tang Clan's "It's Yourz," which gives the song its chorus affirmation and its internet-baiting title—make this the most unnerving song on Drake's Nothing Was the Same, and in a weird way, also its sexiest. Forget getting hit with the "9 AM in Dallas," this is Drake hitting you with the "3:42 AM in My Bedroom and We Both Know You Really Shouldn't Be Here But Where Else You Gonna Go This Time of Night?"
12. KATY PERRY, "ROAR"
Katy Perry and Dr. Luke, with an affirmative message, an instant earworm of a chorus and the power of Rocky Balboa behind her. Betting against this song going to number one would have been only slightly less stupid than betting against the Harlem Globetrotters.
11. HAIM, "THE WIRE"
"Forever" and "Falling" were clearly leading up to this, sister trio Haim's best-yet jam, a catchy and danceable song about the siblings' inability to communicate ruining one or several relationships. All the lyric sites claim that the pre-chorus lyric is "Always keep your heart locked tight / Don't let your mind retire," but we could swear it's "Don't let your mind redial," which is infinitely cooler for reasons that aren't quite explicable. Either way, there's gonna be a heartache tonight, a heartache tonight, I know.
For songs #10-1, click NEXT.
10. ONE DIRECTION, "BEST SONG EVER"
Calling a song "Best Song Ever" (even if it's not really calling itself that) is always a risky proposition, courting all kinds of internet snark if it doesn't approach the billing. "Best Song Ever" is not the best song ever (or indeed, even of this quarter), but it's still far better than any obligatory new song from a movie soundtrack has a right to be, chock full of pop pleasure-center ticklers--count-offs, backing "ow!"s, chorus "oh-oh-oh, yeah-yeah-yeah"s, even a little well-timed falsetto. The "let's play dressup!" video may have ceased to amuse upon repeated sampling, but the song's still pretty damn good.
9. CHARLI XCX, "SUPERLOVE"
Releasing one of the year's great pop masterworks (and one of the best, most fully-formed full-length commercial debuts we've heard from anyone in a long, long time) evidently wasn't enough for English chanteuse Charli XCX to call it a wrap on 2013, so now we've also got new single "Superlove," a song giddier than even the most effervescent concoctions on True Romance. Expertly deployed video game squelches and an appropriately bubbly bass line keep things moving, but it's Charli herself who dominates, with gum-smacking delivery of sticky-sweet (and possibly incredibly dirty) lyrics like "You're my favorite drug / I smoke you in the car." Well, her and the double-claps.
8. BRITNEY SPEARS, "WORK, BITCH"
No, it didn't interpolate RuPaul, unfortunately, but it was a pretty striking comeback for Britney—her 37th, by our count—just the same. Regardless of your feelings about her recent faux-British affectations (we're fine with 'em) you have to give it up for "Work Bitch" and its full-bodied embrace of Swedish House Mafia-style EDM, not as a chance for her to trend-hop, but one for her to filter her recent HBIC persona through a lens that makes her sound more badass and dominating than any prior single in her 15-year Hall-of-Fame run in popular music. The song may or may not do big things commercially—it seems like her "Run the Word (Girls)" to us—but it's that rare late-career reinvention that feels entirely earned and exceedingly appropriate.
7. THE JUAN MACLEAN, "FEEL LIKE MOVIN"
"Get Lucky" will likely go unquestioned as the celebratory club jam of the year, sure, but don't sleep on the Juan MacLean, under-appreciated secret weapon of the DFA record label for over a decade now, and their impossiblly ecstatic dance floor celebration "Feel Like Movin." An eight minute crescendo of piano, disco-acid groove and backing vocals chopped up to the point where they sound like they're having too good a time to know what they're supposed to be singing, the song's M.O. is made beautifully clear by guest vocalist Nancy Whang, whose matter-of-fact extolling of the virtues of dance music and its accompanying full-body release ("Music's gonna shake you / Music's gonna make you / Good times gonna take you to heaven") takes the song into the stratosphere. If you're not getting your feet on the dancefloor and showing her what you're made of by song's end, you're beyond help in this regard.
6. RICH HOMIE QUAN, "TYPE OF WAY"
An unlikely choice for hip-hop jam of the late summer—or at least it would have been before Future blew the door open on off-key caterwauling being an accepted form of hip-hop self-expression—"Type of Way" made invaluable additions to rap's lexicon and introduced Atlanta-based Rich Homie Quan as a name to watch in the years to follow. As much as the song is keyed around its endlessly loveable chorus--initially memorable for its incessant catch-phrasing, then for the brilliant way Quan plays his own hypeman with an endless stream of backing exhortations ("I know you do!" "Don't look like that!")--the soul of the song comes from the rapper's world-weary but surprisingly life-affirming wailing on the verses. That Quan can declare "I drop down to my knees thankful for life today" without it sounding like award-show lip-service is perhaps the song's greatest achievement.
5. MILEY CYRUS, "WRECKING BALL"
It's too bad that the cheap and crass (though instantly inconic, admittedly) Terry Richardson-directed video for "Wrecking Ball" dominated the discussion of the song, catapulting "Ball" to no.1 on the charts but overshadowing the fact that it was yet another career first for Miley musically--a big ballad that managed to sound personal and unique while also hitting with the force of a...well, you know. It's the way that she sings that first line in the chorus that really delivers the song, piercing through the ending pause of the pre-chorus and echoing to the back row and beyond. Is it her "Cry Me a River"? Time will tell, but it's a landmark song for her and for 2013 pop regardless.
4. ARIANA GRADNE, "BABY I"
It hasn't conquered radio like first single "The Way" has, but if we had to choose, we'd probably say that Ariana's second single was the slightly better one. The 2013 breakout star still sounds like Mariah on her second single, with a little Ashanti mixed in, but she also packs more of a style of her own into the song, which sounds a little like one of those '90s R&B classics played at 45 RPM instead of 33 1/3, almost uncomfortably frenetic, but in a way that matches the skittering emotions and sensations of the song's romantic-fluster-based lyrics that feels just right. And oh man, those high notes. Even after an the year's most emphatic key change!
3. LADY GAGA, "APPLAUSE"
After years of wondering whether it would ever be possible again, we are very happy to report: We kinda like a Lady Gaga song again. That's not to say that we didn't have songs we loved off Born This Way, but they were all imbued with such incredible hype and over-baked thinkiness that it was impossible to just casually enjoy them--at least not the way we casually enjoy "Applause," a catchy and short comeback single that never sounds unwelcome at radio, while not sounding so buried under its own pretensions that you wonder what it's doing on Z100 in the first place. And that's not to say that Gaga's toned herself down to go commercial, either, but it's been long enough that lyrics like "Some of us just like to read" and "Art's in pop culture in me" sound charmingly refreshing. At the end of the day, all we want is to put our hands up and make 'em touch, and "Applause" makes us do that on several occasions.
2. LORDE, "ROYALS"
Scaling the top of the charts halfway around the world with a self-written pop anti-anthem at an age where book reports are still a thing, New Zealand sensation Lorde might end up as the biggest and most unexpected mega-success story in pop music since Adele. Her entire album Pure Heroine—out this week, don'tcha know—is pretty solid, but the song for which she's likely to be forever remembered is lead single "Royals," with its sneakily stadium-ready us-not-them chorus, its minimally gorgeous production, and its general introduction of the singer born Ella Yelich O'Connor as the next great young singer/songwriter, verbally dextrous and lyrically evocative, instantly relatable in a way that all the greats of her style have been. If you're buying stock in any pop newcomer this year, it shouldn't be a tough choice for who to invest in.
1. DRAKE, "HOLD ON, WE'RE GOING HOME"
Drake and 40 set out with a new goal for single "Hold On, We're Going Home"--to make music people would dance to at weddings in 20 years—and if those 2030s wedding DJs have any damn sense, they'll have succeeded. While instantly listenable thanks to its sparkling production, chugging beat, and that almost infuriatingly catchy synth-flute hook on the chorus, "Hold On" mostly succeeds due to pulling off two brilliant pop tricks: Sounding instantly familiar while evoking nothing specific in particular, and packing a chorus that sounds meaningful and important without actually saying anything specific in particular. That kind of means-what-you-want-it-to-mean vagueness is a hallmark of nearly all truly timeless pop music, and if there's one song from this quarter that has a shot of one day entering that canon, it's "Hold On, We're Going Home." Plus, the kid from Jennifer's Body is in the video. With an earring and a mullet!