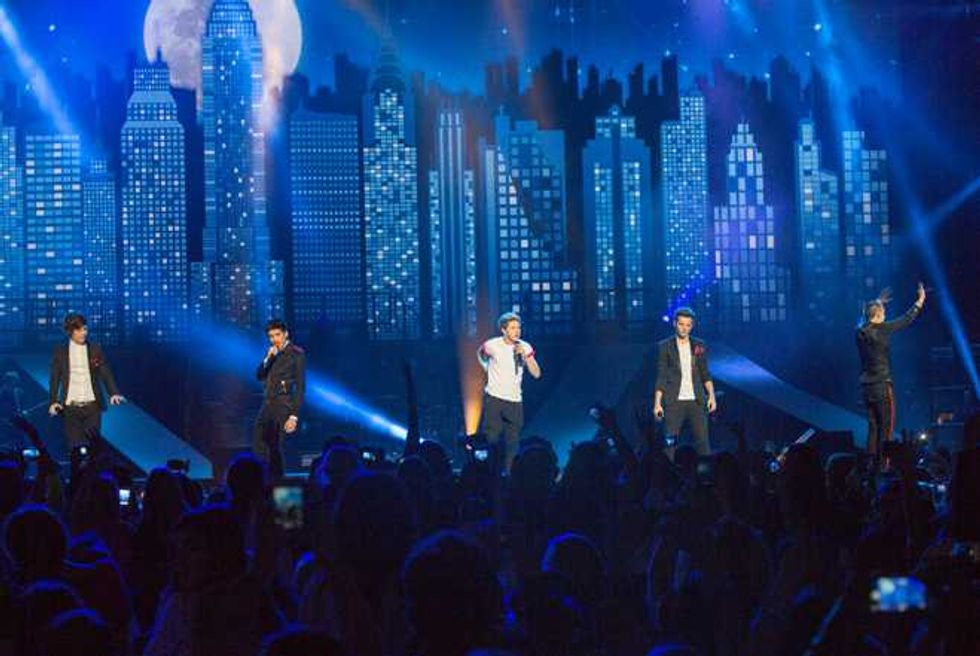 As America's number one concert arena, you can't beat seeing a show at Madison Square Garden. From up-and-coming stars in the making to reunited rock legends, the Garden continues to rock 2014 like no other. While scoring Madison Square Garden concert tickets for premium shows at MSG are on the expensive end of the spectrum, there are deals to be had. Here's a look at the top five upcoming concerts at Madison Square Garden, with a timeless rock and roll legend continuing to occupy both slots at the top.
4/18/14 | Billy Joel | Avg. Price: $579 | Get-In Price: $158
Did you hear the news? Rock's original piano man has taken up residence at Madison Square Garden in an unprecedented agreement with the venue to play one show per month through December. Having recovered from double hip replacement surgery in 2010, the 23-time Grammy nominee plans to uncork classics from past albums ranging from 1971 debut Cold Spring Harbor to 1993's River Of Dreams. Tickets to the residency continue to tick up as demand remains strong, with an average ticket price reaching an astronomical $579 with a get-in rate of $158, up 6% over the past week.
5/9/14 | Billy Joel | Avg. Price: $531 | Get-In Price: $103
Tickets to Billy Joel's June residency at Madison Square Garden have a slightly lower average price ($531) than his April appearance, as well as a highly discounted get-in price of $103, with ticket prices for this show up 7% over the past week. We expect demand to remain high for the 64-year-old Rock and Roll Hall of Fame inductee's comeback tour, with tickets currently available for all of his North American dates.
5/13/14 | Lady Gaga | Avg. Price: $312 | Get-In Price: $75
After losing a chart battle with Katy Perry and undergoing surgery to repair a hip injury, it's been a rough year for Lady Gaga. But the pop diva is back in form for a triumphant return to Madison Square Garden, with tickets averaging $312 with a get-in price of $75, up 2% versus last week. Overall demand for the artRAVE tour remains robust, partly due to pent-up demand following the cancellation of about a dozen shows last year as well as the release of her new 2013 album Artpop and 2014 generation-spanning collaboration with Tony Bennett, Cheek to Cheek.
4/6/14 | Juan Gabriel | Avg. Price: $265 | Get-In Price: $89
As one of the most successful Mexican artists of all time, demand continues to increase for six-time Grammy nominee Juan Gabriel. The prolific 64-year-old singer recently released his 53rd studio album, Celebrando, and fans are sure to be celebrating his upcoming gig at MSG. And to illustrate the anticipation, ticket prices have jumped a significant rate of 27% over the past week, with an average price of $265 and a get-in rate of $89.
4/9/14 | La Mega Mezcla Live w/ Alex Sensation & Friends | Avg. Price: $193 | Get-In Price: $90
 New York City's number one Latin DJ, Alex Sensation, returns to Madison Square Garden for a massive nightclub party featuring the hottest names in all genres of Latin music including Don Omar, Tony Dize, and J Balvin. With the huge success of last year's Mega Mezcla Block Party, anticipation for this event remains high with an average price of $193 and a get-in rate of $90. However, it is worth noting that this price is down 8% from last week.
Madison Square Garden has hosted some of the biggest concerts in music history and 2014 continues to keep up the trend. Throughout the year as more events are announced, there's sure to be additions to this list. So if you're looking to be a part of history and experience some of the best concerts in the world, the Garden is undoubtedly the place to be.
Check back tomorrow for a breakdown of more NYC concert tickets, and Barclays Center concert tickets.
By Jay Gentile