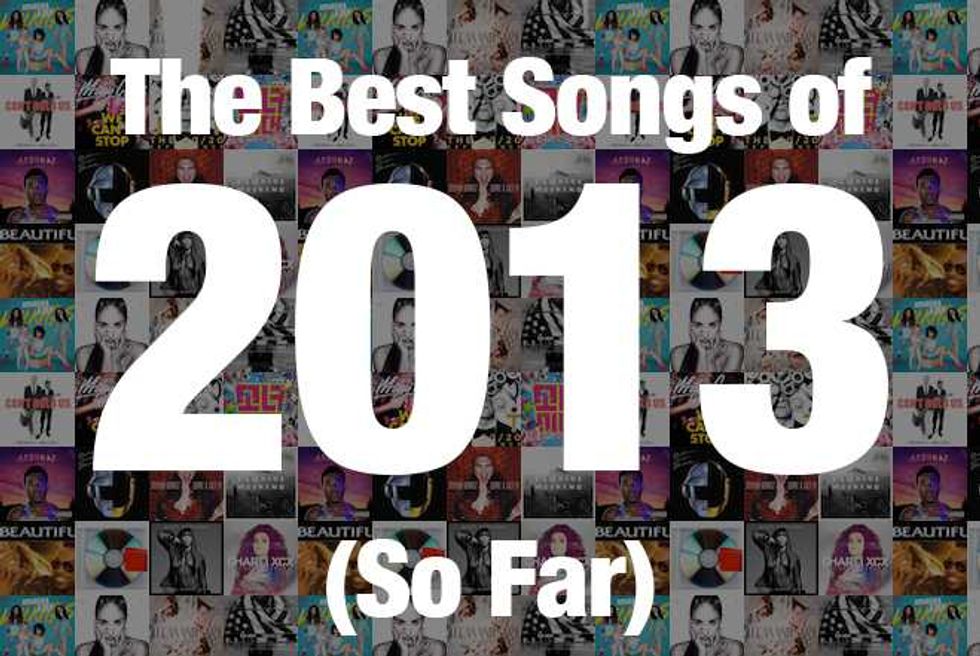 Was it so long ago that Daft Punk were still in reclusion, Justin Timberlake's new album(s) was just a glimmer in his and Timbaland's eye, and the word "Yeezus" was not yet a part of the pop lexicon? Yes, a good deal has happened in the pop world these last six months, and as we were re-introduced to those old friends of ours, we were making countless new ones as well, resulting in a rich six months of pop music that you can only start to summarize with a list of 50 songs.
Still, attempt to summarize we shall, with our countdown of the 50 best songs from the first half of 2013. Check out our Spotify playlist of all the available songs at the bottom of each page--we hear it makes for a pretty righteous 4th of July barbecue soundtrack.
And now check out the top 40 songs of 2013's third quarter!
#50. EMBLEM3, "CHLOE (YOU'RE THE ONE I WANT)"
Just what every girl wants to hear--that even though her sister is the really hot one in the family, she's still the one for you. Well, when it's sung and rapped this sweetly and innocently, over a summery Sugar Ray guitar hook, she might be persuaded to overlook the implied insult, anyway.
#49. MIGOS, "CHINA TOWN"
Migos' Young Rich N---as mixtape is like if the Atlanta trio were a rap one-hit wonder, except that every single song on the record could've been their "Racks" or "Cash Out." Wonderiest of all is perhaps "China Town," with a meaninglessly addictive hook, a chorus littered with Mortal Kombat references and pager sound effects, and verses that turn the drug trade into something playful and colorful enough for a Berenstein Bears book. Socially irresponsible, perhaps, but very catchy.
#48. THE BAND PERRY, "DONE."
How definitive is the end-of-relationship stamp The Band Perry puts on their latest barnstorming, crossover-ready breakup song? Well, if the authority with which Kimberly Perry belts the "I'M THROUGH! / WITH YOU!" line on the chorus wasn't clue enough, the fact that the title is in all caps with a period at the end of it should probably be pretty convincing. Pop stars don't generally waste a lot of space with title punctuation, you know.
#47. FALL OUT BOY, "MY SONGS KNOW WHAT YOU DID IN THE DARK (LIGHT 'EM UP)"
Did it Save Rock n' Roll? No, but it did save montage editors, TV music supervisors and PA operators at sporting events from having to use "Radioactive" for the trillionth time, which is arguably just as important. And any soundtrack that gets Patrick Stump's glorious voice back on Top 40 radio is plenty worthwhile in our book. I mean, that falsetto! So righteous.
#46. MAC MILLER, "S.D.S."
Who could've possibly guessed that Mac Miller would sound so at home rapping over a woozy, swirling, supremely stoned-sounding Flying Lotus beat? OK, maybe in retrospect it wasn't all that shocking, but Mac slips into the role like he was doing the fratboy MF Doom routine his entire career, and hell, maybe he should have been. Low mainstream ceiling for fare like this, perhaps, but there's no turning back to "Donald Trump" at this point.
#45. CL, "THE BADDEST FEMALE"
Beyonce may have been first to declare "Bow down, bitches" in pop this year, but our Jacques Peterson transferred the sentiment to K-pop solo star CL upon the release of her first single apart from her pop supergroup 2NE1, "The Baddest Female"--rightly so, considering the song's effortless cool and commanding sonic thud, both highly Queen Bey-worthy. Not bad meaning bad, but bad meaning good, you know.
#44. ZEDD FEAT. FOXES, "CLARITY"
One of the year's most indefatigable pop songs, "Clarity" has now been highlighting DJ sets at EDM festivals for half a year, and is still yet to cease its gradual climb up the Hot 100. It's Foxes' unusually soulful vocal on the verses that really sets the song apart from the anonymous hits of the festival circuit--the delivery on lines like "Hold still right before we crash / 'cause we both know how this ends" is so heartfelt and complelling that Zedd thought we might actually be interested in an acoustic version of the song. Mistaken, but telling nonetheless.
#43. KELLY ROWLAND, "DIRTY LAUNDRY"
"Swear, y'all don't know the half of this industry." Not from Kelly's perspective, apparently, as she sings to our jaw-dropping surprise about her conflicted jealousy over big sis Beyonce's tremendous commercial success and her own traumatizing struggles with domestic abuse. Still, despite all the lyrical bombs being dropped, it's producer The-Dream's insistent piano pounding that hits the hardest, every note coming like a dagger to Kelly's already broken heart.
#42. AVRIL LAVIGNE, "HERE'S TO NEVER GROWING UP"
The sublime will always overrule the ridiculous in pop music, which is why someone like Avril Lavigne--a near-30-year-old divorcee about to get married for the second time, to the guy from Nickelback no less--can sing a 16-year-old's Peter Pan anthem about forever yougnness, and we'll still have no choice but to sing along. Also, why that Radiohead line is still super-great.
#41. FUTURE FEAT. LIL WAYNE, "KARATE CHOP (REMIX)"
Listen to this song enough, and eventually, you'll even be ordering your Chinese food delivery in Future's binosyllabic cadence. "COULDI-GETAN-ORDER-OF-FRIED-DUMPLINGS? (THEM DUMPLINGS!)" Just try not to chop the delivery man like karate when he shows up with your order.
For songs #40-31, click NEXT.
#40. DAFT PUNK, "TOUCH"
"Touch" is an eight-minute opus featuring an over-earnest robo-turned-human vocal from '70s singer/songwriter Paul Williams, a honky-tonk piano breakdown and an extended gospel choir outro. If your reaction to that is "Cool!," you will probably enjoy Daft Punk's Random Access Memories. If your reaction to that is "Uh, what the FUCK?," you will probably not enjoy Daft Punk's Random Access Memories. We kinda dig it tho.
#39. KELIS, "JERK RIBS"
Kelis' days as a top 40 hitmaker are likely over, but luckily for us, her days of making funky, super-cool, kinda out there jams appear to to just be getting started. "Jerk Ribs" is one of her best songs in years, a joyous pop-soul blast evocative of countless classic and contemporary artists (including of TV on the Radio, whose Dave Sitek produced) while remaining unmistakably her own. Dunno why it's called "Jerk Ribs," but hey, "Jerk Ribs." Sounds tasty.
#38. BRUNO MARS, "WHEN I WAS YOUR MAN"
The more you listen to Bruno Mars, the more it seems clear that his truest pop gift is condensing some 50 years of pop history into three-or-four-minute songs--songs that simultaneously sound of their time, evocative of other eras, and totally timeless. You'd have to go back pretty far to find a decade when "When I Was Your Man" couldn't have been a mega-hit, and that certainly wasn't the '10s, as the song became his predictable fifth chart-topper earlier this year.
#37. VAMPIRE WEEKEND, "YA HEY"
As hyper-literate and textually rich as Vampire Weekend songs tend to be, the group is still often their best when they're at their silliest--which is why amidst the soul-searching and divinity-questioning of "Ya Hey," the song's most memorable part is still the up-pitched "Ya hey" (or "Yaweh," if you want to read that into it) vocal that punctuates the chorus like a 13-year-old getting nutty on helium at a friend's Bar Mitzvah. The song is still lovely, thoughtful and masterful without it--probably--but that earworm hook ensures you won't ever need to do too much in-depth analysis to find the joy and wonder in it, which is pretty damn smart if you ask us.
#36. JAY-Z, "OPEN LETTER"
"Y'all gon' learn today!" Apparently. "Open Letter" dropped on us out of nowhere in April, the supposedly spur-of-the-moment recording-session byproduct of Jay-Z getting his blood up about a whole bunch of people talking a whole bunch of nonsense, a freestyle that sounded raw and nervy and pissed off in all the ways we've learned better than to believe Jay-Z of actually getting. Nobody does calculatedly uncalculated quite like S Dot, and if Magna Carta Holy Grail contains anything on the level of Jay imitating the president begging him to quit acting a fool ("Chill, you gon' get me impeached / We don't need this bullshit anyway, chill with me on the beach"), we'll be more than happy to take our next Jigga-taught lesson in what's what.
#35. MACKLEMORE & RYAN LEWIS FEAT. RAY DALTON, "CAN'T HOLD US"
In retrospect, doesn't it seem like "Can't Hold Us" should've come before "Thrift Shop"? The kick-down-the-doors, fists-in-the-sky juggernaut of a singalong anthem preceding the silly, alternately puerile and finger-wagging novelty follow-up with the goofy video? Maybe not, but regardless, the timing couldn't have worked out better for Ben and Ryan, who didn't miss a beat following-up their unlikely breakout megahit with a song just as big (and a whole lot less grating) than their debut, and one which kind of makes it feel like they'd been there all along. Counting down the days until "Same Love" officially makes it three-for-three...
#34. DUKE DUMONT FEAT. A*M*E, "NEED U (100%)"
As much hype and publicity as UK dance duo Disclosure have gotten for their Settle album and its accompanying stream of hit singles, longtime British DJ Duke Dumont might've beaten them at their own game with his sublime chart-topping hit "Need U (100%)." The song has the same garage/house/disco hybrid feel of Disclosure's best songs--with handclaps to boot!--but with a vocal to top them all courtesy of 18-year-old A*M*E, who knocks it out of the park like the classic house divas of years past, singing "I wanna be the one you tell all your friends about / Baby, I'll be the one you just can't do without!" with the attitude (if not quite the undeniable force) of a Loleatta Holloway or Robin S. Fun video, too.
#33. SNOOP LION FEAT. MILEY CYRUS, "ASHTRAYS AND HEARTBREAKS"
It might only be remembered historically as the precursor to Miley's full-fledged career transformation with her own "We Can't Stop," but don't sleep on how good a song "Ashtrays and Heartbreaks" actually was, particularly for Miley's multi-tracked vocals winding their way perfectly around the song's stately, somber reggae beat. The song feels a lot weightier than it actually is, and the former Hannah Montana singing a "pour one out for the homies"-type chorus might strike some as insincere, but it's an undeniably compelling listen, and even if Miley's West Coast stoner routine sounds contrived, it never actually really feels that way.
#32. CHANCE THE RAPPER, "CHAIN SMOKER"
No new rapper from the last few years has been as sheerly likeable as Chance the Rapper, intelligent without seeming preachy, troubled without coming off as overly serious (or genuinely troubling), and impossibly gifted with a lyrical hook. Any number of songs off Acid Rap could have made that list, but "Chain Smoker" feels like his chosen intro to the world, an oddly life-affirming jam in which Chance lists himself as a "chain-smoking, name-dropping, good-lucking, brain-broken...mother, shut your mouth" and pleads "I hope you love all of my shit." Don't want to make any promises, but think we just might.
#31. SELENA GOMEZ, "COME & GET IT"
Questionable wardrobe choices aside, Selena Gomez certainly struck gold with "Come & Get It," the most adult-sounding and most commercially successful single of her pop career. Much of it is due to her increased confidence as a performer, allowing her to spit off a chorus like "When you ready come and get it" without sounding either desperate or sleazy, but a lot of the credit goes to the perennially underappreciated Stargate production duo, who give the song its distinctive allure with its Eastern-influenced drums and vocals and the zooming synths on the chorus. More of this on the upcoming Stars Dance, and less of the tepid "Slow Down," please.
For songs #30-21, click NEXT.
#30. ANNA KENDRICK, "CUPS"
No, not the full-length version (subtitled "When I'm Gone") you might be hearing these days on radio, which tries to blow the song up into something it isn't--basically a weird, repetitive Mumford & Songs song. We'll still take Anna with just that damn cup for accompaniment, thanks, 77 seconds of oddly sweet and compelling minimal tunefulness which never deserved to be mangled by banjos and over-production.
#29. KANYE WEST, "BOUND 2"
RT If the "Uh huh honey" from Yeezus haunts your thoughts.

— Samantha Martin (@HiMyNameSam) June 17, 2013
Not bothering with any song these days that doesn't contain the words "Uh huh honey."

— Samantha Martin (@HiMyNameSam) June 20, 2013
#28. PUSHA T, "NUMBERS ON THE BOARDS"
Ballers! Pusha's riotous new single dropped the same day as Jay-Z's "Open Letter," and was minorly overshadowed by controversy over the Jiggaman's jam in the days to follow. It was likely the better of the two songs, however, riding an even hotter (Kanye-co-produced) beat, with Pusha owning it with a dialed-back veteran cool that's been missing from most of his recent stuff, sound just as boss as Jay as he raps "I might sell a brick on my birthday / Thirty-six years of doing dirt like it's Earth Day." Of course, Kanye chiming in with a "Y'all feel like that??" or "YAAAAHHHHHH!!" sample in the background in between his lyrics makes it sound like he's hitting at least a triple every time he comes up to the plate, regardless.
#27. BEYONCE, "GROWN WOMAN"
The older and the further into her solo career Beyonce gets, the more she exists entirely in her own milieu. "Grown Woman" is a pretty solid example of this, a Timbaland-produced stormer that sounds like nothing that is (or even really could be) on radio, despite the fact that it's fun, danceable, and exceedingly catchy--not to mention that it's unmistakably Beyonce in feel, tone and content. It doesn't bode tremendously well for Bey making it back to the top ten, but it does bode extremely well for her next album being super-awesome.
#26. JUSTIN TIMBERLAKE FEAT. JAY-Z, "SUIT & TIE"
Still stuck in our heads? Yup, still stuck in our heads. Check back in another half-year.
#25. DEMI LOVATO, "SOMETHING THAT WE'RE NOT"
Most joyous song ever written or performed about telling a hookup that he's not boyfriend material? "Something That We're Not" is kind of a reverse "Since U Been Gone," where instead of finding the release in being broken up with, Demi finds it in doing the dumping herself, with equally infectious and oddly empowering results. Sorry dude--it's not her, it's you, and if "Something" becomes as a single, you're gonna be hearing about it for some to come.
#24. NEW KIDS ON THE BLOCK, "REMIX (I LIKE THE)"
How are there no quality remixes of NKOTB's "Remix" out there on Spotify, or on the official single or anything? Are there no '80s baby DJs out there with a sense of humor willing to take a meta-chance on one of the surprise best pop songs of the year? Geez.
#23. GIRLS' GENERATION, "I GOT A BOY"
Things we're still not able to do with "I Got a Boy":
1. Wrap our head around how it come into existence
2. Predict which part of the song is ever coming next
3. Sing along to more than four words of it
4. Think about anything else for hours after listening to it
#22. BETTY WHO, "YOU'RE IN LOVE"
If you're not yet familiar with Betty Who, get familiar right quick. No budding pop star on the scene in 2013 has made a better impression than Jessica Anne Newham, whose Movement EP goes four-for-four with the perfect pop gems, the crown jewel of which is the sparkling "You're in Love," probably the best invitation-to-love song since "Call Me Maybe." In a just world, Betty/Jessica will get as big as Carly Rae--or at least as big as Robyn--but for now, those of us who have already fallen for her are enjoying having her to ourselves.
#21. KENDRICK LAMAR FEAT. JAY-Z, "BITCH DON'T KILL MY VIBE (REMIX)"
The Jordan/Kobe cover says it all, really--two greats from different eras, catching each other on the same wave-length for one supremely chill remix. Call it pass-the-torch moment if you want, but Jay and Kendrick don't sound like they're elbowing for the same room so much as enjoying each other's company for a minute, which is far more appropriate for the song's unkillable vibe anyway.
For songs #20-11, click NEXT.
#20. ARIANA GRANDE FEAT. MAC MILLER, "THE WAY"
It's not the best pop song of the year, and it's certainly not the most original, but it's hard to come up with too many songs from 2013's first half that are as reliably enjoyable as "The Way"--the kind of song you're never unhappy to hear, which puts a big ol' smile on your face regardless of circumstance. The hook is cute, the sample is cute, the breathy Mariah Carey-type sections are cute, the video is super-cute, everything is cute, cute, cute. And maybe cuteness isn't your thing, which is fair enough, but otherwise, you gotta be all about "The Way."
#19. PARAMORE, "AIN'T IT FUN"
Back in the day, if Hayley Williams wanted to dress down a peer for acting like a big shot when they're really not all that huge a deal anymore, she'd probably have done it herself, over screaming guitar and crashing drums. She's matured since then, though, and now she does it over a gently rocking (but still enormous-sounding) groove, and she gets a gospel choir to back her up for the awesome "Don't go crying to your mama / 'Coz you're on your own in the real world" outro denouement. Veteran move.
#18. J. COLE FEAT. MIGUEL, "POWER TRIP"
So much of Born Sinner is boringly conflicted "Woah is me, I want to stay faithful, but all this good pussy" moaning, that it makes the genuinely raw emotion of "Power Trip" resonate all the more thoroughly by comparison. You feel bleary-eyed and hungover just listening to Cole draggily repeating the chorus, "Got me up all night / constant drinking and love songs," sounding like he's legitimately suffering from a case of whiskey-and-Adele-induced insomnia. He didn't even need a powerhouse like Miguel to show up to sing the second chorus, but that kind of bet-hedging never hurt anybody.
#17. LITTLE MIX, "WINGS"
Hot 100 peak: #79, and now off the charts altogether. You have officially failed us on this one, America. I mean, are you even listening to that chorus?
#16. A$AP ROCKY FEAT. 2 CHAINZ, DRAKE & KENDRICK LAMAR, "FUCKIN' PROBLEMS"
You know, the song is called "Fuckin' Problems"—plural--but the only one actually prominently mentioned in the song is 2 Chainz' love of bad bitches. (We consider his "lik[ing] to fuck" a related issue, rather than an entirely separate problem.) Does that mean this is just part one, and we're getting a sequel about Chainz and co.'s fear of falling or insecurity at job interviews at some point in the future? We certainly hope so. And could you guys invite Chance or one of the Migos guys along next time too? That'd be fun.
#15. CAPITAL CITIES, "SAFE & SOUND"
It's almost two-and-a-half years old, but sometimes it takes that long for a really good chorus and synth riff to burrow its way into the national consciousness. That's just about all there is to "Safe and Sound"—plus a nice little horn echo to follow the chorus--but that's all it really needs to be one of 2013's (or 2012's, or 2011's) most addictive pop singles, one that sounds unexpected on Top 40 radio at first, but feels righter and righter with each successive listen. Now that Capital Cities have broken escape velocity, expect them to soar higher and higher this summer.
#14. KACEY MUSGRAVES, "MERRY GO ROUND"
Kacey hasn't really taken off in the mainstream, and her performance at the Billboard Music Awards was more conspicuous for its poor fit amidst the roster of stars than anything else. But she'll probably be more successful—and maybe ultimately happier—as an alternative artist anyway, one who'll never sing crowd-pleasing songs about trucks and loving America, but who'll grow up as an idol to thousands of teenage girls and boys who don't think or act quite like everyone else expects them to. "Merry Go Round" might end up her biggest hit, but it'll be remembered far more (and far better) than its Hot 100 peak position would indicate.
#13. CIARA, "BODY PARTY"
Some songs need a music video to really help us make sense of them, and such was the case with "Body Party." After seeing the song's flirty and sexy, but really sweet and mostly innocent video, suddenly it's clear that "Body Party" is, like its predecessor "My Boo" before it, more a song about a fantasy crush than it is about an outright seduction. That's not always a good thing, but it is for a fun throwback pop song like "Body Party" and for Ciara herself, who's done the HEYYYY I'M SEXY LOOK AT ME video so many times that it's actually kinda refreshing to hear and see her play the nervous young girl at a party, even if the guy she's yearning for is professional hip-hop space cadet (and real-life boyfriend!) Future. Plus, really, how great is "My Boo"? You'll never go wrong calling back to that one.
#12. EMPIRE OF THE SUN, "ALIVE"
They must have something figured out there in the lands Down Under that we haven't quite gotten a hold of in the States. Between Cut Copy The Naked and Famous, and Empire of the Sun, Australia and New Zealand have been responsible for a disproportionately high percentage of the world's sunniest, most exhilarating, most life-affirming pop/rock of recent years. Empire's "Alive" might be the best of all, a song that makes you feel like you're in the middle of a 40,000-person music festival—without all the heatstroke and long bathroom lines that would usually imply—every time you listen to it. easily the best song about being young and alive written by two guys well into their 30s that you'll hear this year.
#11. CHARLI XCX, "YOU (HA HA HA)"
Hard to pick from the many synth-pop dark crystals to be found on Charli XCX's great and shockingly consistent debut LP True Romance, but the loopy "You (Ha Ha Ha)" seems the album's most inscrutable gem. The song's twisting, loopy hook (lifted from Gold Panda's "You") provides the perfect backdrop for Charli's bitter and pissed-off (but far from despairing) tale of a relationship gone sour, capped with her laughing at her ex and sarcastically commending him "Good job, you fucked it up." Lush, addictive, and not quite like anything else you've ever heard, just like all Charli's best songs.
For songs #10-1, click NEXT.
#10. MARIAH CAREY FEAT. MIGUEL, "#BEAUTIFUL"
As good as "#Beautiful" is, it's a little surprising that this was the song to properly re-introduce Mariah Carey to pop relevance—for a Mariah song, it's fairly low-key and restrained, and feels almost more like a Miguel song featuring Mariah than the other way around. But that's cool—maybe Mariah needed a song this enjoyable and unassuming to remind people of what she can do, and hitching her star to Miguel's wagon is certainly far from the dumbest decision she could make in 2013. And just because her voice isn't the song's sole focus doesn't mean that Mariah's trademark whistle-register belting--even if it's held to a background whisper--isn't still one of the greatest sounds you'll hear on radio this year.
#9. PINK FEAT. NATE RUESS, "JUST GIVE ME A REASON"
More high-quality "he said, she said" love-song duets on the radio, please--especially ones with vocalists as strong as Nate and Alicia. They stay fresh twice as long because they're both a song and its answer song in one!
#8. KANYE WEST, "BLACK SKINHEAD"
The single from the album without singles, "Black Skinhead" remains the most purely exhilarating listen on Yeezus, the only song that you'd find yourself bopping your head to, intentionally or unintentionally. That in itself doesn't make it the best song on Yeezus, but Kanye's ridiculous intensity throughout does, whether he's making cheap (and historically inaccurate) 300 puns, relating to LeBron James' spurned reputation (cut from the final version!) or just sounding his barbaric yawp, building such disgust for all humanity (including himself) by song's end that all he can do is exclaim "GAWD!" If that doesn't sound awesome yet, now picture all that on top of the beat from Gary Glitter's "Rock & Roll, Pt. 2" and maybe you'll start to get the idea.
#7. DRAKE, "STARTED FROM THE BOTTOM"
The slow trickle of songs from the upcoming Nothing Was the Same has threatened to turn "Started From the Bottom" into yesterday's news, but none of Drizzy's other new songs seem to have taken hold like "Bottom" has, a song who's minimal hook and simple catchphrase of a hook turned into one of the biggest hits of 2013's first half. And by the time Nothing finally comes out, it'll probably be just long enough from the song's peak in popularity that we'll be ready to fall in love with it all over again in context on the album proper. No new favorites, no no no.
#6. DAFT PUNK FEAT. PHARRELL, "GET LUCKY"
So nearly 20 years into their careers as one of the leading artists in all dance music, Daft Punk finally have a crossover hit--not just their first visit to the top 40, but a song just one spot away from becoming their first #1. And though it feels obvious it would come with a song like "Get Lucky" in retrospect, now that we all know and love it, it's worth remembering that this song is still one of a kind among EDM-dominated pop radio at the moment, a disco trhoowback that would've sounded far more at home between Chic and Donna Summer records than next to Pitbull and Calvin Harris. It's just that damn likeable a song, one able to bend time and space and, as they have all throughout their career, make the dancefloor come to them, rather than the other way around.
#5. DEMI LOVATO, "HEART ATTACK"
The most incredible thing about "Heart Attack," Demi's brilliantly over-caffeinated plea for her guy to give her heart a break? The fact that it was co-written and produced by Mitch Allan, best known previously as the lead singer and guitarist for pop-punk '00s one-hit wonders SR-71, of "Right Now" fame. Next we're going to find out that the guy from New Found Glory is the same guy who sings the hook on "Can't Hold Us," and that Baauer actually used to be the bassist for Saves the Day. Good call with this one, though, Mitch.
#4. TEGAN & SARA, "CLOSER"
As great as the chant-every-world-along chorus to this song is, the true power lies in the slow-building verses, the way the teasing "All I wanna get is...a little bit clo-seeee-EERRRRRR!" leads to the pounding piano and foreboding "The night sky is changing over," finally giving way (always a beat later than you'd expect) to that all-inclusive chorus. The way it pivots on the "night sky" line is particularly brilliant, and if you ever get sick of "Closer," you can always turn to the excellent Knocks remix of the song, which smartly makes that lyric more of a focal point. Not that you ever will get sick of it, though, that'd just be silly.
#3. MILEY CYRUS, "WE CAN'T STOP"
"We Can't Stop" is one of those songs that sounds so little like you'd expect it to that it sounds kinda off-putting and weird on first listen. It doesn't take long to reveal itself as one of the year's most brilliant pop concoctions, however, a song with a chorus as absurd and rhythmically off-kilter as it is catchy and unforgettable, with a buzzing Mike WiLL Made It production that feels custom-ordered to hip-hop radio until you remember that nothing on hip-hop radio actually sounds like this, and so many lyrical and musical hooks that it seems greedy for one song to hoard them all. By the time you get to the video, with the ass-grabbing and the chopped-off fingers and the TWERK alphabits...well, you could still try resisting if you wanted, but we'd certainly rather not bother.
#2. JUSTIN TIMBERLAKE, "MIRRORS"
Get past the over-wrought video, the somewhat unnecessary extended outro, and some minorly cringeworthy lyrics in the verses, and you're still left with the singalong chorus of the year--even if it'll take you about 50 listens to remember all the lyrics to be able to sing along. It's rare that you hear love sound so damn triumphant in pop music--not puppy love either, but that lifelong, soulmate kind of love that it would've sound laughable for JT to sing about in his 'N Sync days, or even on Justified. But now that he's older, married JT, this is what he should be doing--tyring to turn wedded bliss into something stadium-worthy. He succeeded, and then some.
#1. ROBIN THICKE FEAT. PHARRELL & T.I., "BLURRED LINES"
We might not have realized it at the time, but "Blurred Lines" was the song we were waiting for all year. We'd been missing that kind of unifying, undeniable, c'mon-seriously-how-could-you-not-like-that-song (well, aside from some legitimate content grievances) pop hit all year, and we finally got it--with a whole bunch of cowbell, falsetto and "HEY HEY HEY!" shouts--in Robin Thicke and Pharrell's monster of a summer jam. And unlike other slow-creeping jams on this list, "Blurred Lines" was a no-doubter--I got that Great Pop Music rush the first time I heard it and several dozen times after, and shortly after, every party and bar outing where it didn't get played at least once felt woefully incomplete. Pharrell, we never knew how badly we missed you. (Oh wait, we totally did.)
Agree with our choice for the year's top song thusfar? Wondering why your favorite Yeezus track was left out? Want to make a case for "Accidental Racist"? Let us know all about it in the comments section.