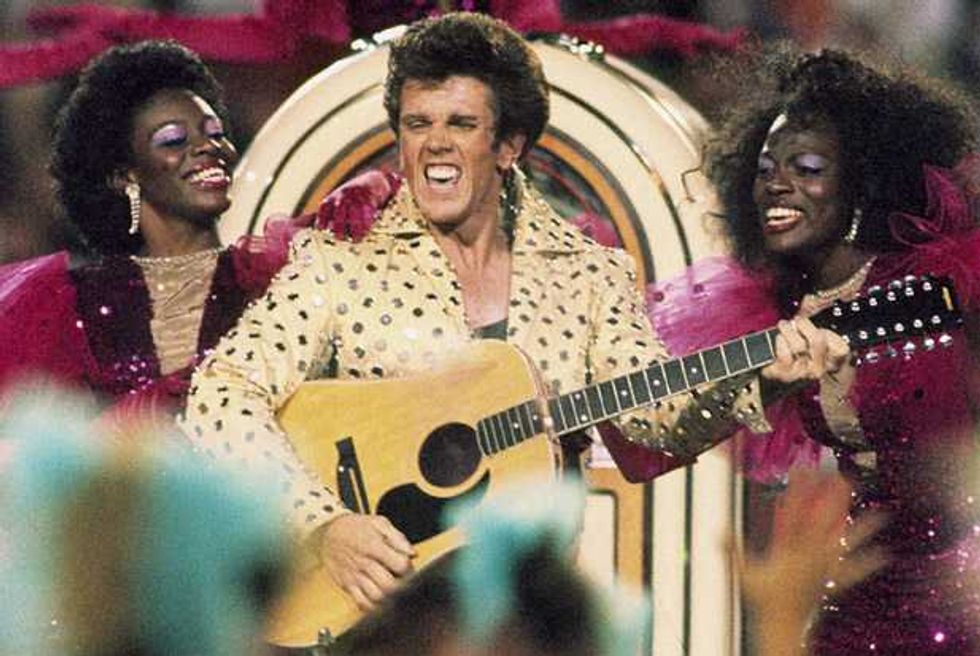 Though Prince, the Rolling Stones, and the Black Eyed Peas have made the Super Bowl halftime shows synonymous with stylish, big-budget concerts, the beer-run break was far more innocent in the event's first 25 years. Before Michael Jackson made halftime more newsworthy than the game, the Super Bowl halftime show was the home to fascinating spectacles of musical theater—the hopelessly cheery Up With People paying tribute to Motown in 1982, the Rockettes and Chubby Checker bringing out 88 Grand Pianos in 1988, or Snoopy navigating a riverboat through the New Orleans Superdome in 1990.
But few were more fascinating than 1989's Be-Bop Bamboozled, a larger-than-life piece of kitsch that featured the "world's largest card trick," millions of 3-D glasses and an explosive magician-slash-Elvis impersonator named Elvis Presto. The heavily sequined Presto, played by 33-year-old former Solid Gold dancer Alex Cole, appeared in some eye-popping computer animation, bounded from a jukebox at the center of Miami's Joe Robbie Stadium, and had the audience pick a card via applause. Ultimately they had to look under their seat to reveal the King Of Hearts. Yeah, it's a sharp contrast from a Bruce Springsteen concert.
We caught up with producer Dan Witkowski of MagicCom, the Minnesota-based marketing/production company that engineered the show 22 years ago. Witkowski loves Super Bowl halftimes, calling them "the last of the great spectacles" and adding that the promotion was gangbusters business for Diet Coke—you remember picking up your 3-D glasses, right? "It was a whole different era then," Witkowski said. "But we were successful at bringing a new audience with the 3-D aspect. And that's why we could play with the '50s thing. Would we do it the same now? Of course not. But it was just a fluffy thing."
How did you get this gig?
I had a production company for about 35 years. The year before we did the pregame show and really built that into kind of a big deal, so the NFL moved us on to the halftime. It's funny because we were just a tiny little company and we were up against Paramount Pictures, Walt Disney Studios and on and on and on. The strategy was to do a big, over-the-top musical production... but really the hook was that if you didn't see it live, you would miss it. Our hook was to do the first network telecast in 3-D. We brought Diet Coke in as a sponsor and they distributed tens of millions of pairs of 3-D glasses. It wasn't the best effort necessarily as a show, but in terms of being able to generate interest and buzz, it succeeded in droves.
Yeah, we remember the 3-D promotion.
Do you really? It was actually a pretty good 3-D technology. It works quite well, as opposed to the red/green lenses. The show that you do in the stadium is really a whole different show than what comes across on TV. So when we involved the 3-D process, one of the requirements was that the cameras had to be in constant motion in order to make the 3-D effect work. Well.. that sometimes defeats the purpose of what a great TV show should look like.
How did the idea of the world's largest card trick come about?
[Laughs] It was all meant to be very tongue-in-cheek. It's all very much a lampoon. I think it all started when we hit on the name Elvis Presto. The rest kind of evolved from there. We did have the Harley-Davidson Company make 102 custom white and chrome motorcycles for us, which was really great fun. So those came on the field during the finale. The problem is they treat the field and the stadium [with care]. It's a very valuable piece of real estate to drive over with motorcycles. I think they sold them as a special limited edition. I think every now and then one comes up on eBay for some ridiculous amount of money.
So you guys came up with idea of Elvis Presto?
We did, for better or worse. [Laughs] We worked with the Presley estate. They said, "Sure, we're in on the gag." So we officially became a licensee of the Elvis Presley Estate.
Who ended up playing Elvis?
He was one of the Solid Gold dancers! We actually had this guy cast who was terrific and he ended up going on to play Elvis on Broadway, so it was kind of a last-minute recasting. I don't know that he quite looked the part, but he was a competent dancer.
What was the hardest part about pulling this off?
When we were in rehearsals in Miami, probably the toughest part is that there were riots going on Miami at the time. So we had to make sure everybody was safe in the show. It certainly cut into the rehearsal time. You're casting thousands of people. It takes the better part of a year to plan and organize something like this. But we're good at moving a lot of bodies.
So what do you think of today's NFL shows? Yours seems like a much more innocent time...
Well it was! There's no comparison. I thought the Prince concert was great, and the way he pulled that off in the rain was amazing. And I somewhat miss the grand spectacle in some ways. But there have been some terrific shows, just great concerts.
How did you get the cushions to display the King of Hearts?
We had everything placed beforehand. We were lucky they selected the right card. Amazing, isn't it?
You didn't have a backup plan?
Shuffle the deck again? It's easier when you only have four cards, I'll tell you. The blimp shot, if you really look at a good hi-definition shot, it really does form the King Of Hearts in the stadium. But it was kind of hard to see on TV. We had rain the night before just in droves, so there were some low-hanging clouds. But, hey, cue the fireworks. It always ends with the fireworks.
So would you call this event this a success?
We had like eight binders filled with clippings from all over the world. From Coke's standpoint in terms of worldwide publicity, they felt it generated about 60 million dollars in worldwide publicity. For their investment, I think it was a great payoff. That year, I believe it was the first year they telecast the show in China, and I think they figured about 300 million people in China alone saw it. It's great to talk about, but when you actually watch the video [laughs], it's a little crazy.
[Attempts to reach Alex Cole, who played Elvis Presto, were unsuccessful.]