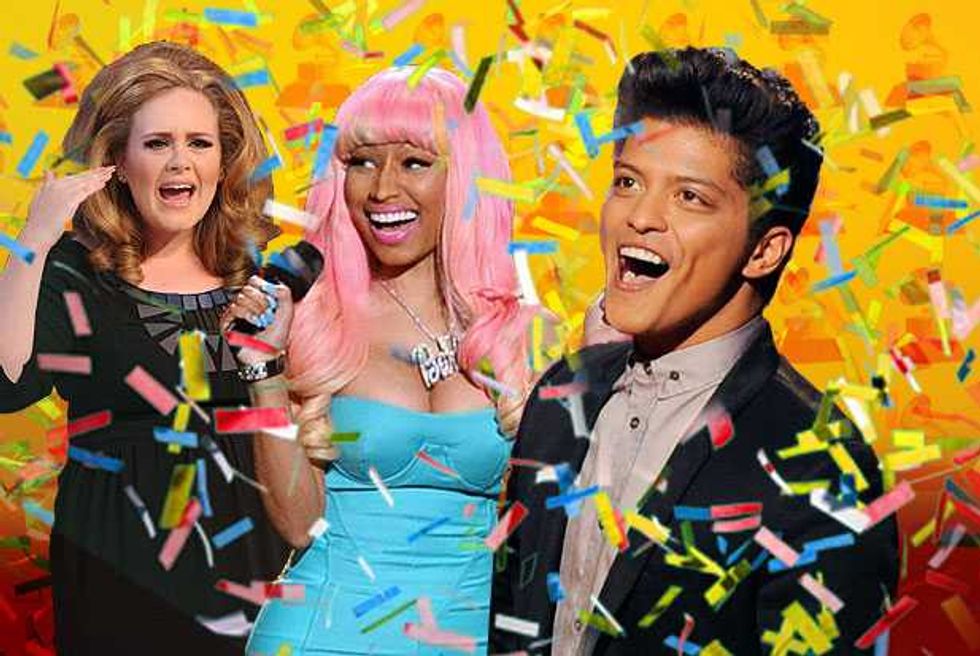 The Grammy Awards are Sunday, which means by now you've probably completed a pool and are poring over updated predictions—or simply bought your weight in tortilla chips and a new pair of roomy sweats for your annual viewing party. We spare no judgments on the latter, as all award shows are best enjoyed with a hefty supply of highly enjoyable foods at the ready. (Sometimes the only way to make sense of Grammy ruling is through multiple pieces of pie.) We've pulled together a collection of Grammy recipes from top chefs around the country, as well as a few costume and party ideas for the big night. Prepare yourselves for a full fiesta with our nominee-themed party kit below.
Step one: Supply some rocking snacks
Rollin in the Dip By Marc Forgione
2 cups crème fraiche

2 tablespoons chopped chives

1 tablespoon minced shallot

½ lemon zest

1 tablespoon grated Parmesan

3 drops black truffle oil

¼ cup minced cooked bacon (North Country)

Salt, black pepper, red pepper flakes to taste
Mix all ingredients together and season to taste. Serve with homemade potato chips (or a nice store-bought brand).
Marc Forgione is an Iron Chef and three time Michelin Star awarded chef for Restaurant Marc Forgione in New York City and the upcoming American Cut at the Revel in Atlantic City.
Bruno Mars-Mallow Shake By Spike Mendelsohn
1 16-ounce bag jumbo marshmallows

2 cups whole milk

2 cups creamy vanilla ice cream

1 tablespoon sour cream
1. Preheat the broiler. Reserve 4 marshmallows for garnish.
2. Spread out the remaining marshmallows on a baking sheet in a single layer. Place the sheet under the broiler and cook, stirring once or twice, until completely charred, 2 to 3 minutes.
3. Remove from the oven and set aside to cool. Repeat with the remaining 4 marshmallows, but cook just until toasted slightly golden, about 1 minute.
4. Remove from the oven and set aside to cool.
5. Add the milk, ice cream, sour cream, and burnt marshmallows to a blender. Blend for 5 minutes. Pour into four 8-ounce glasses and garnish each glass with a golden marshmallow.
Spike Mendelsohn is a TV personality, cook book author, chef and owner of two DC hotspots: Good Stuff Eatery and We, The Pizza.
Chopped Bon L-iver By Marc Spangenthal
1 lbs chicken liver, trimmed and cleaned

1 lbs fresh duck liver, trimmed and cleaned

2 lbs onion, small diced and fried until golden brown

8 eggs

¼ cup schmaltz

1 tablespoon salt

1 teaspoon black pepper
1. In a hot sauté pan add 2 tbs of canola oil. Add the livers in a single layer, cook in small batches. The livers should be well caramelized, dark brown.
2. Place the cooked livers in a the bowl of a food processor. Pulse the livers in the processor making sure they are not over chopped.
3. When all the livers are processed add the remaining ingredients and chill.
4. Serve with your favorite bread or matzo.
Mark Spangenthal is the Decorated Executive Chef of Kutsher's Tribeca, the Jewish-American hotspot inspired by the legendary Catskills resort.
Nicki Mi-Nachos By Marcela Valladolid
5 dried pasilla chile peppers

2 tablespoons extra-virgin olive oil

2 cups chopped onions

2 cloves garlic, minced

1 1/2 cups low-sodium chicken broth

2 tablespoons creamy peanut butter

1 1/2 teaspoons sugar

1 teaspoon dried oregano, crumbled

1 8-to-10-ounce bag tortilla chips

1 3.1-ounce disk Mexican chocolate, chopped

Kosher salt and freshly ground pepper

1/2 to 1 cup grated Oaxaca cheese or Monterrey Jack cheese

2 to 4 tablespoons Mexican crema or sour cream

2 to 4 tablespoons chopped fresh cilantro
1. Preheat the broiler. Stem and seed the chile peppers and soak in warm water until soft, about 15 minutes. Drain.
2. Heat the olive oil in a saucepan over medium heat. Add the onions and garlic and cook, stirring occasionally, until the onions are translucent, about 5 minutes. Transfer the mixture to a blender and add the chiles, chicken broth, peanut butter, sugar and oregano.
3. Coarsely crumble 1/4 cup tortilla chips, add to the blender and puree until smooth.
4. Return the mixture to the saucepan and simmer, stirring, about 5 minutes. Stir in the chocolate until melted. Season the mole with salt and pepper.
5. Place the remaining tortilla chips in a baking dish. Pour about 2 cups mole on top (reserve the rest for dipping); sprinkle with the cheese. Broil until the cheese melts, about 2 minutes. Top with the crema and cilantro.
Marcela Valladolid is a Food Network TV personality and host of "Mexican Made Easy" and cookbook author of "Fresh Mexico" and "Mexican Made Easy" who shines light on fresh, easy Mexican cooking.
Bananas Foster the People By Duff Goldman
4 bananas

1/4 cup (1/2 stick) butter

1 cup brown sugar

1/4 cup banana liqueur

1/4 cup dark rum

1/4 cup Grand Marnier

1 pint of vanilla ice cream

Whipped cream

1 teaspoon freshly ground cinnamon
1. Slice the bananas about a 1/4 inch thick. Place the skillet over medium heat and melt the butter and brown sugar. Once the butter and brown sugar are melted, turn up the heat to high.
2. As soon as the liquid starts bubbling, add the sliced bananas. Gently toss the bananas in the liquid to coat and lightly caramelize them, paying close attention to not overcook. Once coated, remove the pan from the burner, then add the Grand Marnier, dark rum, and banana liqueur.
3. Place back on the burner, tip pan slightly until the liquor ignites, being careful not to spill—the flames will burn off the alcohol. Once flames subside, remove from burner.
4. Spoon warm sauce over ice cream scooped in bowls and top with whipped cream and freshly ground cinnamon. Serve immediately.
Duff Goldman is a cake superstar and owner of Charm City Cakes bakery in Baltimore and Charm City Cakes West in Los Angeles.
For festive drinking games and appropriate attire, click NEXT.
Step two: Play along!
To ensure that a good night can be had in the event of a boring or underwhelming ceremony, you and your guests should be prepared to get playful. Gut, Grind, Grammy, our own version of the middle school classic, is perfect for discussion before, during and after the show—or always—but there are some additional games you can begin when the Grammy telecast kicks off on Sunday.
Grammy Grab Bag Nicki Minaj and Lady Gaga have built red carpet reputations off of turning seemingly random objects into haute couture. Have guests predict their next jaw-dropping looks by throwing household items—spatula, iron, toothbrush—into a box before the arrivals begin. Whoever makes the closest prediction to what either provocateur winds up wearing wins the box 'o junk, saving themselves a trip to Bed, Bath & Beyond for the next year.
Who Is Bon Iver? Like Arcade Fire in 2011, the band is poised to leave certain Grammy viewers with questions, should they come away with big wins in their top categories. Justin Vernon already nixed the possibility of a performance during the show, but it's likely Grammy cameras will still find him somewhere in the audience—or in the best case scenario, at the award podium. Whenever there is a mention of the band, take note of all the different ways poor presenters find themselves pronouncing the name, and stay put for the immediate cut to a confused older member of the audience. (Who is this bearded man? Did he really live in the woods?) Each time that happens: drink.
Step 3: Look the part
Dressing up always makes things more fun, so why not arrive at your viewing party looking like a selection of this year's nominees. Tease your hair beyond its normal limit à la Adele, wrap your bottom half in saran wrap, draw a bulls eye and say you're Nicki Minaj, or wear a paper bag and question mark over your head to become Skrillex—it's likely that's what people assume he looks like, anyway.
Are you hosting a Grammy Awards party? Leave your drinking game of choice or Lady Gaga-related recipe in the comments below
Jaguar xj: get ready to be seen.(Auto Weekly)
The Virginian-Pilot (Norfolk, VA) March 25, 2011 By Larry Printz The Virginian-Pilot CLIMBING INTO a really fine automobile is like wearing a bespoke suit. It's transformative. For if clothes make the man - and woman - then so does a car.
If you're stepping out of a Ford F-150 in a pair of overalls, no one would notice. Do that in a Jaguar XJ and it's a different story.
OK, now maybe there's a wealthy farmer or contractor who owns a pair of overalls and drives a Jag. And to all five of you, I say, "No offense intended." But having sampled Jaguar's finest sedan, the XJ Supersport, I would suggest trading in those Carhartts for a bit of Saville Row. website bowers and wilkins
XJ drivers have to get used to being stared at; these cars are uniquely gorgeous.
Beyond their scarcity, it's the XJ's distinctive beauty that merits attention.
Jaguar no longer slavishly imitates past styling. Its new designs are thoroughly modern, but do pay homage to the past. The front grille comes straight from the 1968 XJ6. The rounded greenhouse appropriates its shape from the sexy XK coupe, while its thin supports contrast with the substantial lower body, a constant in Jaguar design. The effect is enhanced by the panoramic sunroof and dark-colored rear roof pillar, which give the illusion of a floating roof.
It's a bold stylistic leap. Unlike the previous XJ, which looked like an old Buick, the new one looks unmistakably like a Jaguar.
Inside, the reinterpretation continues. There's beautifully soft leather, plush carpets and unique Zebrano wood trim, just the sort of thing anyone would expect in a Jaguar. But look closer.
The instrument cluster is truly radical: It's digital. Three round dials mimic the look of analog gauges and, aside from the speedometer, they can be replaced by other readouts via toggle switches on the steering wheel. These toggles, while convenient, are too easy to accidently activate while turning the steering wheel.
It's not the only electronic screen nestled on the instrument panel. A screen in the center of the dashboard controls most of the other functions of the car, including climate controls, audio system, navigation and phone. If this sounds suspiciously like "My Ford Touch," it is. Keep in mind that while Tata Motors of India now owns Jaguar, Ford Motor Co. did most of the development work on this car. So the systems are identical in function, but different in look.
This makes, say, synchronizing your phone to the car easy, so that you can use the cars controls to chat. However, the system can be bothersome. The voice activation is a hit-and-miss affair. Sometimes it works, sometimes it doesn't. Many functions require you to hit a very specific spot on the screen to activate. When you are successful, some functions respond slowly. These are all minor gripes, and very easy to accommodate.
But car designers should rethink how many functions to put into a system like this. For example, while most cars require hitting a simple button to activate a heated seat, the XJ requires you to hit three separate places onscreen before it's activated. here bowers and wilkins
Kudos should go to Jaguar for its audio system. The Bowers and Wilkins 1,200-watt, 20-speaker surround-sound audio system features a CD/DVD player, two USB ports, Bluetooth 2.0 audio streaming and a 30-GB hard drive. The sound is some of the finest I have ever heard in a car audio system.
But what really matters is where the rubber meets the road. And just as the XJ's styling differs from its German and Asian competition, so does its performance.
All XJs use an updated rendition of last year's XJ chassis. It's built from aluminum to save weight.
Likewise, all models use a 5.0-liter double-overhead-cam V8 engine. In the base XJ, it's rated at 385-horsepower, and returns 16 mpg in city driving, 23 mpg on the highway, according to the EPA.
One step up is the XJ Supercharged, with a supercharged V8 developing 470 horsepower. The test car, an XJ Supersport, uses the same mill, but with 510 horses. The supercharged V8 is rated at 15 mpg city, 21 mpg highway. A six-speed automatic transmission is standard.
This large rear-drive car acquits itself well, as you'd expect. The driveline is ferociously quick, effortless even, and the supercharged engine shaves a half-second off 0-60 mph sprints. Speed comes on quickly, but smoothly.
The ride retains some of the softness of previous XJs, but overall, it's noticeably, but not objectionably, firmer. As you'd expect, body roll in corners is well-controlled, but it does crop up suddenly when this big cat is pushed hard.
Thankfully, the cabin is blessedly quiet, no matter what the speed. As for the cabin's spaciousness, you might want to consider the long wheelbase version of this car if back seat legroom is a priority. The short wheelbase test car had adequate room, but not without some compromise from front seat passengers. Count on spending an $3,000 for the extra space.
Like any true luxury product, the XJ is exclusive, exquisite and exceptional - like a fine suit of clothes.
Larry Printz, (757) 446-2220, larry.printz@pilotonline.com s tats Engine Supercharged 5.0-liter V8 Wheelbase 119.4 inches Length 201.7 inches Weight 4,281 pounds Cargo space 15.2 cubic feet EPA rating (city/highway) 15/21 mpg Fuel consumption 22.4 mpg Fuel type Premium Base price, base model $72,700 Base price, test model $110,200 As tested $111,075 Where to find it Checkered Flag Jaguar, Virginia Beach what we say A seriously sexy sedan Pros Speed, comfort, agility and surprisingly good fuel economy Con Frustrating electronic controls what they say Dan Neil, The Wall Street Journal "The Jaguar XJ Supersport thus hits a sweet spot between galling luxury and serious performance. Think of it as a car that drinks Champagne and then eats the glass." CAPTION(S):
photos courtesy of jaguar Inside the Jaguar XJ Supersport, there's beautifully soft leather, plush carpets and unique Zebrano wood trim, just the sort of thing anyone would expect in a Jaguar. But look closer.
The instrument cluster is truly radical: It's digital.
Unlike the old XJ, which looked like a Buick, the new one is unmistakably like a Jaguar.