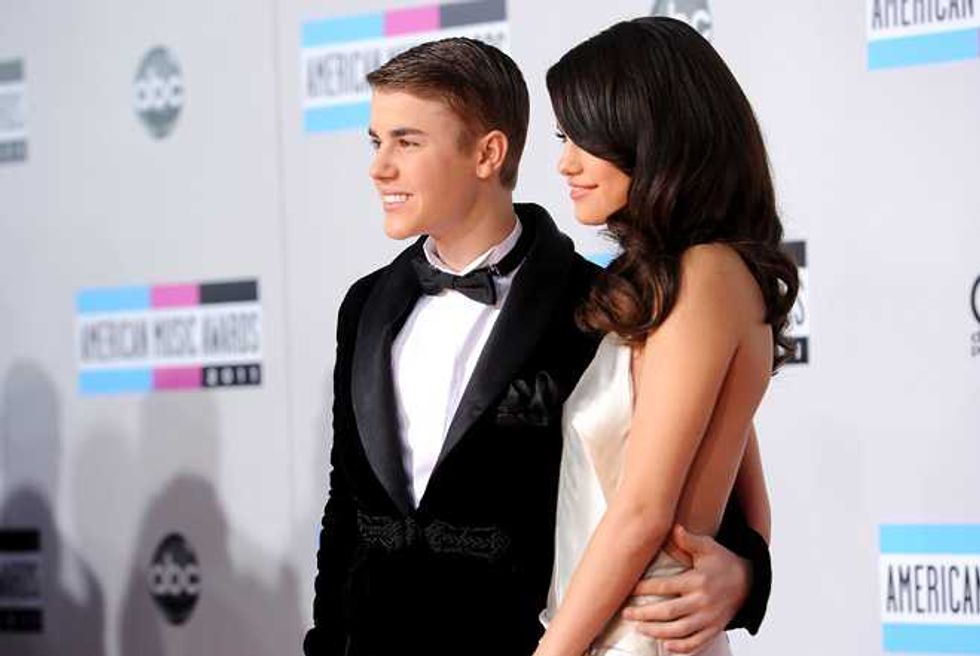 This hasn't been an easy year for fans of Justin Bieber and Selena Gomez's two-year relationship. Along with being touted as hot, ready and (finally) legal, the newly-18-year-old Bieber has recruited beautiful models to costar in his videos, while 20-year-old Gomez is running around in bikinis with James Franco for the betterment of modern cinema. Their relationship has never been without rumors and gossip, but with recent reports of a split, and both parties dropping passive aggressive hints on social media, it appears pop's most depressing nightmare has become a reality. To help cope with our loss, we've updated the handy Jelena (Sieber?) breakup timeline we first concocted in July. Let's remember the way they were, and try to predict what's to come.
But first, let's remember their happier, more naked times together, circa May 2011:
From that photo and that along, we can conclude that these two are forever, right? It only helps their cause that former child stars are meant to be, both of their mothers are MILFs and Selena most likely won't find someone else who can rent out the Staples Center for a private screening of her favorite movie—unless she moves in on Kobe. But after that highly publicized vacation, trouble was a-brewin'...
NOV. 1, 2011: IS THAT YOUR BABY? (BABY, BABY?)
A young woman from California accused Justin Bieber of fathering her child after a backstage romp following one of his L.A. shows. In a matter of days, reports surfaced that Selena had dumped Bieber in the wake of his paternity scandal, causing his camp to fear their break-up would lend credibility to Mariah Yeater's outrageous claims. This could be true: Selena is way too young to become a stepmom.
MAY 20: NO SELENA AT THE BILLBOARD AWARDS
The Billboard Awards are all about charts and statistics, and with over 22 million followers (at the time) it's no surprise that The Bieb would take home a trophy for his social activity. "The Internet is where I got my start and all my fans have helped me get to this position," he explained in his acceptance speech. Bieber went on to acknowledge manager Scooter Braun, Usher, his mom, his dad and God, before getting whisked offstage with no mention of the name he's been attached to for the last year. Trouble in paradise, or merely a part of becoming a seasoned award winner who feels personal life should stay personal?
MAY 21: A TWEET EXCHANGE
In addition to failing to thank Selena, Bieber brought a devoted fan who had previously asked the 18-year-old to her high school prom to the 2012 Billboard Awards. As far as cameras could tell, Bieber was a great date, hugging her before he took the stage and leaving her in the protection of some very powerful people. Those looking for clues to his newly single mindset could take his message to Cady as flirtation, but we know it's probably just those Canadian manners:
@cadyeimer no thank you. u wanted me to feel normal. u cared. i appreciated that. i appreciate all of u. really nice meeting u. #DREAMBIG

— Justin Bieber (@justinbieber) May 21, 2012
MAY 22: THE RIHANNA THEORY
Selena's absence can only be explained by one thing: Rihanna. According to the roving truthmongers at MediaTakeOut, there is "some evidence" that Bieber and Gomez are donezo, based on her absence at the BBMAs and Bieber's failure to thank her in his acceptance speech. A headline like "SHOCK REPORT: Selena Gomez BREAKS UP With Justin Bieber… Over RUMORED ROMANCE . .. WITH RIHANNA!!!!" does more than grab eye balls. And their source? "The Streets":
The streets are saying that Selena Gomez DUMPED Justin, after she heard RUMORS that he and pop SUPERSTAR Rihanna were getting very friendly - and Selena suspected that Justin was SMASHING!!!
Hasn't Rihanna been through enough these days?
MAY 27: LOVE AND LEGAL MATTERS
Bieber and Selena were leaving the movies at The Commons in Calabasas, Calif. over Memorial Day weekend, when an intrusive member of the paparazzi made their holiday less than pleasant by blocking their vehicle to snap a photo. The photographer has alleged that Bieber struck him, and there was talk that the 18-year-old could be facing criminal charges. We could understand if Selena would want to end things with him after seeing what his rage face looks like.
JULY 2: BFF MISSING
Selena attended a Malibu birthday barbecue in celebration of pal Ashley Tisdale and was photographed with Bieber BFF Alfredo Flores, while her man was home sick. Despite the smiles, sources told People that Selena was "crying about Justin and was upset" during the party. Could it be because he recently told Q magazine that he likes big butts (and he cannot lie!)? "I think I'm a butt guy. I just like butts. I'm attracted to them," he said. "Nicki Minaj has a nice one." Now those tears make sense; Selena's derrière is nice, but no one's behind can compare to Ms. Minaj's.
JULY 5: MULTIPLE BREAK-UPS
TMZ had celebrity relationships enthusiasts on high alert Thursday afternoon, with a report that Bieber and Selena have broken up multiple times in the last few months. They're far from "solid," but trying to make it work.
HOURS LATER...
Bieber and Selena are seen holding hands—which is very important to celebrity relationships these days—while heading to the restaurant Pink Pepper in Hollywood. According to TMZ, when asked to describe the state of his relationship, Bieber gave a very curt response: "What does it look like?" You tell us, Bieb! We've been at this months and still don't know for sure.
AUGUST 15: THE COUPLE THAT TIE-DYES TOGETHER...
Justin and Selena attended a Phish concert in L.A. #withDanKanter, mingling with cute kids backstage and giving their respective mothers something to look forward to down the road. We're all for culture being a staple of date night, but perhaps Bieber's love of jam bands got to be too much?
SEPTEMBER 30: BELIEVING IN VEGAS
Sin City provided the backdrop for a romantic reunion during the early days of Bieber's Believe tour this fall. The two were all smiles following The Bieb's show in Las Vegas, with Selena staying right by his side even when he looked as if he was about to blow chunks.
OCTOBER 24: SWAGGIN' IT OUT WITH OPRAH
Bieber taped a video interview for the upcoming episode of Oprah's Next Chapter in Chicago. The first preview clip featured Bieb gushing about Selena and maintaining a strong commitment to their relationship: "Sometimes we gotta take the back exits, but I never make [Selena] separate from me because I never want to make her think that I'm ashamed of her." The episode is scheduled to air on November 25, which means some poor soul at OWN is likely frantically re-editing as we type.
NOVEMBER 7: VICTORIA'S SECRET FASHION SHOW
Yes, you live a very tough life, Young Bieb.
tough life @brunomars. #VSFashionShow :)

— Justin Bieber (@justinbieber) November 7, 2012
NOVEMBER 9: THE BREAKUP HAS LANDED
Both E! and People dropped the bomb that Selena and The Biebs parted ways one week earlier, citing "crazy schedules" and "trust issues" as contributing factors. Somebody hold us. We're shaking.
NOVEMBER 10: THE TIMBERLAKE APPROACH
If your pop star girlfriend broke your heart, who better to look to for advice than JT?
We'll continue to believe what Bieber, Selena and their respective PR teams tell us, despite the junk anonymous sources continue to post on Twitter. They were bound to break up at some point, right? They're babies! Eh, don't tell Miley and Liam that. Whatever happens, both will inevitably be subject to hypothetical polls about who they should date next, with Selena having the opportunity to craft a potentially music career-saving break-up song (look to your pal Taylor for tips) and Bieber searching for a "normal," out of town girl to remind him of life back in Canada—or bravely reveal the secrets of their relationship in Never Say Never...Ever. Get those tissues ready.