Laced up in leather and latex, hard-hitting Australian pop duo The Veronicas exact explosive revenge on a deceitful lover in their Cruel music video. The track—co-written by the Origliasso sisters, along with Dan James, Leah Haywood and Rob Ellmore—serves as the third official single from their third self-titled record (via Sony Music). For the video, directed by Matthew Sharp, they enlist the charming good looks of actor Logan Huffman (V, Lymelife, Bad Turn Worse) as their target.
"I can't breathe! Let me out of here!" Sharp's character screams from the convertible's trunk, in the video's Kill Bill-reminiscent cold open. Filmed in California, the desert-strewn clip (below) chronicles the metaphorical journey The Veronicas take as they play a cat 'n mouse game with their prey. Sharp escapes his tomb, but they soon track him down to a lonely motel room, drink some booze and burn him with cigarettes. After they tie him up again, they hit the open road for a midnight escapade. Again, he breaks free, attempts to choke Jessica in the driver's seat—but Lisa has a more satisfyingly sinister result in mind. (Hint: sparks fly!)
https://twitter.com/Lisa_Veronica/status/573051115148738561
Cruel follows 2014's You Ruin Me and If You Love Someone.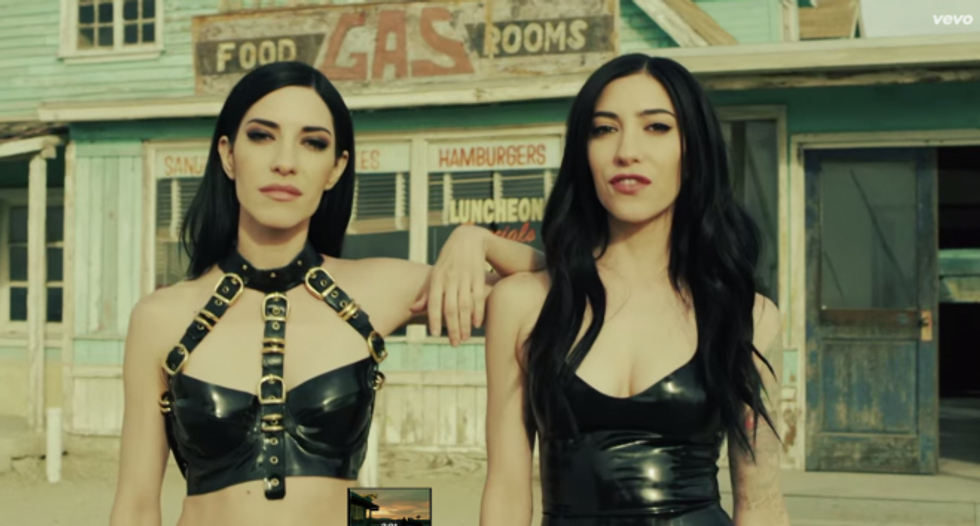 Stay tuned for The Veronicas updates. Be sure to follow @Popdust and @JasonTheScott on Twitter!