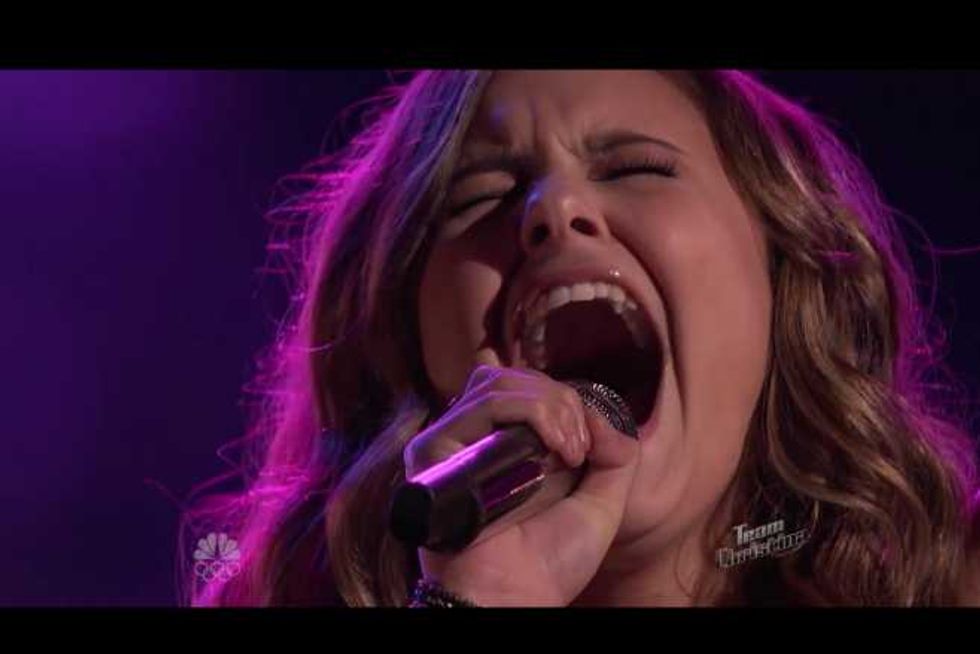 Last night, Team Adam and Team Blake faced off. Some performances were great, some were not, but none of that matters because the coaches were universally positive in all their comments. I wish I had that panel following me around for whenever I was having a bad hair day. One round of critiques and I'd be convinced I was living in a shampoo commercial, humidity and frizz be damned.
Once again, Christina is missing from the big red chairs, as she is prepping for a performance. Christina is here to WORK this season! She's joining A Great Big World to sing their new single "Say Something." The soft keys of a piano open the song, and just as I'm preparing to watch XTina emerge on top of an elephant covered in body paint to top last night's show, I notice her standing quietly to the side of the stage, wearing normal clothes and singing into a microphone. She just can't stop surprising me this season! Also, this is a lovely song and a wonderful reminder of just what an amazing singer she is. The guys of A Great Big World are good too, I GUESS.
Team CeeLo is up first, and Amber Nicole is kicking things off. She's singing previous Voice winner Cassadee Pope's "Wasting All These Tears." Countdown to Blake taking credit starts... NOW. Amber looks gorgeous as she takes the stage, but this is not her strongest outing. It's a weird song choice for her, since Cassadee's range and vocal strengths are very different than Amber's. She does her best to make it her own, but it all feels just a little weird, and she has some pitch problems on the big notes. Blake, predictably, calls the song "sacred," but doesn't pull out any trophies or point to himself even once during his critique, so progress? The coaches all recognize the sharp note, so I guess whatever happy juice they were drinking last night has finally run out.
Next up is the soldier with the shining locks, Jonny Gray. He's singing The Verve's "Bitter Sweet Symphony," which is definitely an interesting choice. Jonny's voice is very different, and it's cool, but this performance is not really MOVING me. I think maybe it's just too true to the original? That always feels like a cop out of a critique, but there are parts of this song that sound more like an impression of the artist than any interpretation. That being said, Jonny's a cool cat, and he bops around the stage looking like a little darling. The coaches are definitely being a bit more reserved with their praise tonight, which I appreciate, and take as undeniable proof that they are all reading my recaps. Hi guys! You're doing great!
Tamara Chauniece is up next, and coach CeeLo has tasked her with singing Gloria Gaynor's "I Will Survive." That's a bold choice. She's performing this number in all of its disco glory, which means that there are a whole lotta words that have to be belted with not a lotta breaks. There are a few moments where she seems to be on the brink of losing her breath, but she's a pro, and she manages to get it back before it's gone, recovering really nicely. It doesn't hurt that she looks gorgeous and has amazing stage presence. Well played, Tamara.
Kat Robichaud is singing Mary Lambert's "She Keeps Me Warm." At first I was excited about this song, thinking perhaps we'd get to hear Kat do something a little more low-key and subtle. But when she enters with her sparkly leotard and tuxedo jacket, it becomes pretty clear that it's not going to be that kind of performance. While this is certainly a more reserved performance than Kat's typical schtick (there's no kicking), she's still hamming it up quite a bit, and her attempt to rock/raspify the song causes some weird issues with the tone. So far Team CeeLo is not having the greatest showing in the live rounds.
Hoping to change that is CeeLo's final artist,  17-year-old indie artist Caroline Pennell. She's singing "We're Going To Be Friends," and it's so great. In rehearsals, CeeLo mentions wanting Caroline to charm the audience, and boy oh boy does she succeed. Adam says it in his critique and I completely agree: this is the first time that Caroline truly performs as herself, without the heavy handed affectation. She is still channeling the indie sensibilities that people know and love, but it's the first time that I don't find her particular pronunciation distracting. It's super refreshing and proves that you don't need to do an impression to make an impression.
Kicking things off for Team Christina is Josh Logan, singing CeeLo's Gnarls Barkley song, "Crazy." He has his guitar, and he performs a kind of... well, crazy rendition of this song. Don't get me wrong, I dug it. I dug it hard. But it's definitely weird. There's a jazzy energy to it, and with the quick pace of the lyrics, it almost sounds like he's scatting through certain parts of it. Josh continues to have a very interesting voice, and this seems like the type of arrangement that could certainly garner a few iTunes downloads.
Olivia Henken is going to try to countrify Katy Perry's "Roar." This seems like a smart choice. Katy Perry has a crazy range, so it's always impressive if an artist can nail it, and this song lends itself pretty well to a country voice. Olivia looks a little uncomfortable on stage, and there are definitely a few moments where she seems to be struggling to reach some of the top notes, but it's a decent performance. It's certainly far from her best, but she does manage to hit some impressive notes, so props where props are due.
Stephanie Anne Johnson is singing "Georgia On My Mind" by Ray Charles. Ugh, I just love her. This performance is so unique and fantastic. This is a song that has been performed by so many people on so many singing shows and in so many karaoke bars, and somehow Stephanie manages to crack it wide open. Her voice is just so cool! When she's in her lower register, it's full and rich, and then when she brings it up it's like a whole different sound, completely pure and clear. And she just switches between them like it's nothing. Fantastic.
Matthew Schuler is up next, and he has the herculean task of belting Miley's "Wrecking Ball." Man oh man oh man. Matty kills it. There isn't even much to say on this, besides a big wow. The audience is so clearly in it, and he manages to deliver the emotional performance without ever losing sight of the pitch. Plus, have you guys ever tried to sing this song? Because I have, and it is HARD. Adam, CeeLo and Blake all look dejected at the end of this, and rightfully so. He's going to be a tough one to beat.
The final performance of the night is from Jacquie Lee, who is performing "I Put A Spell On You." Jacquie and Christina seem to have a very sweet relationship, which warms my heart. Jacquie is LIVING in this song. She's just crazy. She is wailing like a maniac in the most amazing way possible. The fact that this girl is 16 is honestly mind boggling. It's a huge moment for her.
That was a pretty impressive night of performances! Team Christina, in particular, is much more stacked than I initially realized. On Thursday, two members of each team will be cut, and no matter what happens, it's going to be a big time bummer.
Stand Out Performance: Those last three performances all really wowed me, but it's hard not to give it to Jacquie. She went for it harder than anyone, and she was the biggest surprise for me tonight.
Coach MVP: I have to give this to Christina, just for being a pretty killer coach. She chose fantastic songs, she connected with her artists, she gave thoughtful feedback to every performer, not to mention that performance from her at the top of the show. She crushed it tonight.