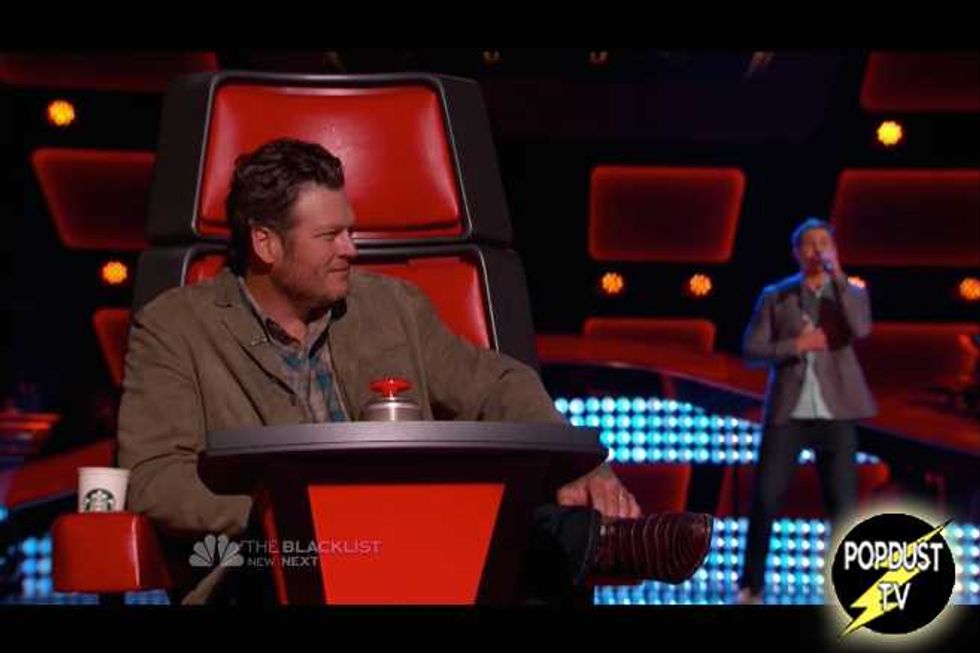 Believe it or not, we're already almost done with the blinds! Time flies when you're having fun... and falling deeply in love with our newest coaches, Pharrell Williams and Gwen Stefani, who seem to get cuter every week. Tonight, our coaches must complete their teams, and everyone only has two spots left. So, who can we look forward to seeing more of in next week's battles? Let's find out!
First up is Matt McAndrew, a grocery store clerk and music teacher at a school called "Bach to Rock." Wait, is that real? Is it too late for me to apply? Post-post-post graduate program maybe? It's the real life School of Rock! He's singing A Thousand Years by Christina Perri, and of course his soft, buttery, high-ish voice gets a real quick turn from Adam Levine. He's really quite good, and he works in a really natural build, without ever losing the softness. Blake Shelton and Pharrell jump on board as well. This really comes down to a battle between Adam and Pharrell, as Blake seems resigned to not getting this bespectacled, tatted up indie rocker on his team.
Brittany Butler grew up on jazz standards thanks to her grandfather, who passed away in 2009. She's a music student and seems really sweet and likable. She's singing a super jazzy version of The Girl From Ipanema, and she's real sassy and fun to watch. Her voice is really interesting, she has a nice lower register, and she even throws in some scat singing. Gwen and Pharrell are the only ones to turn, and Adam and Blake revel in the fact that our two nicest coaches might have to actually fight it out. "You're like the queen of awesome!" Pharrell says with exasperation when Gwen says she doesn't know how to go head to head with him. Ultimately, Pharrell wins out on the "candy cane sword fight" (thanks for that one, Blake) and Brittany joins his impressive ranks.
Ryan Sill is a 20-year-old son of an opera singer and is also maybe made of plastic? Like I think he might be an animated Ken doll? Can we get a pulse check up in here? He grew up in a singing family, and they are so precious that I feel like I'm going to suffer a sugar crash listening to the a cappella taco song they sing as a family. He's singing One Republic's Secrets, and there are some really nice moments, but he's also super pitchy at times, and he falls off his notes more than once, but maybe that's nerves. Gwen turns really quickly, and later Blake throws his hat in as well. Neither coach seems super invested, but he chooses Team Gwen (cough cough - sacrificial lamb - cough cough).
Fernanda Bosch is a Venezuelan teen who works with the Special Olympics in her spare time. She sings Macy Gray's I Try, and she's good, but not blowing me away. There's some grit to her voice, but it feels a little forced, and she's definitely super nervous. Adam and Pharrell both immediately can tell that she's very young, which can't be a good sign. Eventually Gwen and Blake both turn, but this again feels like a strategic move to prep for the battle rounds. Neither coach fights particularly hard, but Fernanda is a fan of The Voice, so she goes with Blake. Meh, fine.
Beth Spangler is a radiographer at a children's hospital in South Carolina, and has spent the last few years putting her dreams on hold to take care of her father following a serious motorcycle accident that resulted in him losing his leg. You know, just in case you weren't sure if we're supposed to be rooting for her. She's singing Best Thing I Never Had by Her Royal Highness Beyoncé. Beth is definitely singing with a capital S, and I don't know if that's a compliment. She's trying really hard, and it feels a little labored. But apparently I'm way off base, as all four judges end up turning. Pharrell plays the standing ovation card, and Gwen plays the fashion card, but it's Adam, who barely puts up a fight, who lands Beth. And with that, Team Adam is complete. Three more to go!
Griffin is a former bow tie entrepreneur (yes, really) who now lives in Nashville and is pursuing music when he's not working at a senior home. The Nashville home and the turquoise necklace make me think this dude is Blake's to lose, but then he starts singing, and he's doing Michael Bublé's It's A Beautiful Day, which is so not what I was expecting. He's really charming and fun, and his voice is really nice and clear, without sounding like a Michael Buble impression. Blake, Gwen and Pharrell all hit their buttons, and Blake is very quick to remind Griffin that he and Bublé are besties, but it's Pharrell who wins Griffin handily, seemingly exclusively because Griffin digs Pharrell's sense of style.
Mayra Alvarez is from the same town as last season's Jake Worthington, so most of her intro package is spent talking about him, and watching a video message from him. She's singing Michael Jackson's Human Nature, and its fine. It feels a bit like a karaoke performance, to be honest. She has a perfectly nice voice, but it's just nothing that special to me! She's not bad at all, she's just very safe, and very predictable. Of course Blake plays up the Jake Worthington connection, but Gwen and her lady power win out.
So that means that Mr. Shelton is the only coach still in play. 15-year-old Justin Johnes looks to be the one to fit the bill. Little Mr. Johnes is a YouTuber who gained early inspiration from watching NSYNC live performances, so my hopes are EXTRA high. In true boy band fashion, Justin starts his performance casually sitting on the edge of the stage. He sings Passenger's Let It Go, and he's not the most impressive vocalist, but he really is cute as a button, and by the final moments, Blake gives him the push, and with it a shirt that says "Blake's Boo." Okay, Blake. Okay.
Next week! Battles! Plus, advisement from Stevie Nicks (Adam), Little Big Town (Blake), Gavin Rossdale (Gwen, OBVIOUSLY) and Alicia Keys (Pharrell). UMMM a husband wife coaching team? YES, PLEASE!
Stand Out Performance: This was not my favorite night of performances, but Matt McAndrew and his guitar was pretty lovely.
Coach MVP: As much as Gwen and Pharrell continue to grow on me, I have to give credit where credit's due, and "Blake's Boo" is pretty fantastic.