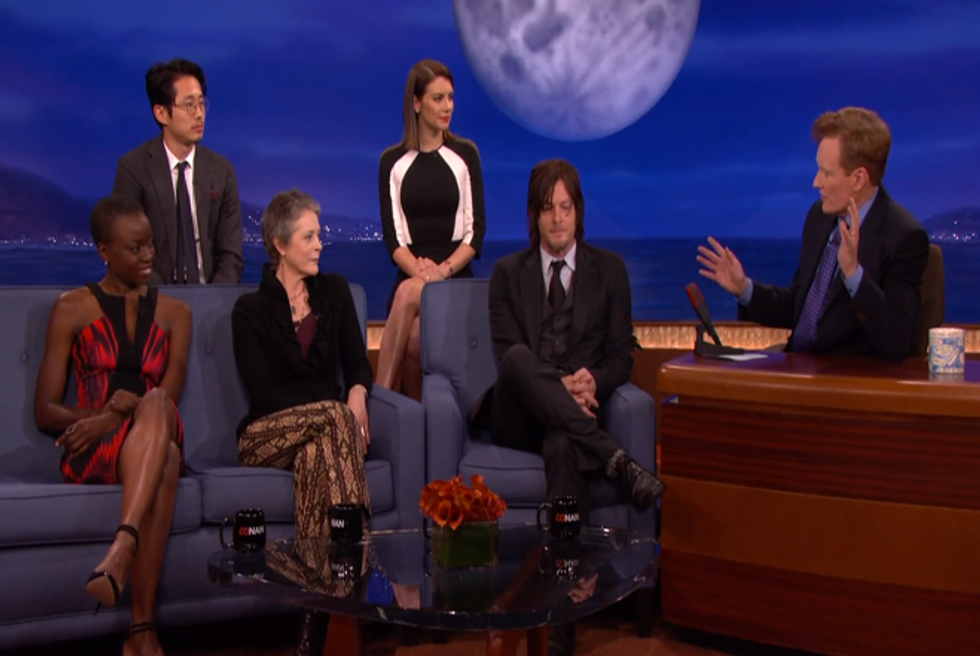 Conan got a bit deadly  last night (Feb. 6) when the cast of The Walking Dead appeared for the first time ever in a joint late-night interview.
Ahead of the show's epic return on Sunday (Feb. 9) on AMC, Norman Reedus (Daryl Dixon), Lauren Cohan (Maggie Greene), Steven Yeun (Glen Rhee), Danai Gurira (Michonne) and Melissa McBride (Carol Peletier) sat in with host Conan O'Brien to chat.
While the interview certainly did not reveal any life-changing revelations about the rest of Season 4, it was nice to see the cast together, basking in the moment of their success.
Andrew Lincoln, the centerpiece of the ratings smash, was scheduled to appear but couldn't make it, due to illness.
Right off the bat, the evening proved to be a wonderful treat for fans -- even the cold open was walker themed. In another clip, Yeun revealed his true self, and it didn't involve being one of People Magazine's sexiest celebrities. "That's not me," he said, pointing at a photo from the shoot. "I actually have something that shows everyone who I really am."
Cue: an adorable shot of Yeun as a kid -- over-sized glasses, crown and windbreaker included.
McBride also talked about her casting director past and how she landed her role on the show. "I had done a project, a brief project, in a film called 'The Mist' with Frank Darabont, who originated the series for AMC," she recalled. "Three years after we shot that, I was in the casting office and got a phone call that this project was being made and that there was a part."
She added, laughing, "I figured I would be dead in a couple of episodes, by the end of the week. And here we are, four years later, and I've since been replaced at the casting office."
To give Caryl shippers a little tease, McBride and Reedus performed a snippet of the "A Match Made In Hell" tune. "Daryl is feral and Carol is sterile," they cooed in unison. "A match...made...in hell!"
History was also made, in a later segment, as two lesbian zombies kissed -- something that has never, ever been done before.
Cohan and Yuen also talk kissing, their Glaggie ship, "moaning orgasms" and the possibility of Glenn and Daryl hooking up.
Watch the full interview:
The Cold Open
Full Episode
TV's First Lesbian Zombie Kiss