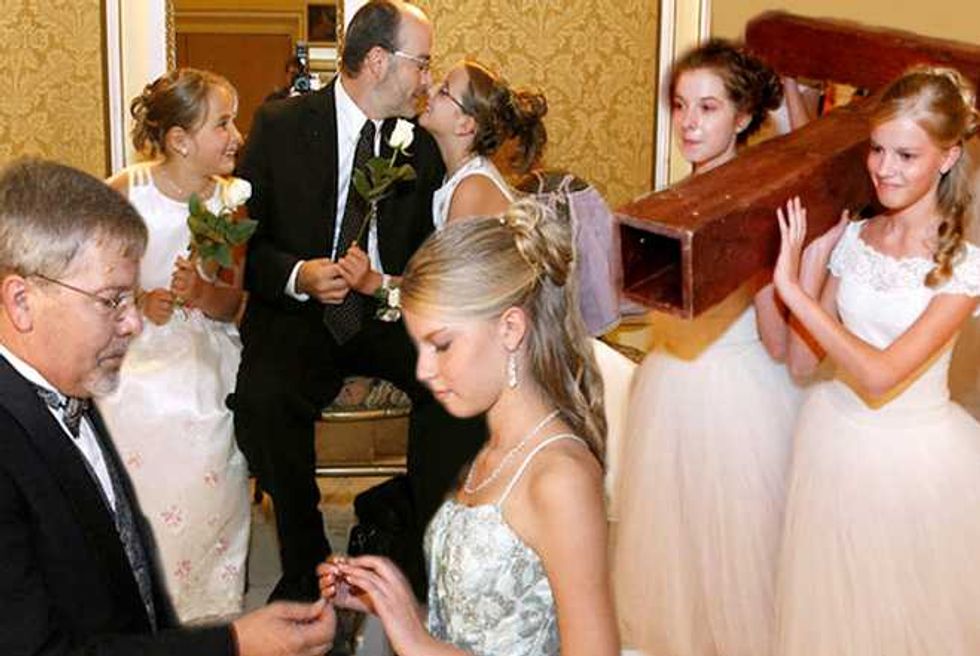 Ever heard of the wonderful world of Purity Balls?
According to a section of devout Christian American families, the Purity Movement is the shit—A big fancy ball...fluffy expensive Princess dresses....a little "bride" symbolically marrying their darling, devoted daddy, bestowing their father with the key to their virginity.
So many of us little girls dream of our wedding day—the to-die-for dress, all our nearest and dearest gathered around, exchanging our vows with the love of our life.
But there's one thing we usually don't count on…and that's the person opposite you at the altar, you know, the one you're pledging your eternal love and devotion to…being your dad.
Hmmmmm... that's not at all creepy...
But it looks like there are quite a few folks out there that are really into it.
In essence, Purity Balls are kind of like a father-daughter dance turned religious, and just ever-so-slightly incestuous in tone, it would seem, with the daughter pledging her virginity to her darling daddy…until her wedding day that is.
And, in practice, it's a way for parents to scare – and guilt – their kids (ahem, daughters) to steer away from sex until they are firmly and legally married.
As Popdust previously reported, at a 'Choose Purity' event in North Las Vegas over the weekend, co-sponsored by Metro Police, 135 parents and children watched a dramatic presentation equating sex with prostitution and death.
Officer Regina Coward, president of the Nevada Black Police Association, was recruited by the Victory Outreach Church to help with their event promoting abstinence. When girls don't wait until marriage to have sex, Officer Coward believes, there are four outcomes: sexual assault, gangs, drugs and prostitution.
The audience watched gruesome images of the consequences of hard drugs, including lost limbs and gnawed off faces. Two girls, portrayed victims of sex and diet pills, both rolled away in body bags on gurneys.
While the Purity Ball concept may sound strange to the more secular side of society, they have been gaining in popularity of late. It's said that one in six girls now take the 'purity pledge' every year.
Girls as young as 5 are encouraged to attend.
One man interviewed in a 2013 documentary titled The Purity Pledge and America's Modern Virginity Movement proudly stated it would be so "cool" if his daughter were able to say "I've kissed but one man in my life."
How cool indeed.
Purity Balls demand that a father play the role of gatekeeper when it comes to their daughter's—pussy—essentially. I know, it's weird, but that's the reality. Pardon the vulgarity.
Mothers, on the other hand, have virtually no role in the ceremony...well, of course not! According to these guys, the father is "everything." And that is just so offensive to many of us "modern women" on so many levels.
What about all the single mothers out there? What about all the wonderful female role models little girls have to look up to? Are they not capable of raising self-respecting and STD-free girls?
Apparently not, and anyone with even a widowed mother is doomed to become a whore. For someone who was raised by an amazing group of women, I take that personally – I became a whore on my own accord. It wasn't their fault.
Meanwhile, at your average Purity Ball, the little girls, all clad in puffy white dresses, spin around in unison. And while they are cute, they're not brides, they are not their father's possession to be passed on to another man when he sees fit...they are little girls. And they will grow up to be women. And those women deserve the right to take control of their own bodies and minds.
It's another element of creepy American back culture, and another amazing topic to investigate.
If only Freud were still around to attend.