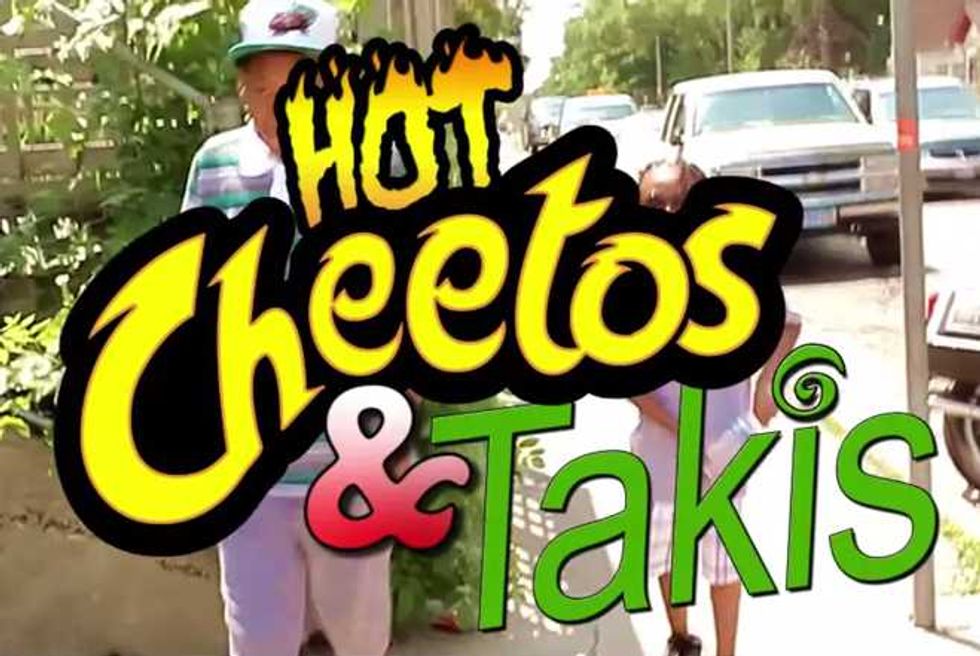 It's just about lunchtime, so what better way to warm up your digestive system than a music video that's all about eating? "Hot Cheetos & Takis" is an ode to the cheesy snack enjoyed by both Childish Gambino and Hank Schrader, as well as the spicy Mexican corn chip; its creators, Y.N.RichKids, are the product of a Minneapolis YMCA's North Community Beats and Rhymes Program, which rewards students who've completed their homework with the necessary materials to make their own music videos. You may think you have a hold on the current snack scene, but these kids are bringing it to you raw: all hot spicy everything.
If hordes of Twitter love and YouTube fame isn't motivation to learn long division, we don't know what is! I'd gladly do seventh-grade over again if someone would (finally) let me make my own rap video. And it looks like the same goes for Jean-Ralphio. We know it's not Pawnee, but working with the Y.N.RichKids could be the best way to revive Entertainment 720.
With allusions to The Dougie, The Throne's "Gotta Have It" (snacks on snacks on snacks), and all the other snack foods that pale in comparison (suck it, Doritos), this is one of the most addicting videos all summer—but it will make you hungry.
These kids might be a little dirty, fingers stained red after too much munching, natch, but they're rapping about much more age-appropriate material than six-year-old Albert and his booty poppers. Plus, on top of getting their schoolwork done, they're respectful enough to call you "ma'am." It's too hard to resist.
Since its release on YouTube last week, the video has amassed just over 100,000 views, with the potential to explode even more, namely securing an appearance on The Ellen DeGeneres Show or the Justin Bieber Believe tour, if all goes according to plan. Maybe their own segment on the Food Network—Rapping and Snacking?—is on the way, too? We'll go ahead and trademark this name for now; please send any and all future profits to the Popdust offices.
Luxury rap is nice, but never underestimate the potential of songs that hit on something we all can enjoy. Watch below.