CULTURE
We've lost some truly great things.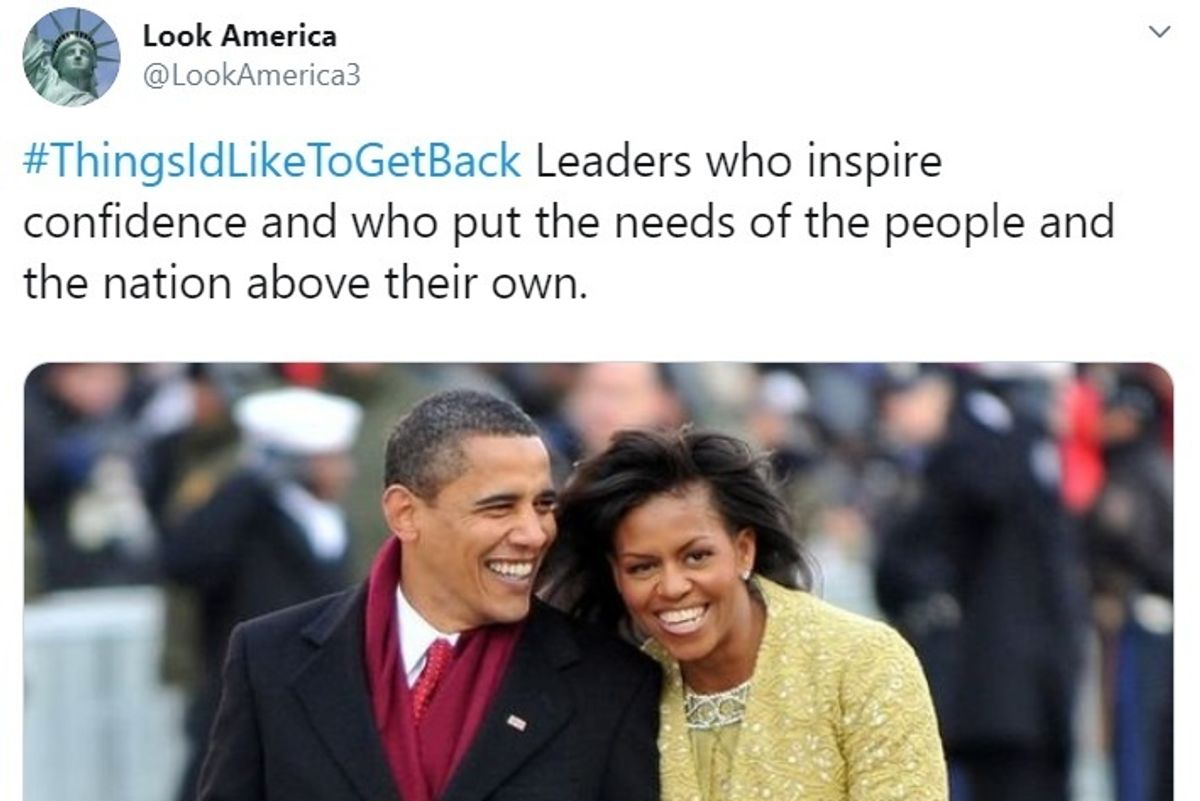 The #ThingsIdLikeToGetBack hashtag swept through Twitter yesterday as a twist on Throwback Thursday.
Set off by the account @MoonPieTags, it has inspired thousands of lamentations of lost youth along with posts about fallen media icons, Obama being better than Trump, and how we all miss our old pets. It's a soft and pleasant kind of nostalgia, which is nice enough. But if you dig a little deeper, #ThingsIdLikeToGetBack has also painted a clear picture of the ways that life in the United States has changed for the worse in recent decades.
A planet not ravaged by man. #ThingsIdLikeToGetBack

— Carole Taubman ❄️ (@Carole Taubman ❄️) 1573753331.0
While the "OK boomer" meme points to the exhaustion of dealing with a group of people who refuse to listen to anyone born after 1985—who mock our concerns and blame us for changing the economic shifts that afflict us—this hashtag tells the story of what they had that we lack. For all their nostalgia for a lost era of greatness, a lot of the things that made life hopeful, prosperous, and just plain livable for young people coming of age in the 60s and 70s have been lost without much of an acknowledgment.

If you're a boomer, maybe you think that music these days is trash. It's just a bunch of noise. Back when you were in college, you could go see Jimi Hendrix and Carlos Santana and The Who all in one venue! Real music. Not this noise they listen to these days. Who even is Tekashi69? And why do all these new musicians want to have tattoos all over their faces?
Music Videos On MTV ❤️ #ThingsIdLikeToGetBack https://t.co/IRRAshcr6J

— Jus O Bells 🇨🇦🎄❤️🎅🏻 (@Jus O Bells 🇨🇦🎄❤️🎅🏻) 1573714925.0
We'll ignore the fact that your parents said the same things about your music, because these are good questions. I would answer them if I could, but you're actually more invested in these trends than most of us are. These young celebrities who frighten and confuse you do not represent important cultural touchstones like Hendrix and The Beatles. Media sources are more disparate than ever, which means there are 100 times as many "famous" people today as there were in your youth, but each one is only a tiny fraction as famous as celebrities used to be. You hear about the ones that float to the surface, mostly for being especially outrageous. And yeah, a lot of them are trash. Leaving aside how many of your icons were secretly trash as well, let's focus on the fact that even a basic ticket to 2019's biggest music festival cost more money than a huge portion of the country has available even for an emergency.
#ThingsIdLikeToGetBack 🗳️ Elected officials who support working people. ☑️ 👩🏿‍🔧👨🏽‍🏫 A living wage for everyone —… https://t.co/7djZnokeHu

— Unionized Staffers at SEIU (@Unionized Staffers at SEIU) 1573745570.0
If you adjust for inflation, the minimum wage is still lower than it was in the 1960s. Meanwhile, rent has gone up at more than twice the rate of the median income, and home prices are even worse—up 121% compared to income crawling along at 29%. And you get upset that we aren't buying enough houses? All the while, productivity, AKA the value of our work, has been shooting up, with that growth almost all funneled to the nation's wealthiest (disproportionately boomers). And that college you went to when you weren't swimming in the mud at Woodstock? It's nice that you were able to pay your tuition with a summer job, but tuition has increased at eight times the rate of wages. We're not taking on unsustainable levels of student debt because we're careless, or lack work ethic. We're taking it on because we've been told all our lives that an advanced degree is necessary for a good life, and that's just how much it costs.
#ThingsIdLiketoGetBack the money I paid for law school

— 🌙🧡💎 Our moon, our Poet | Artist (@🌙🧡💎 Our moon, our Poet | Artist) 1573738815.0
You didn't even realize that you were riding on a wave of prosperity and growth that was put in motion by the New Deal Democrats. As you found your footing in the world, you voted in politicians who would slash the top marginal tax rate and kneecap the union protections that gave workers the leverage to negotiate fairly with employers. Politicians value the success of private enterprise over the health of our populous, and they take donations from the insurance and pharmaceutical companies who wring every bit of profit they can out of basic survival.

You used your wealth to create a culture of toxic individualism verging on narcissism—of sprawling excess and consumption, driving up home prices with suburb upon suburb of McMansion—and you scoff at the concept of restructuring our system to curtail the environmental effects. You tell us that our plans to clean up your mess will hurt the economy, despite the fact that climate change has already cost the global economy nearly two trillion dollars and presents a threat to over a billion jobs. You are the generation most at fault for creating the world as it is, and you blame us for its ugliness.
#ThingsIdLikeToGetBack Money on x-wives https://t.co/ea5dfZDbJt

— Clark Moses (@Clark Moses) 1573716355.0
Here's my contribution to #ThingsIdLikeToGetBack: A boomer nostalgia that goes deeper than cultural signifiers—than Muscle Cars and Mork from Ork. I want to see a nostalgia that acknowledges that the existence of iPhones doesn't necessarily mean that my generation is better off, a nostalgia for the material circumstances you had which my generation is deprived of.