Argentinian news reporter wardrobe malfunction insanely bizarre—like, totally fucking bizarre—like, how on Earth does this happen?!!
An Argentinian news reporter suffered a wardrobe malfunction that's bizarre, to say the least.
It's so bizarre it almost looks like it's intentional.
Like, maybe Alina Moine had splashed out on some expensive new undies and just had to show them off to the world.
And, it all happened on glorious live TV.
The TV host was presenting a segment on the Olympic games in Brazil when her mega-malfunction occurred.
Somehow, mid-sentence she managed to lift her floaty black mini dress right up flashing-off her undies.
It appears she managed to get her hand caught on the hem—and, yeah, flasher time.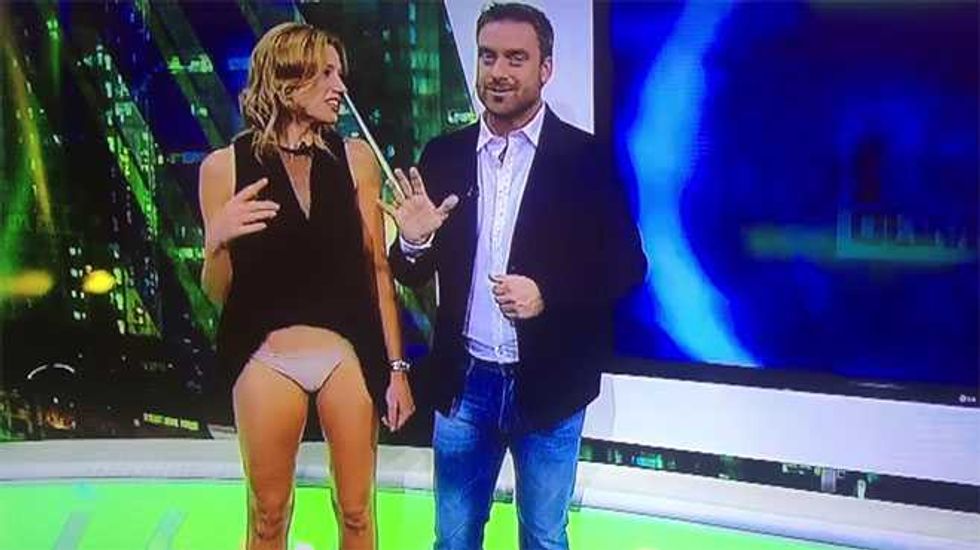 I see Paris... I see France...
The flash occurred for an excruciating ten seconds or so before normal dress service resumed.
Got to give Moine props though for just not giving a fuck.
Girlfriend's like the honey badger, and handled it like a pro.
Thankfully, Argentina's a little more laid back than the good old U.S. of A.
So, there's been no-one out there getting their panties in a twist over Panty-gate.
Unlike that now infamous Super Bowl performance back in 2004.
Remember that?
Of course you do!
Because, oh shit son! Nipple!
Janet Jackson's "accidental" nipple flash was treated by the outraged public like it was the end of the world as we know it.
Funnily enough though, the sun kept setting, and the moon kept rising.
And, Armageddon never occurred.
That said, never fear, there's still time folks.
Scroll down to watch the Argentinian news reporter wardrobe malfunction
For more entertainment, music and pop culture updates and news, follow Max Page on Twitter
30 Of The Best Cheerleader Fails You Won't Want To Miss
Amal Clooney's Cannes Wardrobe Malfunction—One For the Ages!
Mexican Weather Girl Flaunts Epic Camel Toe
Celebrity Moose Knuckle — Competition For The Male Camel Toe Is Fierce
Watch the Argentinian news reporter wardrobe malfunction :
This Argentinian news reporter wardrobe malfunction is insane
Revenge Of The Camel Toe—Best Celebrity Minge Mishaps
Cara Delevingne Suffers Butt Flashing Wardrobe Malfunction, Still looks Flawless
Croatian Human Rights Dude's Pants Fall Down As He Accepts Award From President
Camel Toe Prevention Is Out There Ladies!