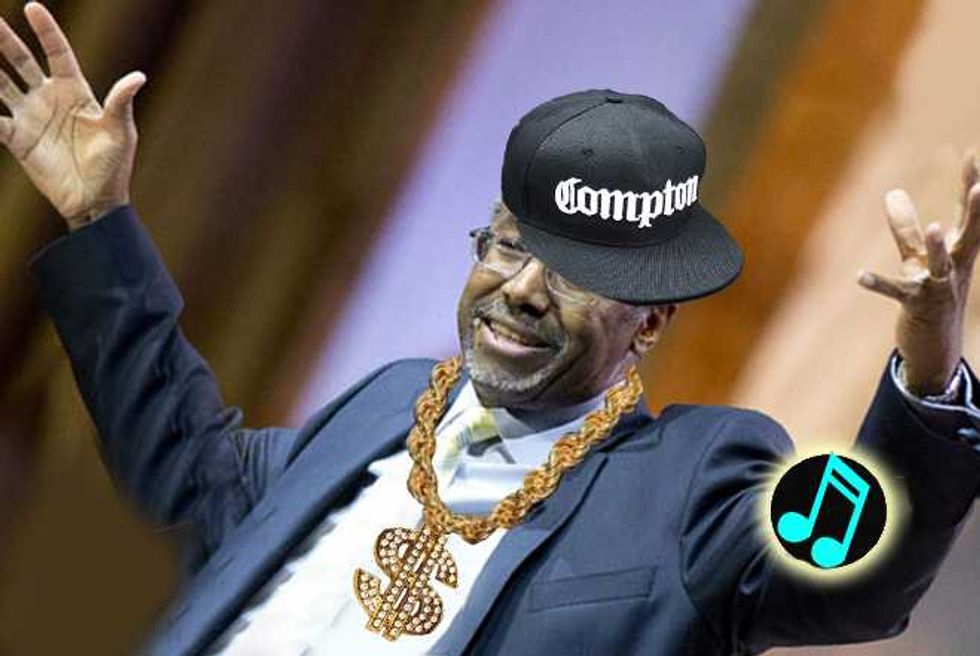 ben carson rap ad
In a bid to rally voters at the street level, Ben Carson has released a rap ad, and it's some of the craziest shit you'll ever hear.
The Republican Presidential candidate has splashed out $150,000 on radio spots for a two week ad campaign that will run in Miami, Atlanta, Houston, Detroit, Birmingham, Alabama, Jackson, Mississippi, Memphis, Tennessee and Little Rock, Arkansas.
If Dr. Ben Carson Had A Hammer
The aural ad assault mashes Carson's stump speech with a rap by a Christian musician called Aspiring Mogul, who spits out gems such as, "Vote and support Ben Carson…..For the next president he'd be awesome."
Carson's blatant attempt to get down with the [black] kids, is made all the more repugnant by his track history of throwing those very same black kids under the figurative bus—his disingenuous claims of "color blindness", his laughable viewpoint that African Americans who support the Democratic party are essentially stupid, unsophisticated, hyper-emotional, irrational, and incapable of thinking for themselves, and his claim that the Republican party are the real advocates for racial justice and positive change along the color line in the U.S.
Marco Rubio Really Wants A Beer With Malala Yousafzai (A Muslim Teenager)
"I'm not sure I agree that there isn't a fair amount of racism here, there is, but it's not where you would expect it to be," Carson opined during an interview with radio host Dennis Prager.
"It's mostly with the progressive movement who will look at someone like me, and because of the color of my pigment, they decide that there's a certain way that I'm supposed to think, and if I don't think that way, I'm an Uncle Tom and they heap all kinds of hatred on you. That, to me, is racism.
Saudi Arabia To Crucify Teen Protester Because Beheading Just Isn't Enough Sometimes
"Race doesn't really keep you down in this country if you get a good education," Carson, who has previously compared both Obamacare and abortion to slavery, concluded.
According to ABC, the 64-year-old retired neurosurgeon believes his new ad campaign allows him to communicate with black voters "in their preferred style."
A Bunch Of Things UK Politicians Consider Less 'Luxurious' Than Tampons
Right, because that's not deciding that there's a certain way that they're supposed to think, Dr. Carson.
According to Carson's campaign manager, the ad is "reaching out and talking to [young African Americans] in a language that they prefer and in a language that, and in a cultural format that they appreciate" and is a way of broadening Carson's appeal to the younger black voter.
Bill O'Reilly Says #BlackLivesMatter 'Radicals' Should Partner With Him To Affect Change
"This happens to be a group that we feel pretty strongly is ready and prepared to start working for Ben Carson," Doug Watts says, going on to vow that they intend to "pursue this medium and particularly this demographic aggressively, especially through the March primaries."
Here's the ad's lyrics in full:
YEA

Vote

Inspire

Vote

~REVIVE~

Vote

Ben Carson 2016

Vote and support Ben Carson

For the next president he'd be awesome

If we wanna get America back on track

We gotta vote Ben Carson, a matter of fact
For more entertainment, world, music and pop culture updates and news, follow Max Page on Twitter