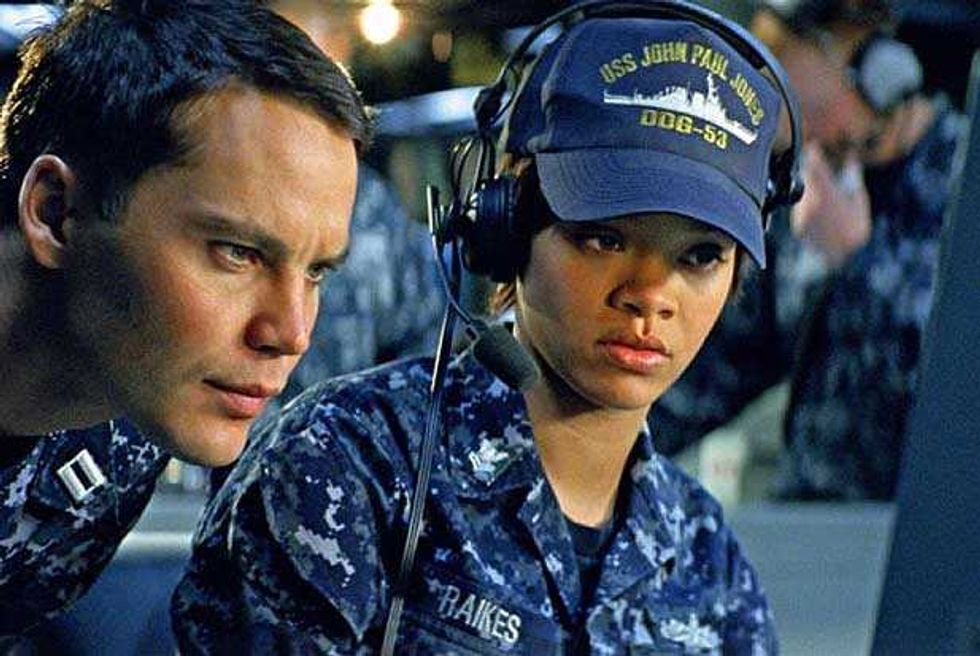 Nothing about the trailers for this movie doesn't make it look like it's going to be the craziest movie ever. Or maybe it wouldn't seem that weird if it had another title, but considering this is still ostensibly a movie based on the classic board game—which we don't remember involving alien invasion in any prominent way, though then again it has been a few years—it just seems like the most wackiest. Not to mention that the cast—involving Brooklyn Decker, Alexander Skarsgard, Liam Neeson and both Landry and Tim Riggins from Friday Night Lights—seem to be assembled by Real World "one of each"-type logic.
Oh yeah, and Rihanna's in there too. We haven't seen her much in the trailers those far, but she's the fourth actor listed in the show's cast on Wikipedia (beating out Neeson and Landry!) so presumably her character's a big deal. The latest trailer for the movie contains a record amount of Rihanna—three whole shots, including a dripping wet (but fully clothed—this isn't a music video) Rihanna dramatically turning around in slo-mo, nervously shifting her eyes during an Battleship all-hands-on-deck meeting, and wearing a headset while working on something. During the last one she even gets to say a word, and a word that we imagine to be fairly integral to the Battleship The Movie experience: "BOOM."
We're rooting for Battleship, if for no other reason than we hope that Riggins get a nice bounce-back after the disappointing John Carter. Texas Forever, Timmy Boy.
[Vulture]