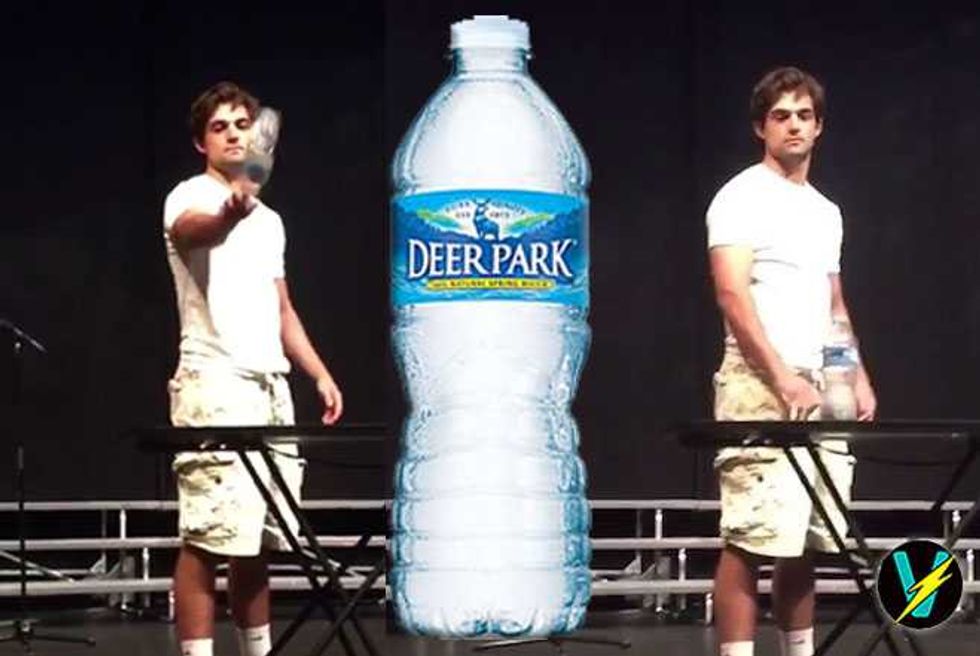 Water bottle flip
Have you seen this trick?
It's utterly brilliant.
A senior at Ardrey Kell High School in Charlotte named Mike Senatore was taking part in a talent show in school when he brought the house down with his water bottle flip trick.
It's simple but clever. He tosses a bottle, half filled with water into the air and it lands perfectly, upright on it's base.
18 year old Senatore is now an internet sensation in a viral video that has been viewed nearly a million times so far.
The bottle-flipping started in a chemistry class last year when the bottle landed upright after he flipped it when he was bored. Impressed with himself, he started trying the water bottle flip any time he was bored, which turned out to be quite often. He told the Charlotte Observer;
"I actually had the idea for about the whole year—I'm going to flip the bottle at the talent show. I want to be in the talent show and it's the one thing I can do."
During the show on Tuesday morning, he milked the build up and performed the trick to perfection. The whole auditorium erupted with the students screaming and even the Principal was high-fiving everyone.
---
Check out these other viral videos...
Police Over The World Take Up Running Man Challenge
Dad Accidentally Films Entire 'Dream Of A Lifetime' Vegas Vacation In Selfie Mode
OUCH! Corn Drill Challenge Goes Horribly Wrong For This Chinese Woman
---
Senatore revealed that the secret to the water bottle flip is the shape of the bottle and the amount of water in it.
"I can flip most bottles, but if I'm going to flip it an feel confident about it, it's going to be Deer Park."
The Deer Park bottles have a slightly hourglass shape to them and the student, who surely has a great future ahead of him, fills the bottle to an exact point to get just the right balance between too full or too empty.
Senatore says simply;
"All I wanted to do was flip a bottle."
Well he definitely did just that, and then some. Watch the awesome video below...