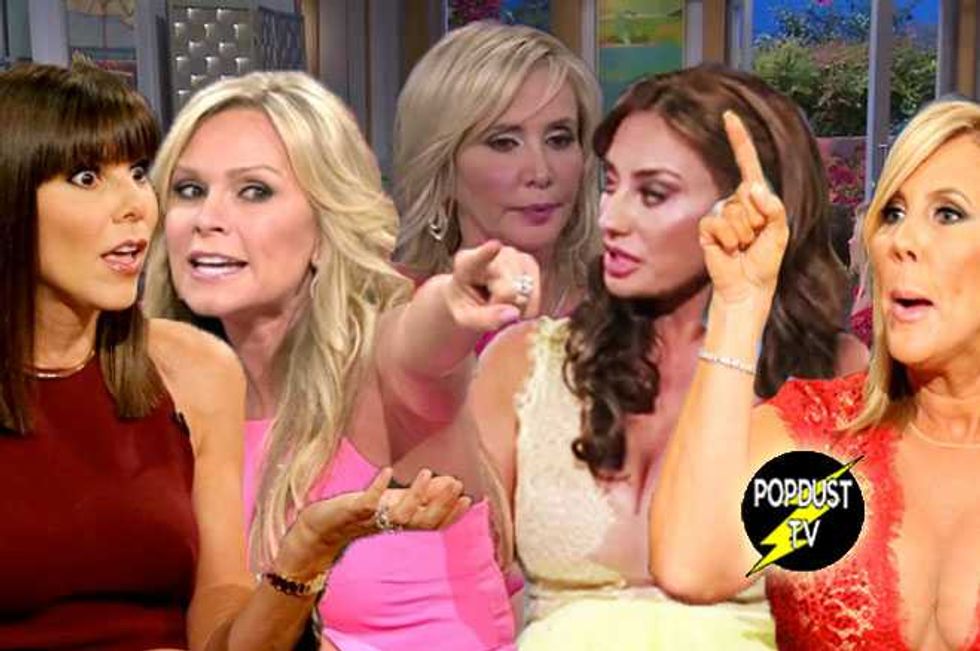 RHOC reunion drama screaming
Season nine of The Real Housewives of Orange County has finally come to a close, so in typical Bravo fashion, those crazy ladies must get together to relive and then rehash every tear, dramatic comment, and screaming match!
Host Andy Cohen kicked off the night by asking all the women how they were doing. He quickly moved his attention to Lizzie Rovsek to ask her about the rumors that she used to date Nick Lachey.
Vicki Gunvalson Thinks RHOC Creeper Brooks Drank Eye Drops To Fake Cancer Battle
The former beauty queen confirmed that she did, in fact, dated him both pre and post Jessica Simpson. Lucky little bitch. Andy then highlighted all the names that Tamra Judge referred to her as all season. These names, which included "Kentucky Fried Titties" certainly didn't please Lizzie. Of course, Tamra just sat there with a little smirk and continued to think that her shit will never stink.
Andy then asked Shannon Beador about her slightly bizarre homeopathic remedies. She claimed that she saved a nation in her past life. Well, okay then. He quickly turned to Vicki Gunvalson and asked her to explain the comment she made about how someone "didn't look gay". Andy was looking for a rational explanation, but instead she rambled about all gay men looking like they just stepped out of an issue of GQ. She followed that up by telling Andy he was "all boy".
This reunion is off to a good start.
RHOC Creeper Brooks Ayers Lied About Cancer And Vicki Gunvalson's PISSED
A major story line of this past season was the relationships between Vicki, Tamra, and their children. Tamra's son Ryan moved to Northern California and is marrying a random chick he met on Instagram. Vicki's daughter Brianna moved to Oklahoma to be with her military husband. Vicki famously referred to Oklahoma as the "forgotten state". She revealed that she has flown there seven (yes, seven) times since Brianna moved there three months ago. Tamra, who looked either extremely pissed or extremely constipated all night, made it known that she still isn't the biggest fan of her son's recent decisions.
We then got an in-depth rehash of the feud between Shannon and Heather Dubrow, which was quite possibly the biggest dispute of the season. Heather believes that they got off on a bad foot because she felt that Shannon quickly bonded with Tamra and Vicki. As you may recall, Heather whined like a lost puppy all season about feeling left out. Translation: the attention wasn't on Queen Dubrow. However, she did apologize to Shannon for that and wished it never happened. Shannon firmly believes that Heather had a calculated plan all season regarding their relationship. Shannon couldn't wrap her mind around the fact that Heather kept accusing her of screaming at her during her Christmas party. Anyone with two functioning ears would be able to tell you that Shannon was nowhere near screaming though, and Heather finally agreed.
Bravo Wants Nik Richie And Shayne Lamas On RHOC—But He's Being A Diva Dick
The spotlight was back on the original housewife, Vicki. She revealed that she and her ex-husband, Donn, have finally settled their divorce. According to her, she wrote him a hefty check because he was legally entitled to half of her business. As we've seen all season, Creepy Brooks is still very much in the picture—her daughter still can't stand him and we can't say that we argue with her on that one.
Vicki and Tamra went at it yet again because Vicki can't understand why Tamra continues to speak about their relationship. In Tamra's defense, she's made it crystal clear since day one that she hates Creepy Brooks, so it really shouldn't be so much of a surprise to Vicki. Tamra stated, once again, that she believes Creepy Brooks simply isn't good for Vicki—so when Vicki kept on questioning her, Tamra  finally fired back like a mental patient, screaming, "IT'S MY OPINION!!!!"
RHOC Crazy Ladies Rehash Every Tear, Dramatic Moment, Screaming Match!
Meanwhile, the lucky old husbands of Orange County joined their women for a bask in the limelight. First up: David and Shannon's marriage. Shannon firmly believes that Tamra is to blame for a good majority of the drama this season. If she never told Heather about the email, there would have been no issues. Tamra quickly tried to turn it on Shannon by telling her that she has a drinking problem. Yeah, that's rich coming from the girl who says she can't remember anything when she drinks.
Andy asked Heather about the infamous moment when she asked Shannon to leave her house. Heather claimed she "asked her to leave"; while Shannon insisted she kicked her out. Either way you spin it, Heather was a bitch. However, she apologized for how things went down and admitted to being too self absorbed to see how much pain Shannon was truly in.
Lydia McLaughlin—The Holy Spirit Told Me To Leave RHOC During Reunion!
Shannon then brought up the "Take the Beadors Down" comment. Tamra swore blind she never said it, yet Vicki confirmed that she said it to her too. Tamra said Shannon's drinking was the reason why the comment got twisted. No, Tamra, it is because you have lied and got caught all season. Good try, though!
David and Terry Dubrow rehashed their argument during the season finale episode. Terry claims he lost two months of sleep because of David's "spread your legs" comment. Please, Terry, be a little more dramatic. David insisted that his apology was sincere and that the comment was extremely inappropriate. Then, all the ladies started talking about how hot David is. Shannon was not pleased.
Cray Cray Cranks Up As The RHOC Broads Brawl In A Bitchy Boozy Fight-Fest 
The 3-part reunion has just started and judging by the first part it is guaranteed to be full of drama! (DUH!!!)