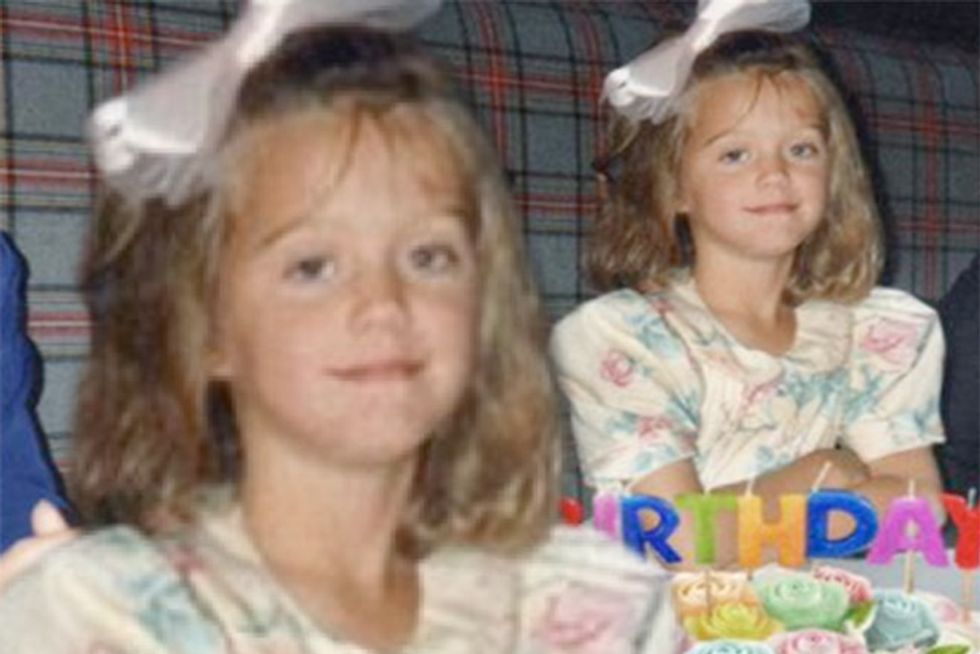 You can file this under AA for absolutely adorable!
And award yourself top marks if you guessed.... Katy Perry!
Perry shared the super cute childhood pic on her Twitter this morning, showing her and sister, Angela, clad in matching floral flocks in honor of Throwback Thursday.
The 29-year-old was known as "Katheryn Elizabeth Hudson" back in those days—living in Santa Barbara with her evangelical pastor dad and mom and attending a strict Christian School.
Perry's upbringing is in stark contrast to her modern day pop star lifestyle—and it has caused friction with her devoutly religious folks in the past, who have been vocal with their disapproval of some of their daughter's choice of lyrics.
"They ask how can I preach if I produce a girl who sang about kissing another girl? I was at a concert of Katy's where there were 20,000. I'm watching this generation and they were going at it. It almost looked like church. I stood there and wept and kept on weeping and weeping. They're loving and worshiping the wrong thing," Perry's dad, Keith Hudson once bemoaned.
Katheryn Elizabeth Hudson went and got herself all grown up....
However, despite not always seeing eye to eye, Perry says she maintains a close relationship with her parents.
"People don't understand that I have a great relationship with my parents—like, how that can exist?" She told Marie Claire last year.
"There isn't any judgment. They don't necessarily agree with everything I do, but I don't necessarily agree with everything they do. They're at peace with….they pray for me… it's what they do.
"They're fascinated with the idea that they created someone who has this much attention on her."
Find Katy Perry tickets now!