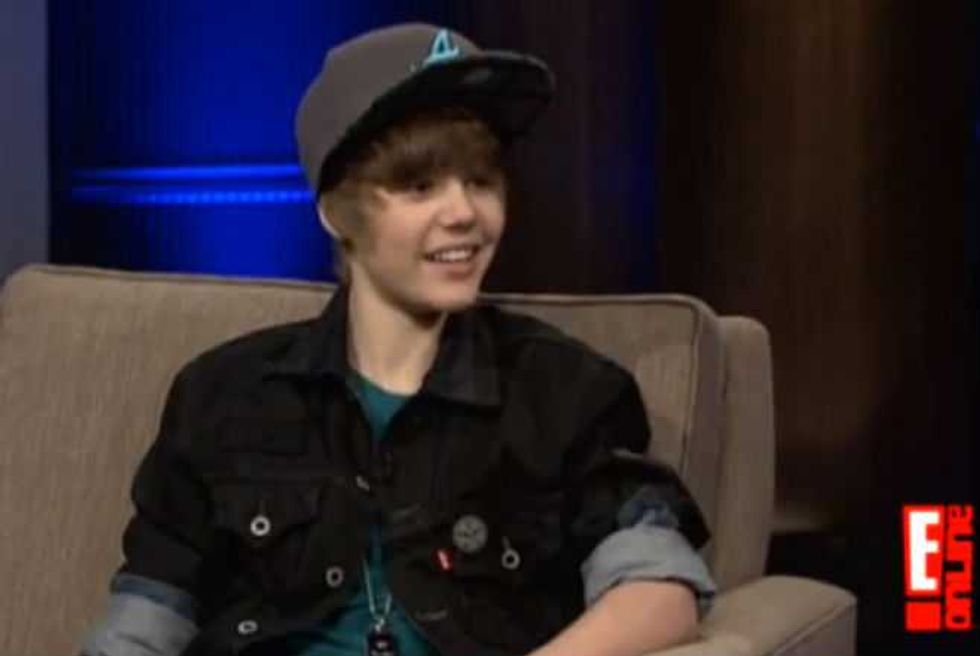 In this day and age, it's hard to remember that the chiseled, mustachioed Justin Bieber of today used to be a baby-faced, mop-haired child. Before the shirtlessness, before the paparazzi battles, before the implosion of Jelena, Justin was a baby-faced boy of 14 with a YouTube hit. After linking up with Scooter Braun and Usher, his star began to rise and he was booking appearances everywhere. Last night, talk show host Chelsea Lately played a clip from a 15-year-old Justin's first appearance on her show in 2009, a day after his first CD debuted—and we've dug it up for you to see.
Just look at that face! After he politely thanks Chelsea for having him on the show, she says "I know these press tours can be very exhausting"—Justin had been up since 4am doing publicity for his album My World—"and I know you have more important friends to hang out with. I know you're good friends with Justin Timberlake, and P Diddy and Usher."
"I guess, yeah," he responds casually. "I think you're a lot cooler than they are." It's only a minute-and-a-half into the appearance and he's already flirting with the host like an old pro. Then, he winks at her.
They talk about his touring, and how he likes to sing about girls. "I've dated a few girls and stuff," he says to woos from the female audience. "I don't think I've been in love yet before but I've loved girls."
"That's a really good answer," Chelsea replies. Justin then reveals he asked out Rihanna (ballsy!) but that she turned him down because he was too young. And that he thinks Beyonce is a "babe."
"You seem like a really sweet boy," Chelsea says as she ends the interview. "Don't let this town ruin you." How prescient.
What a month! The worst parts of Justin's horrible March