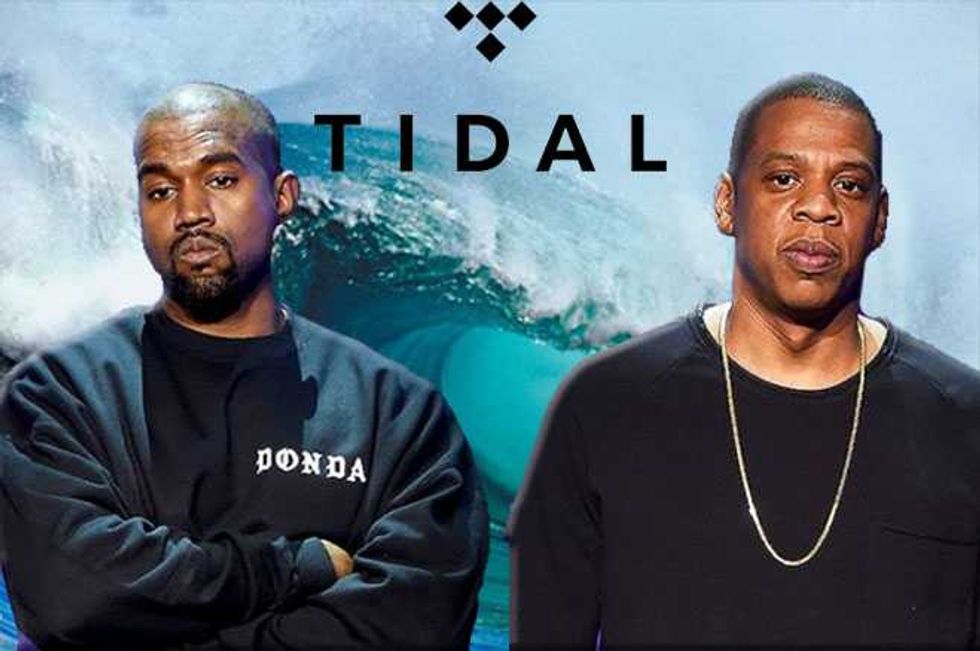 To be honest, we'd be happy to see Kanye West sued for being a complete asshole, but you can't have everything...
Kanye West, Jay-Z and their music streaming company, Tidal, are all getting their asses sued by a pissed off fan who feels he, and a load of other fans were duped into signing up for the service by a false promise.
The issue is (of course) Kanye.
Back in February the self-proclaimed first person of music made the grand announcement that his upcoming, long-awaited album would ONLY be available on Tidal, and that fans should sign up immediately.
My album will never never never be on Apple. And it will never be for sale... You can only get it on Tidal.

— KANYE WEST (@kanyewest) February 15, 2016
Please to all my friends fans and music lovers. Sign up to Tidal now.

— KANYE WEST (@kanyewest) February 15, 2016
Kanye has a legion of fans (just how is beyond us, we can't get past what a narcissistic asshole he is in order to enjoy his music, but each to his own), and they all flocked to sign up to Tidal when maybe they otherwise wouldn't, just to make sure they could get hold of the album that Kanye had been tantalizing them with for so long.
Imagine everyone's surprise then, when not a month later, the "exclusive" album became available on Apple, Spotify, Google Play and of course Kanye's very own website!
The Life of Pablo is now available for purchase https://t.co/xYu7lGJR7z pic.twitter.com/mNTAUiie2V

— KANYE WEST (@kanyewest) April 1, 2016
Was the exclusive-to-Tidal promise deception?  Was it deliberate?
The Life of Pablo had a bit of a rocky ride even before this lawsuit—it was renamed three times before being launched and then pulled from the market immediately after it's release, with Kanye claiming he wanted to make some changes to it.  Fans complained that they had paid for the album but then weren't able to download it and the whole release was very, very messy.
So you can totally see why some of even Kanye's most loyal supporters, pissed off with being jerked around already, lost patience with him completely when they see that the album they were assured would only be available on Tidal...is everywhere!
One fan in particular has had enough.  Justin Baker-Rhett has launched a class action naming Kanye, Jay-Z and Tidal.  The suit claims that the "exclusivity" announcement was actually a plan to lure 2 million customers into signing up for the troubled subscription service, filling the failing company's coffers with $84 million, thus saving it from financial ruin.
"

The lawsuit now aims to not only reimburse users for any subscription fees they may have paid as a result of West's album release, but also change its course on one key aspect of its business:Free trials aren't supposed to automatically convert into paid subscriptions anymore.

The lawsuit only demands this change for any trials started as a result of the "TLOP" promotion, but it points to a bigger issue: Most subscription services use what's commonly called a "negative option" to convert free trials into paying customers.

Users have to enter their credit card number at the beginning of a trial, and then cancel before the trial period is over to not get charged for the next month. Consumers understandably don't like this, but it's been a very effective way to amass subscribers. In fact, insiders have pointed to the absence of a negative renewal option as one of the key reasons for the failure of Tidal's competitor Rdio."
This isn't the only legal action Jay-Z and Tidal are involved in at the moment.  The rapper mogul is suing Tidal's former owners, Aspiro, claiming he is owed $15 million as they inflated the user numbers when the deal went through.
We'll have to wait and see whether the San Francisco judge agrees with Baker-Rhett that he and other fans were misled into "paying for Tidal's rescue", although whether it gets as far as the judge's decision remains to be seen. The pressure is on Tidal to settle quickly, as any ruling forcing them to change their policy on negative option renewals could seriously risk their future growth.
I bet Kanye is just itching to tweet on this, as in his own words...
I care about truth.

— KANYE WEST (@kanyewest) March 13, 2016