What was that driver thinking?
Earlier today, one woman was killed and 22 other pedestrians were injured by a maroon Honda going full speed, jumping the curb and barreling into the a crowded group of pedestrians in New York's Times Square. It is easily the busiest area for foot traffic in the city because of it's tourism and close proximity to Broadway musicals. People were busy looking up to take pictures and down at their smart phone. They would never had imagine this could happen.
The scene of a fatal accident occurred right at the corner of 45th Street and Broadway at 1155 local time (1655 GMT) and drove at high speed before crashing into a stanchion. The FDNY received the first emergency call just before noon.
The suspect, Richard Rojas, who drove his vehicle the wrong way, over three block, was arrested after the incident. The 26-year-old Bronx man has arrested two times prior for driving under the influence of alcohol, in 2008 and 2015. He is being tested for alcohol consumption. Rojas is a U.S. citizen who previously served in the Navy, authorities said.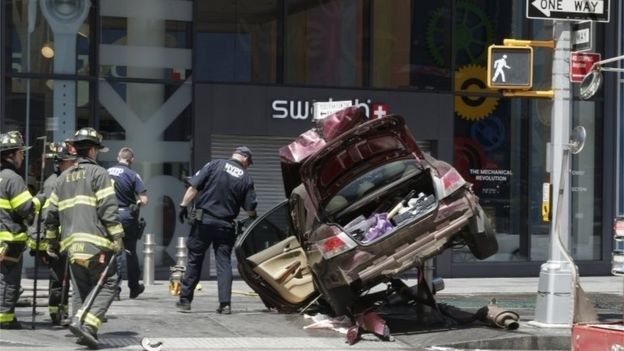 EPA
"There's no indication the crash was related to terrorism," Mayor Bill de Blasio said during a news conference, "however, the White House and FBI were made aware of the incident." Times Square was the target of an attempted attack in May 2010 when a Pakistani immigrant planted a car bomb at an intersection. The device failed to detonate and he was arrested shortly after boarding a flight to the Middle East.
"It is believed to be an isolated incident, it remains under investigation," the New York Police Department said on Twitter.
The victims were an 18-year-old woman who was killed and her 13-year-old sister had also been injured. There were four injuries that were considered to be critical, officials said, though all were expected to survive. Three more were in serious condition.
"He was driving very fast," said Karma Namgyal, 49, a street vendor. "He was going the wrong way up the street and drove onto the sidewalk. He started hitting people. They were flying in the air. He plowed through them. The people he hit were face down. Everyone else started screaming. It was all fast. "
Several witnesses reported that after the driver crashed, he tried to get away. He didn't get far. He was forcibly subdued and taken to the ground by five bystanders. They held him there until police arrived.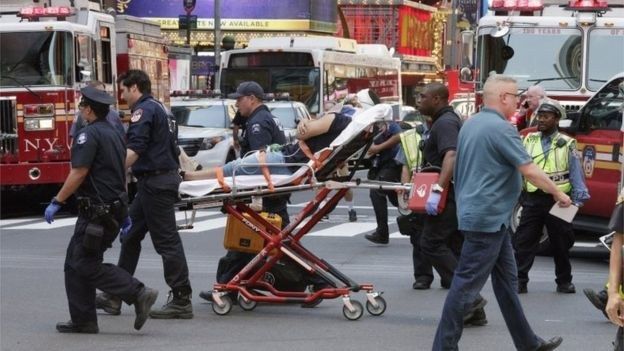 "It sounded like a bomb going off," said Dave Willis, a tourist from the U.K. "I ran over and it was over in seconds. He was tackled to the ground."
"We saw people laying on the sidewalk...with crowds of people laying around them," one witness told Fox News. "You could see clumps of people down the sidewalk with people all around them trying to help them."
One witness, Ed G Val, was across the street when he saw the car speeding north on the west sidewalk of 7th Avenue.
"A woman in front on the sidewalk was hit and tossed before then car reached 44th street [and] continued ploughing people down at full speed up to 45th street, where it was stopped after crashing into more people and the light posted pictured," he said in an Instagram post.
"Due to a vehicle collision with pedestrian injuries, emergency vehicles are in the area of #TimesSquare," the NYPD tweeted. "Expect delays in the area."
The tragedy of this event has been felt throughout this city and beyond. New York Governor Andrew Cuomo said in a statement the event was "nothing short of horrific". White House Press Secretary Sean Spicer said President Donald Trump has also been informed about the incident.