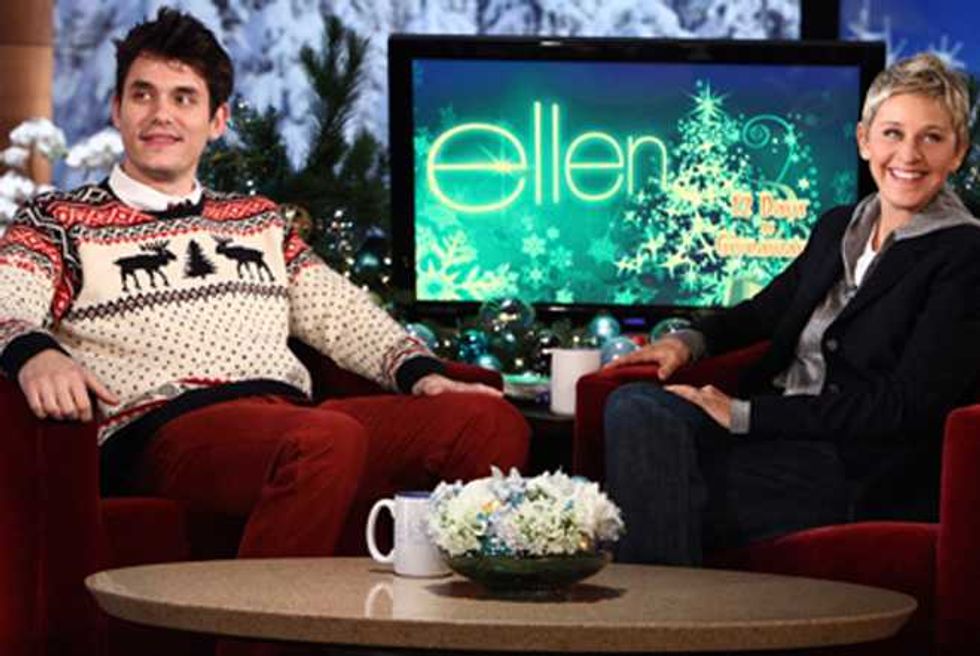 In the annals of fashion, no holiday garment is quite as reviled as the Christmas sweater. It's mocked in movies (remember the cringe-inducing reindeer jumper Colin Firth's character donned in Bridget Jones' Diary?), on television and in song. Even normally stylish pop stars have fallen under the garment's poisonous spell, whether worn casually during the holiday season or to a Christmas-themed event (the Jingle Ball's created a monster). Here are offenders for ever day of Christmas.
Gavin Rossdale
Photo credit: MAP / Splash News
The lead singer of Bush, otherwise known as Mr. Gwen Stefani, was papped wearing a blue-and-grey knit while shopping for groceries in LA a few years ago. A bystander noted that his haul included a "six pack of 'holiday spirits.'"
Snoop Dogg
Photo credit: Glamour
Snoop didn't half-ass his Christmas sweater—he went all-out, pairing a bling-wearing Frosty with a Santa Hat and his favorite accessory, an enormous doobie.
Taylor Swift
Photo credits: Crushable and Tumblr
In a series of private photos posted to Tumblr, Swifty hangs with friends while proudly modeling her Santa-bedecked top worn with gold ornament-like earrings and skinny jeans.
Pete Wentz
Photo credit: Faded Blog
The Fall Out Boy trades his typical black leather jacket and skinny jeans for a Elf hat, appliquéd red and green top and candy cane pants for an embarrassing photo op with then-wife Ashlee Simpson and his son, Bronx.
John Mayer
Photo credit: Ellen TV
John brought a bit of festive flair to the Ellen show in a reindeer and pine-tree-covered sweater and red pants.
Justin Bieber
Photo credit: Splash News
Bieber's stylist allegedly spent north of $1,700 on this cross between a varsity jacket and an XMas sweater for a Today Show appearance last November.
Brandon Flowers
Photo credit: Youtube 
The Killers frontman wore seasonally-appropriate garb in the video for "Don't Shoot Me Santa."
Hayley Williams
Photo credit: Just Stefanus 
Paramore's Hayley Williams isn't afraid of clashing. She makes her hideous Chrismas vest, adorned with a gingerbread house and a candy cane, look rock and roll by pairing it with tight plaid pants.
P!nk
Photo: Splash News
The singer sported this toned-down (and we admit, actually kind of cool looking) holiday knit for a casual lunch in LA last December.
Cee Lo
Photo credit: Ian Gavan/Getty Images
What do you wear to an even named the Jingle Ball? If you're Cee Lo, the correct choice is an XXL Christmas sweater, worn-in jeans, sunglasses and a "I Don't Give a Damn" attitude.
Dionne Warwick
Photo credit: Kevin Winter/Getty Images
The famous singer and Psychic Friends Network spokeslady looked like she was ready for a day on the slopes with her holiday choice, a red sweater featuring a skiing teddy bear.
Hanson
Zac, Ike and Taylor all donned their own take on the ugly classic to celebrate their "Merry Christmas and a Hanson New Year" special in 2010.
Zac
Taylor
Ike
Photo credits: Hanson.net