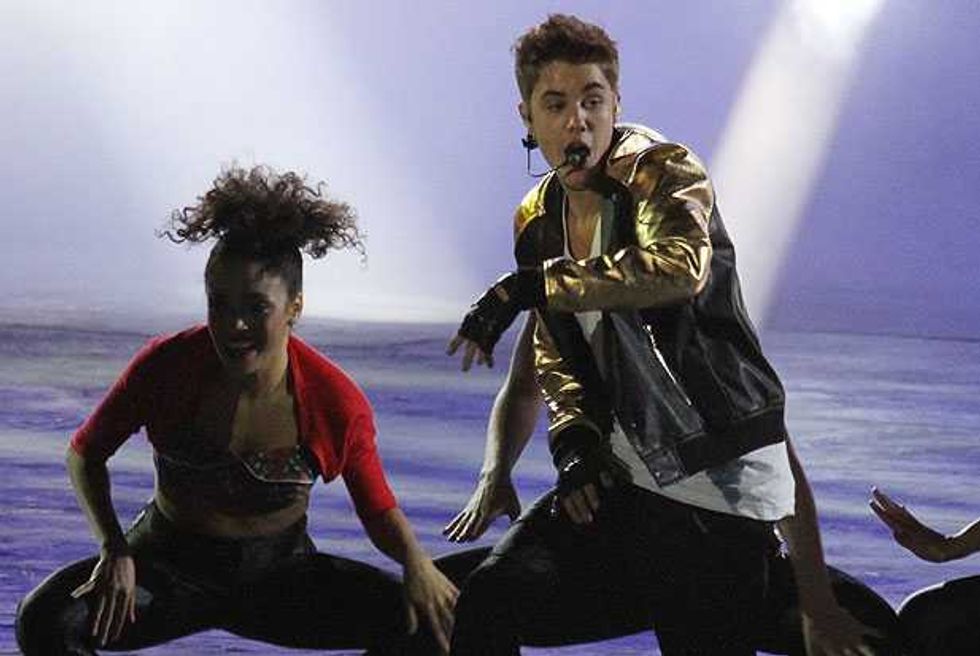 As we count down to the release of Justin Bieber's Believe, Popdust aims to bring you as much Bieber-related information as possible, delivered in bite-size, daily installments that cover everything from his live performances to tabloid rumors and expert Twitter analysis. What new Believe track will he premiere next? What foreign faux pas will he accidentally commit, with the best of intentions? And what hints towards missing Selena will be revealed while on the road?
Currently on a quick jaunt across Europe to promote his new album, The Bieb is a very busy young man, passing through cities faster than the Olympic torch. It takes a special person averse to sleep, time change and any responsibility to be able to process the information as it happens, so we've pulled the tastiest bits of news to catch you up on Bieber's Madrid Monday, as well as the weekend that was. Enjoy!
NEW MUSIC ALERT!
"All Around the World" featuring Ludacris just hit iTunes, in advance of its scheduled midnight release—always keeps us on our toes! Bieber's first performed the track in Oslo last week, sadly proving that it is not in fact a follow-up to another Ludacris song about traveling globally. But a girl can dream?
PIMPIN ALL OVER THE WORLD
After stealing hearts and slaying the French language in Paris, Bieber headed straight to Italy this weekend, for appearances in Milan and Verona. He took the stage in the former on Saturday, blinded by the lights of cell phones and glow sticks while performing acoustic renditions of "Boyfriend," "As Long As You Love Me" and "Die In Your Arms," as well as "Turn To You," the ode to his mother, the proudest Pattie in all of Canada.
After a brief respite, Bieber arrived in Spain's capital city of Madrid, where he just finished filming an appearance on El Hormiguero. (Tranquillo! It'll be translated en inglés soon enough.) Bueno, Biebito. Please make time for some jamon y queso while you're there.
THAT WAS INSANE! I love that show. El Hormiguero is always fun. All the people outside...that was incredible. I LOVE SPAIN! Gracias. Te AMO

— Justin Bieber (@justinbieber) June 4, 2012
OPEN AUDITIONS FOR HIS FUTURE GIRLFRIEND START TODAY
Or remix partner. Bieber's first fragrance caused a near-riot at New York's Macy's flagship store last summer and was responsible for bringing neck-nuzzling to the maintsream and inspiring the hilarious late-night spoofs. For his second scent, Bieber wants fans to get involved, inviting the musically-inclined to create their own interpretation of "Boyfriend," in what he calls the "Girlfriend Sing-Off." Many will likely enter, but only one will be rewarded with a free flight and real meet and greet at an upcoming Bieber show. Yes, he's making you work for it, but the reward greatly outweighs the sweat, tears and vocal strain you'll likely put into this project.
JUSTIN BIEBER FACES A LIFETIME OF FAINTING, AND OTHER HEALTH CONCERNS
Following his scary run-in with a jealous glass wall, Bieber dusted himself off and finished his performance in Paris Thursday night, despite passing out for a reported 15 seconds. We're no doctors, but it's been our experience that concussions are met with a healthy degree of caution, and not a whole lot of flashing lights and choreography. The worry behind Bieber's health led Hollywood Life to search for a second opinion, namely one that believes there's a chance the 18-year-old could faint ALL DAY E'RYDAY for the rest of his life. "It's a combination of the concussion plus exhaustion and stress from travelling and performing," Dr. Dexter Sun of New York Presbyterian/Cornell told HL. "He needs to do two things: see a neurologist and have an MRI to assess his concussion and REST!" But. There. Is. No. Time. Sidney Crosby could sit out some NHL games, sure, but Bieber can't risk to screw up plans for the All Around the World TV special.
LONG LIVE LORD RAUHL
In the midst of all the travel, Justin stays ground by what's most important. Last week he encouraged his following of 23 million-plus to help celebrate his little sister Jazzy's birthday, and today he's paying tribute to the man, the myth, the legend, Jeremy Bieber. We here at Popdust have unabashed love for the musical father responsible for helping to cultivate his son's love for Metallica and MMA fighting. So long live Lord Rauhl, the most complex of all the pop star dads.
FIGHTING WITH THE PAPARAZZI EARNS YOU SOME HOLLYWOOD CRED
After making fun of his own personal life, Russell Brand quickly chose to deflect attention on an out-of-town Bieb at the MTV Movie Awards Sunday night. Brand and the audience—we saw you laughing, Jennifer Aniston and Elizabeth Banks—had a healthy chuckle at Bieber's expense, mostly laughing at his superhuman ways, including, but not limited to his ability to allegedly "injure" photographers while still making his female following, ahem, scream. Yay new fans!
BIEBER CUTOUTS MAKE FOR EXCELLENT PROM DATES
Along with our own friendly competition for Prom King and Queen, Bieber is in high demand at social events across the country. New Jersey student Leon Purvis had long been campaigning to get The Bieb to attend his own school dance at Glassboro High School this weekend. Scheduling conflicts prevented him from receiving as much as a tweet from The Bieb, but Purvis' decision to bring a cardboard cutout of the 18-year-old old to the stage, and excellently executed Dougie moves, warranted free Believe tour tickets from Scooter Braun. Win-win!
SELL OUT
Tickets for Bieber's Believe tour officially went on sale Saturday morning, with all available seats disappearing in less than an hour. Whether this is another one of Ticketmaster's embarrassing scalper snafus or just the overwhelming demand to see the lyrics of "Die In Your Arms" realized, Team Bieber was more than humbled by the results. If your weekend didn't involve searching for Bieber tickets, it's time to rethink your priorities. Nothing you'll be doing this fall could possibly compare.
Our hopes for Bieber's next 24 hours: bullfighting, botellón-ing and flamenco dancing. Again, a girl can dream.