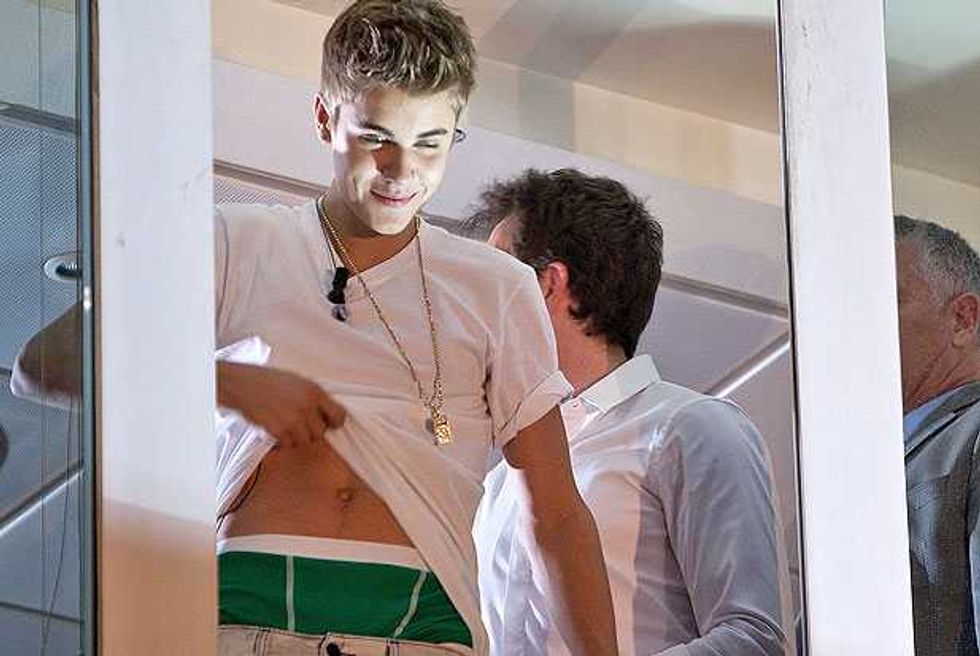 As we count down to the release of Justin Bieber's Believe, Popdust aims to bring you as much Bieber-related information as possible, delivered in bite-size, daily increments that cover everything from his live performances to tabloid rumors, as well as our own profound Twitter analysis. What new Believe track will he premiere next? What foreign faux pas will get him in hot water? And what hints of missing Selena will be revealed while on the road?
ANOTHER SONG, ANOTHER #1, ALL OVER AGAIN
"All Around the World" hit iTunes on earlier than expected Monday night, for reasons unbeknownst to The Bieb and his powerful inner circle. The extra hours and large scale Twitter promotion have helped Bieber continue his trend of releasing Believe songs straight into the iTunes Top 10, a sensation he's dubbed #BIEBERBLAST. Currently at No. 2, the Ludacris collab is inching towards the top spot where it stands to dethrone a certain number by his mentee, Carly Rae Jepsen. But has your song been sung by Barack Obama, JB? No, not yet.
WE SEE LONDON, WE SEE FRANCE...
Some wave, others throw up a peace sign, but in exotic locales like Spain, Bieber has determined that the only proper way to greet his fans is by showing his lower abdominal muscles and elastic underwear band. We're sure plenty of Beliebers have envisioned the color and style of Justin's underthings, but now the longstanding boxers vs. briefs debate can be laid to rest. There he goes again, being a culturally appropriate gentleman and all.
MEET LIL SWAGGY!
While a few seconds on a Justin Bieber song helped rapper 2 Chainz accrue 40,000 new Twitter followers, their work together wasn't solely a one-sided transaction. After collaborating on the "Boyfriend" remix, the Atlanta rapper left his mark by way of additional hip-hop cred, and a new pet name. "I call him Lil Swaggy," Chainz told MTV, commenting on the Bieber's surprising physical maturity compared to the days of purple sweatshirts and bountiful bangs. "I saw him and when I saw him, I didn't even know it was him, I didn't even recognize him. He had grown up a lot from me seeing him on TV."
YO PUEDE SER UN CABALLERO
The Bieb made an appearance on one of his self-proclaimed favorite programs while in Madrid, performing an acoustic version of "Boyfriend." Joined by his traveling guitarist, Bieber stayed grounded for the length of the track yet treated the audience of El Hormiguero to an even smoother version with elongated pronunciations that lingered on words like "fondue." Cheese never sounded so sexy.
IF YOU WANT AN AUTOGRAPH, JUST ASK
The Bieb is happy to oblige—as long as his security detail is within close reach.
IT'S NEVER TOO EARLY TO CAMP OUT IN ROCKEFELLER PLAZA
He's still traveling internationally, Bieber has officially given Beliebers the signal to start making their pilgrimage to New York, where he'll be performing on Today Friday June 15.
everyone back in NYC...make sure you come see me bring #ALLAROUNDTHEWORLD to the @TodayShow on June 15th. #FREESHOW - GET READY!

— Justin Bieber (@justinbieber) June 5, 2012
We know there are things like school and jobs, but it's a free show, so you really have no excuse not to be there.
Previously: Today in Justin Bieber: "All Around the World Hits," The Search for an Unofficial Girlfriend Begins