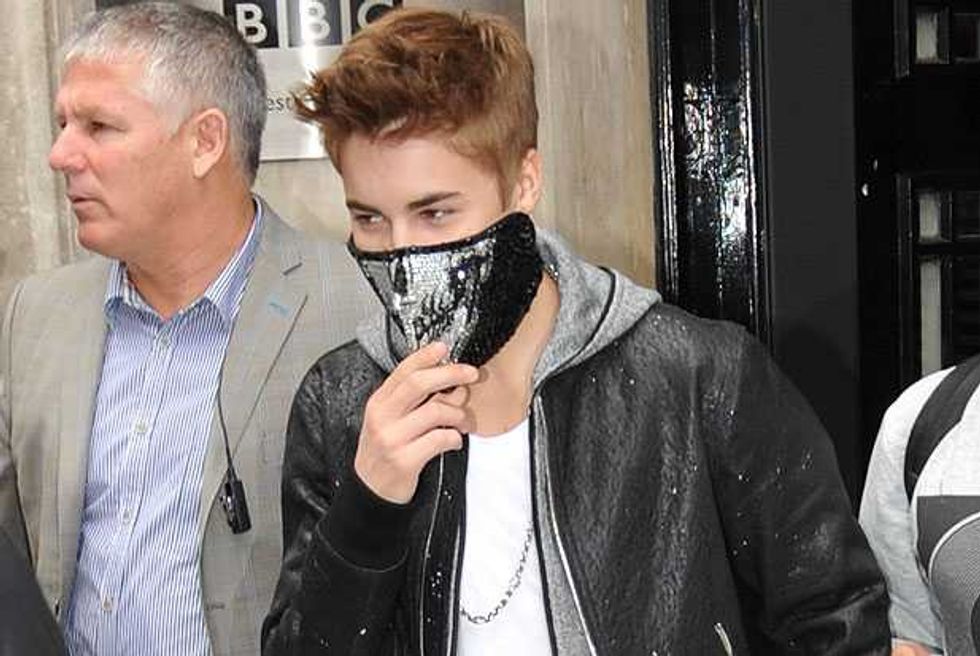 As we count down to the release of Justin Bieber's Believe, Popdust aims to bring you as much Bieber-related information as possible, delivered in bite-size, daily increments that cover everything from his live performances to tabloid rumors, as well as our own profound Twitter analysis. What new Believe track will he premiere next? What foreign faux pas will get him in hot water? And what hints of missing Selena will be revealed while on the road?
FOLLOWING IN MJ'S FOOTSTEPS
Das Racist may have preceded him in the Michael Jackson impersonation department, but Bieber has flirted with staples from The King of Pop's iconic performances throughout the early stages of Believe promotion this year. Whether a deliberate nod to Jackson's surgical mask phase or an attempt to fulfill the obligation of trying out crazy fashions while traveling abroad, Bieber had many onlookers confused with his sequins skull mask, worn over his mouth while exiting BBC Radio on Wednesday. Even with the new accessory he still took photos with those who had congregated outside—mommy, the bad man scares me!—after previously hiding behind an iPad and under the seat of a taxi earlier in his stay. He's been photographed in this contraption a ton, and the photos are already making the rounds giving us until late September before principals begin to administer bans on mask-wearing during school hours.
GONNA BE A SUPERMODEL
Bieber leaves The U.K. tonight, heading straight for Berlin, Germany and the loving arms of Heidi Klum. He's scheduled to perform on the finale of Germany's Next Top Model on Thursday, alongside the likes of Maroon 5 and Gossip. Somebody watch Adam Levine around the finalists—we know they're not top models yet, but he's probably just looking to plan ahead for the rest of his year. Frau Klum might only be looking for The Bieb to perform "Boyfriend" and rattle off a few key phrases in her native tongue, but he also has some modeling experience, should one of the ladies get Nancy Kerrigan'ed backstage by Kenny or Ryan.
IT'S A DATE
In the midst of his busy schedule, Bieber made an important date with Megan Ham, a superfan who understands the true meaning of "believe." The 11-year-old Vancouver native was diagnosed with Lissencephaly, a rare neurological condition that affects only 1,500 people worldwide and has left her unable to walk or talk. A recent profile by Vancourver's Fox affiliate revealed the importance of Bieber to Ham and her family, explaining that she "lights up" whenever his music plays at home and listening to him has greatly improved her quality of life. After being introduced to his fellow Canadian via manager Scooter Braun, Bieber sent a tweet early Wednesday setting up their meeting for October:
MEGAN you stay strong for me and I'm gonna make sure we meet when i come to Portland. Love you and Thank You :) - kptv.com/story/18712884…

— Justin Bieber (@justinbieber) June 6, 2012
And judging from his track record, we know he's a man of his word.
CERTIFIED
Vevo unveiled their new Certified Award on Wednesday, an honor given to those clips with over 100 million views. "Baby" leads all contenders with a 745,511,423 total views to date; a total of eight Bieber videos have earned the"Certified" label, tying him with Rihanna for the most among artists. Expect a full-fledged assault of Bieber-only programming to be unveiled on June 12 in celebration, with similar treatment given to pop peers like Katy Perry and Selena Gomez in the weeks that follow.
WHAT THE HECK IS BARLEY WATER?
Oh, England, you strange, beautiful beast. You can't expect to serve Young Bieber your rare delicacies without so much as an explanation as to what they are or what they'll do to his taste buds. Even if he never tries any food or drink without having Scooter spit it out first, Bieber took to Twitter to alert the masses that he'd been stumped by a British beverage:
what the heck is barley water? #london

— Justin Bieber (@justinbieber) June 6, 2012
As far as Belieber responses go, we appreciate the boldness of @smithge0rgie. Just wait until you get to New York, Bieb. We have these crazy things called bagels that will BLOW YOUR MIND.
Previously:
Today in Justin Bieber: Boxers or Briefs?
Today in Justin Bieber: "All Around the World Hits," The Search for an Unofficial Girlfriend Begins