"This album has been a long time coming. Now, it's surreal because it took so long. It's been two years since the start," Kramer admits about his brand new studio album, Fairground.
"I'd like to have a chat with the boy I was, I'd like to have a drink with the man I'll be," Brooklyn's own Todd Lewis Kramer considers on the closing track Working on Me of his brand new album⎯the self-examinating lyric also happens to be his favorite line of the entire record. It's a raw, stripped-down performance which gives the singer-songwriter a chance to really impress. A simple, haunting guitar and glowing harmony adorns the track; it's a fine example of Kramer's commanding ability to tell gut-punching stories. "That lyric is a good summation of the album. I'm 28. I'm basically on that cusp of adulthood. When I wrote that song, it was the perfect lyric for the time. That song, in general, is the strongest one I have. I'm pretty proud of that one," he shares with Popdust recently. "That's the most raw song of all of them."
Standing at only 10 tracks, Fairground (out now) speaks to Kramer's youth, entering "real life" and coming to terms with himself. "I'm pretty much only able to write songs from personal experience. I think that who you are is a huge stepping stone to being better in relationships, better in life, in general. It's important to understand who you are as a person," he says, mulling over the past nearly-three decades of his life.
"Without being able to do that, you're not going to be able to give yourself to anybody else. That's something I'm constantly struggling with, and it's probably something that will rear its head in songs forever. That's a huge part of growing up. The difference between songs I wrote at the beginning of this album to now, there's a lot of wisdom. I've grown up a lot. It's still definitely a daily thing, with coming to grips with who I am."
Songs like Barely Sleeping, Anna (one of the album's most essential crown jewels) and Counting Down the Days are earth-shattering in their simplicity and storytelling, enveloping every ounce of wisdom, musicality and unfettered grit Kramer can muster. For all intents, Fairground is his watershed moment; the moment he burst through the noise and defined not only his music but his entire reason for living.
Kramer chatted, at length, about his new collection of songs, personal and professional breakthroughs and advice he'd give to his 15-year-old self. Dig into our Q&A below:
Did you know heading into this album how much work it would be?
Not really. I had recorded an EP in the past, and we had breezed through it. I'm very proud of it, but we did it as fast as possible. This time, I went in knowing I would take my time with it. There are a lot of moving parts when you are recording an album and you are funding it yourself and you're working around schedules.
What made you decided that this was the time to put out a full-length album?
I think it was just time. I don't think there was a specific moment. It was time to lay down all these songs. I got a little bit of encouragement from my friends who ended up producing the album, Jeremy Siegel and Sam Merrick. They were basically like 'let's do this thing.' I thought it was a really good time to do it. There were a lot of songs I had written over the years that hadn't been properly recorded. I thought I had a pretty cohesive album ready to go. We decided to go for it.
Were there different manifestations of the album?
If anything, we added songs. For the most part, the album was set and ready. We ended up adding a track to give it 10 songs, which was one of my favorites on the album, a song called 'Anna.' I brought that in pretty late in the process. That ended up being a great song. Having 10 songs is a good number for a full-length album. I have been playing these songs live for awhile. The good thing was we had pretty much built the songs as we wanted them to be. Then, we fine tuned them when we went into the studio.
Anna is one of the older songs you included. Why was it important to include material from 5-6 years ago?
That song is a really intense song for me, personally. It was more of a hesitation to include such a deeply personal song, not that my other songs aren't personal, but it's more personally intense. That was a hesitation on my part. But once the band signed off on it and we started building the song, I was like 'this has to happen.' It's cool to have these older songs on the album because each song has its own timestamp in my short songwriting career so far. It's awesome for me to think these songs are still strong enough to put on an album. I do think there is some wisdom in these older songs that still stand up in time.
There's that old age "you have your entire life to make your first album." Did you find it essential to have your entire life represented on the album?
Yeah, I think so. It makes for a nice package. I know when I wrote all these songs and how they sit in my mind. It's a great idea of representing the whole journey so far. Some of these songs I wrote at the very beginning of my career and then some of these are relatively new. It's interesting to have a start and end.
What are some of the personal breakthroughs you've had over the years?
Technically, I wrote my first song when I was 15. I didn't play the guitar at that point. My best friend from home was a guitar player. He wrote some chords, and I wrote some lyrics. I wrote a song about a girl. That was definitely a breakthrough, just because even though it is cringeworthy to think about that song, it was still a song. That was an important step. Then, I got to the point where I wanted to be able to play and accompany myself. The same friend said 'hey, you can just learn the basic idea of the guitar, which will help you.' I did that. I finally wrote a song on the guitar, and then, I wrote some more. I was 19 or 20, I played a song for my mom and my sister. Obviously, my family has always been super supportive. They were like 'oh, this is kind of good,' instead of just shaking their head and smiling and saying 'oh, that's sweet of you to write a song.' That was a big step for me.
After college, I moved to the city, and that's when I really started focusing on writing. I started booking gigs, too. That was a huge breakthrough -- to play live in front of people. That's something I never thought I'd do. I'd always played in talent shows and played cover songs, but booking my own gig in New York was like going from zero to sixty. The rest is history.
What would you tell your 15-year-old self?
To be a little more prepared to adversity. I had a pretty easy childhood. Once you start getting into the real world and start experiencing real-life things, it's good to be ready to handle things. I had to make a big adjustment coming from that to my first real heartbreak and how to live in the city. It was pretty overwhelming.
Why did you decide on New York over Nashville?
It's something I think about a lot. Basically, I grew up 90 miles away from New York, so I always assumed I would move here. I grew up coming to the city. I love the city, and I'm comfortable here. Even though people are like 'Nashville's great for your sound and you'd be great there,' I love New York. There's a lot of great music here and songwriters to connect with. I don't consider it a huge step back living here instead of Nashville. Now, if the opportunity arose where Nashville made more sense to me, I would definitely be open to it. I didn't want to just up and move to a foreign land when I have this great city basically in my backyard. The music scene is solid here. I mean, it is overwhelming. It's not necessarily the singer-songwriter capital of the world, but there's a scene you can become a part of.
Were you exposed to country music growing up?
My mom started listening to the country radio station when I was probably in high school and college. Growing up, it was oldies. My dad would listen to jazz. Then, I basically grew up with what was on the radio. There were still CDs at the time, so it would be CDs around the house. I would listen to whatever. To be honest, I didn't really grow up listening to country music. I was more of a pop guy. As I started writing and playing, I got into that alt-country, singer-songwriter style. I started listening to a lot of Ryan Adams and older country. It sort of fit my voice and my guitar playing. I found something, and it stuck. I would consider where I'm from a pretty country town. There's a lot of nostalgia and self-reflection on the album. A lot of that comes from where I'm from. Every time I go home now, there's a different feel.
Did you ever return to some of the albums you grew up listening to for inspiration?
Not really. I grew up in the era of Dave Matthews and John Mayer. I evolved away from that. I'm always listening to music and thinking about music. I get inspired by a lot of things. The old stuff, not so much. I am mostly looking at contemporary stuff. I'm sure there's something deep-seated in my brain, though, from listening to those albums. [laughs] I don't usually go back and listen to stuff I grew up listening to that much.
Make sure you grab a copy of Todd Lewis Kramer's outstanding new album Fairground now on iTunes.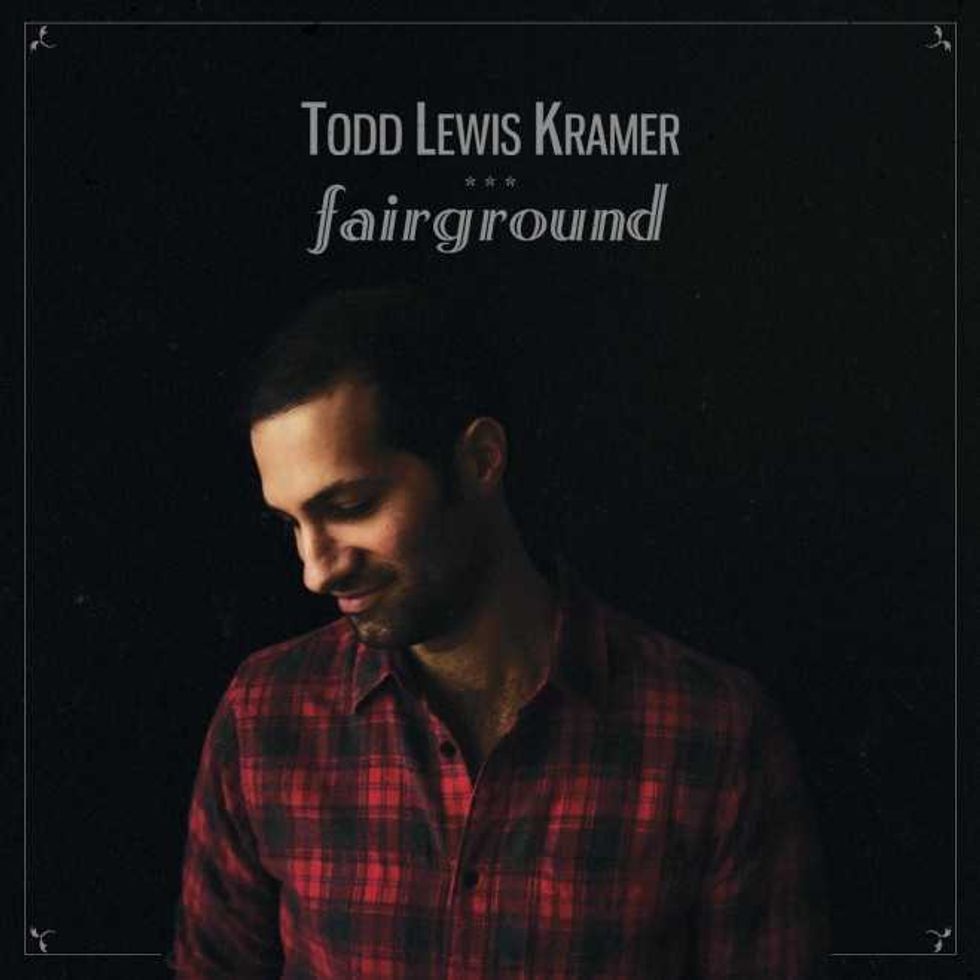 [PHOTO CREDIT: Shervin Lainez] 
Stay tuned for music updates. Be sure to follow @Popdust and @JasonTheScott on Twitter!