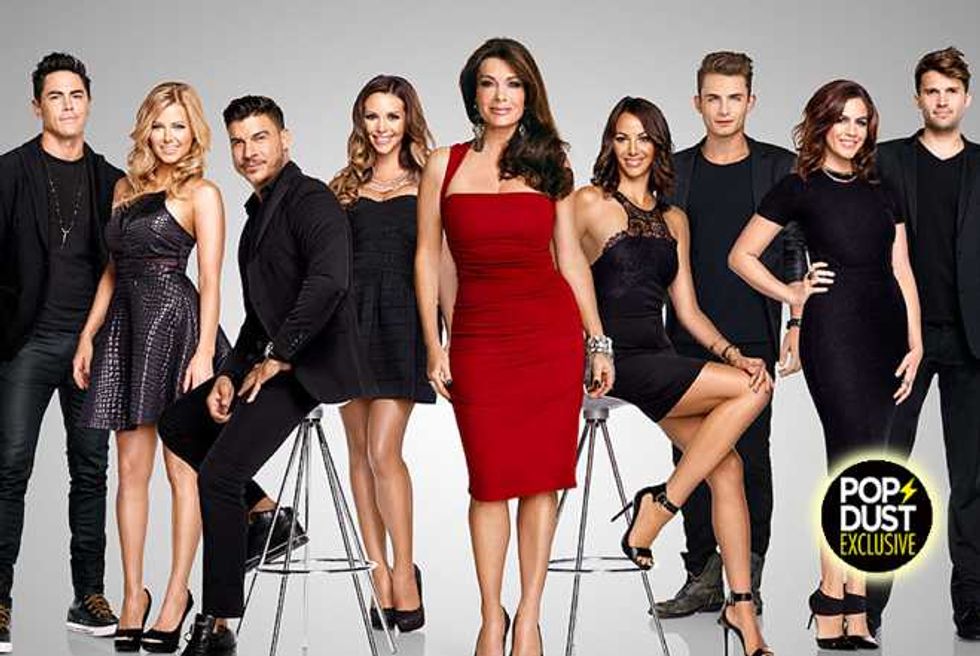 tom sandoval pumprules new season
Did you catch last night's premiere of Vanderpump Rules?
According to Tom Sandoval, we're going to be in for a roller coaster ride this season, as everyone's favorite bad girl, Stassi Shroeder, returns once again, Jax Taylor showcases a new girlfriend, Kristen Doute carries on riding the crazy train, Sheana Marie and Mike Shay battle it out, newly engaged Tom Schwartz and Katie Maloney bring the drama, and new girls Faith Stowers and Lala Kent join the cast.
PumpRules—Sex And Drugs And Getting Jax'd—Oh My!
Popdust sat down for an exclusive interview with the ever-hunky Sandoval—and he dished on what to expect in season 4.
Something tells us the craziness has just begun.
What have you been up to since we last saw you at the end of season 3?
Me and Ariana are still living together. We've been settling in and did some traveling. We definitely took some time off from SUR, which created some friction with Ken and Lisa, obviously. You'll get to see that when the season starts. I've been working a lot on my music project, Charles McMansion, which you'll also see later in the season.
PumpRules—Ubergate Scandal Shows Kristen's Level Of Desperation
A lot of your storyline last season revolved around Kristen. Has she laid off you this season?
Yeah, she's definitely backed off. I think seeing herself was definitely a lesson and motivated her to do so. We try our best to stay away from her but it's hard because we have the same friends. You're definitely going to see some issues unfold with that. Just because she's backed off with the attacks towards Ariana and I, doesn't mean she's stopped trying to befriend all of my friends.
Tom Sandoval, Ariana Madix Talk Cray Cray Kristen, Miami Mayhem And More!
Speaking of shit stirrers, Stassi has returned. What are your thoughts?
As far as her saying everything she said last season about not returning, I tend to take people on their actions. She said she was too good and obviously she wasn't because she's back. I'm definitely not a big fan of Stassi and I never really put up with her shit. She talked a lot of shit on us and the show. I can't really trust her intentions with coming back. It's to further her career, not because she truly wants to fix friendships. These people are all my friends and there's a lot of love there. I don't think Stassi has that same kind of love. She's had plenty of times before filming to fix things. But with Stassi, once the cameras are rolling, she's sorry.
TOM's TAKE—Sandoval Talks Grooming: How To Look Your Best In Winter
After a roller coaster relationship last season, Tom and Katie are engaged! Will we see more drama unfold with them this season?
Like any relationship, there's turbulence, but I feel like they've both really grown as individuals and because of that they've grown together. They're doing really well and I definitely believe they're going to last.
Jax has a new lady friend. Do you think they'll last or will Jax quickly go back to his old ways?
She's great. She's a really nice person and has obviously had to put up with a lot because, well, it's Jax. I definitely feel strongly about them doing well and working out more so than any other girls Jax has dated. Old habits die hard, but I've seen a better version of him since he's been with Brittany.
TOM's TAKE—Sandoval Talks Style: Finding The Perfect Wedding Tux
We see some pretty heavy drama unfold with Scheana and Shay this season. What can you tell us about that?
You're going to have to wait and see, but with any relationship things come up that you eventually have to deal with. I think as people we sweep problems under the rug and pretend they're not there. You're going to see a side of Scheana and Shay this season that you've never seen before.
Tell us about the new cast.
Ahhhh yes, Faith and Lala. They didn't necessarily come in to stir things up, but that's just what happens with our crazy group. Lala was a good addition not only to our cast, but to our group of friends.
PumpRules Tom And Ariana Talk Miami, Stassi Sex Tape, 'Delusional' Kristen
What should we expect for season 4?
You're going to see some friendships put to the test in different ways than the past. There's some surprises on that front. This season is different, but I think it's our best one yet. It doesn't follow suit with the other seasons and isn't all about cheating rumors and stuff like that. People will be able to relate to a lot of our issues. I think our show is revamped and reborn. There's a variety in the issues we deal with and the things that happen. It's going to be a really fun season.
Tune into Bravo Mondays at 9/8 central to catch all new episodes of Vanderpump Rules