CULTURE
Tomi Lahren really hates brown people for some reason.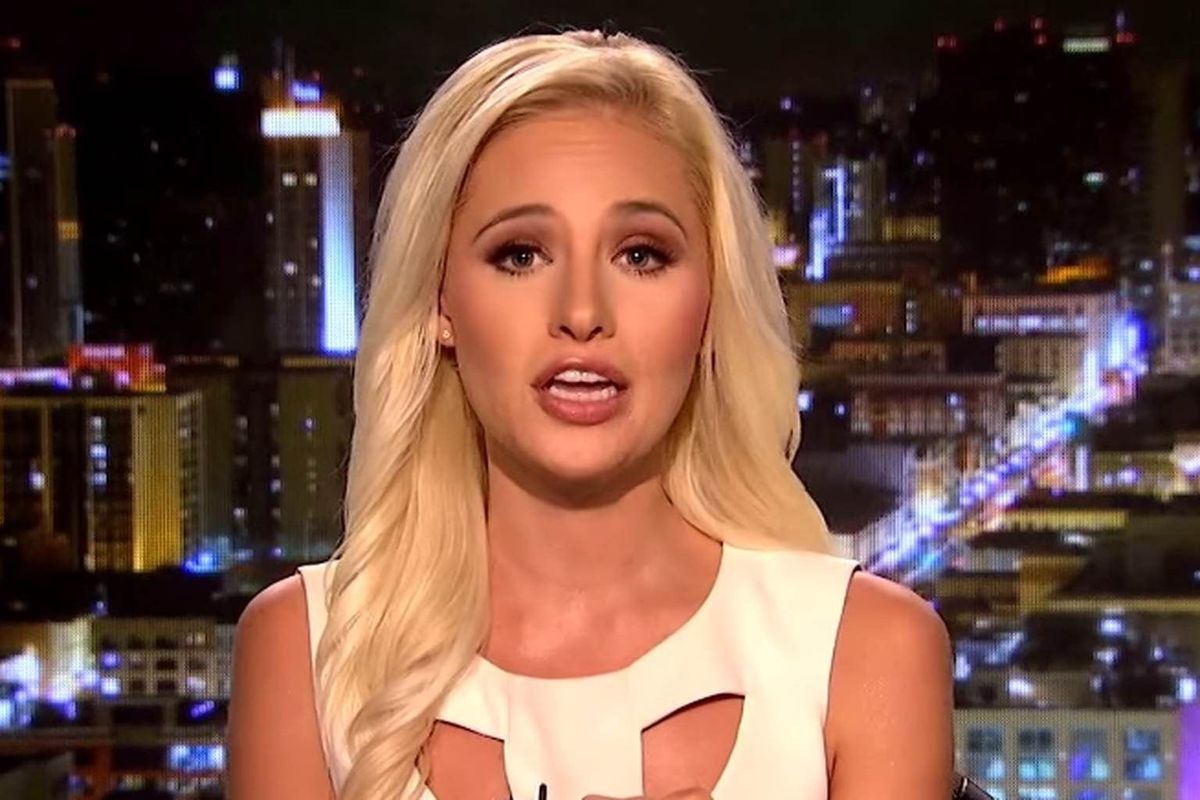 The NFL is entering a partnership with Jay-Z's Roc Nation to consult on live shows and future social justice efforts for the league (like their Inspire Change initiative to positively influence local communities).
This made Tomi Lahren very angry, because she's an unapologetic racist.
Jay-Z will be consulting with the NFL for the Super Bowl halftime show and other performances because apparently th… https://t.co/QbgAsig23N

— Tomi Lahren (@Tomi Lahren) 1565729954.0
For Tomi Lahren, the idea of a ridiculously successful black man using his life experience and significant influence to help guide young black men is just so upsetting. And when Tomi is upset, that means it's time for her to break out racists' favorite dog whistle: trying to denigrate a black person's success by suggesting that person is a criminal.
To be clear, Jay-Z has long been upfront about growing in Brooklyn's Marcy Projects and dealing drugs when he was young. As he told Vanity Fair in 2013, being surrounded by that kind of desperation inspired him to improve his life. "At some point, you have to have an exit strategy, because your window is very small," he said about drug dealing. "You're going to get locked up or you're going to die."
But belitting people and being a screeching racist is kind of Tomi's whole thing. Tomi Lahren's Twitter reads almost like a robot account with the sole directive to yell about brown people. This isn't one of those "she disagrees with liberals, so she's racist" situations, either (which hardly exist by the way...if people are calling you racist, it's probably because you're racist). This is a "Tomi literally spends all her time yelling at and about brown people" situation.
Here's Tomi raging about Colin Kaepernick:
Crybaby Kaepernick's @Nike commercial is nominated for an Emmy. For what? Best comedy? What a joke.

— Tomi Lahren (@Tomi Lahren) 1563389963.0
Here's Tomi joking about deporting 21 Savage:

I got one, two, three, four, five, six, seven, eight ICE agents ready to deport ya. https://t.co/tivP1Ljj8V

— Tomi Lahren (@Tomi Lahren) 1549234017.0
Here's Tomi supporting ripping immigrant parents from their families while their children are at school:
I 100% support the ICE raids but why the hell are we announcing them??? 🤦🏼‍♀️🤦🏼‍♀️🤦🏼‍♀️🤦🏼‍♀️🤦🏼‍♀️

— Tomi Lahren (@Tomi Lahren) 1562949411.0
To be clear, this is what Tomi supports:
'I need my dad': sobbing 11-year-old pleads for father's release after immigration sting www.youtube.com
Here's Tomi suggesting Kamala Harris slept her way into her position, a take so bad that even Fox News slammed it:
Kamala did you fight for ideals or did you sleep your way to the top with Willie Brown?

— Tomi Lahren (@Tomi Lahren) 1564619193.0
And here's Tomi being real salty that a brown lady is far more successful, beloved, and important than she is:
Good lord @AOC you're so moronic you're making Nancy Pelosi seem like the voice of reason. That's how far the Democ… https://t.co/yd0voXNQfU

— Tomi Lahren (@Tomi Lahren) 1562936393.0
In that last one, Tomi was making fun of Alexandria Ocasio-Cortez for crying during the testimony of a mother whose 19-month-old daughter died after being detained by U.S. immigration. While this was very upsetting for AOC (a living, breathing human with compassion for others), it was apparently hilarious to Tomi Lahren.
Tomi Lahren's Twitter makes one thing very apparent: Tomi Lahren does not like brown people.