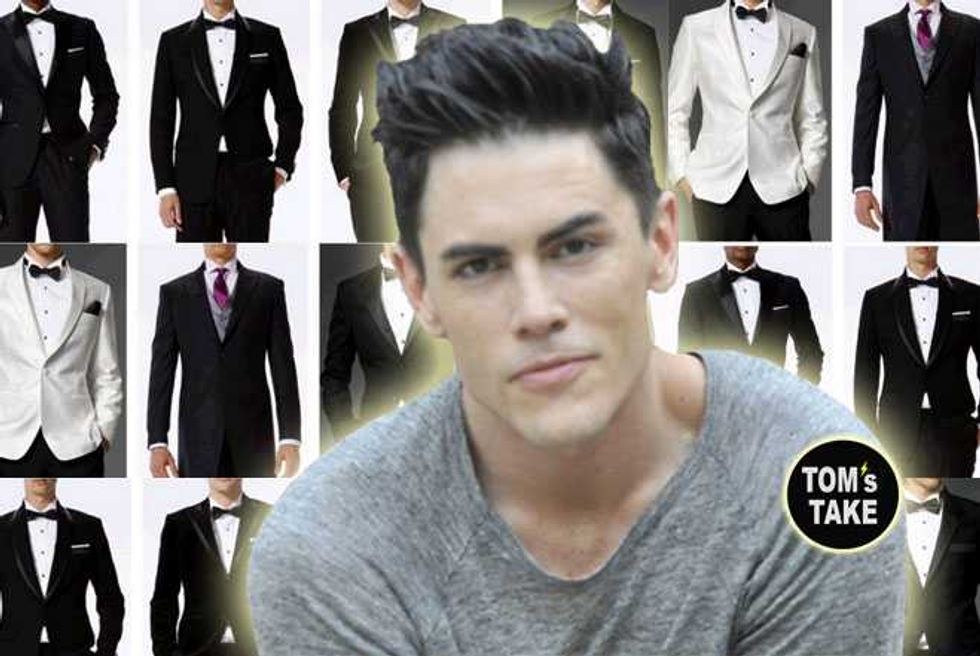 Welcome to the very first installment of Tom's Take—your Thursday style stop where Tom Sandoval discusses men's fashion, grooming and lifestyle.
This week, Tom talks wedding style and finding the perfect tuxedo.
Hello everyone, I'd like to take this opportunity to acknowledge how amazing my friends' Scheana and Mike Shay's wedding was on the last couple of episodes of Vanderpump Rules.
PumpRules—Ubergate Scandal Shows Kristen's Level Of Desperation
We all know the bride is the main focus on the big day—but, it's important that the groom looks every bit as stylish—and guys, when it comes to your wedding tuxedo, if possible, you should save the rentals for your groomsmen—and not you.
For Scheana and Shay's wedding, I really wanted to do something special for Shay. As soon as I found out they were engaged, I told him I would buy his tux as a wedding present. I feel like when people get married, the bride is usually showcased in a stunning custom wedding gown, while the groom is stuck wearing a boring and baggy, ill-fitted, rental tux.
Tom Sandoval Dishes On 'Revamped, Reborn' PumpRules—Season 4 Is Best Yet!
To prevent Shay from suffering the same style-less fate, I wanted him to have something special... a garment signature to his personality. That's why I decided to buy Shay his tuxedo jacket. I feel that the groom's appearance is just as important as the bride's, and wanted to showcase Shay too. The groom deserves to look just as amazing as the bride.... well, at least as close as he can.
Shay had originally wanted to wear a white tux with tails with high-tops. I figured all he needed was to see a couple of pics of tailed tuxes to change his mind. In my opinion, tails scream old school, usually worn with high wasted pants. Pairing them with high tops screams super '80s—only missing a mullet to seal the deal. Unless you are super slim, tails often end up accentuating the mid-section and creating an over-all diamond-like shape appearance, especially when you unbutton the jacket. I started sending Shay pictures of different tailed tuxes, and we finally both agreed on the fact that tails were out.
I was originally going to have Shay's tuxedo made from scratch, but we were only two weeks away from the wedding at that point, and most tailors don't have the fabric for white tuxedos at the ready—so time restraints nixed that idea. However, I was determined to keep Shay away from renting, so, I hit the keyboard—and the streets—to track down the perfect tux.
After much online research, and running around LA, I came across an amazing white, classic yet current, Hugo Boss tuxedo jacket with a black, rounded Shawl lapel.
Pro tip: when shopping for a custom tuxedo, make sure to have a piece of fabric from the bride's wedding dress with you for

comparison—especially if you are trying to match. No two colors are the exact same, including white.
With some convincing, I had Shay come with me to a tailor to have the jacket custom fitted to him. He was initially nervous that the word "fitted" would translate to a jacket that is snug and tight. However, instead, I put more emphasis on shortening the sleeve to show the perfect quarter-to-half-inch cuff of the dress shirt underneath—there's nothing like showcasing those fancy cufflinks on your French cuffed shirt when you bend your arm to sip your champagne or martini. They also fixed a bit of gathering that happened when the jacket met up with the collar.
I also hired someone to embroider "Shay" into the underside of the back of the collar—after having the underside and overside fabrics separated to ensure that the stitching would not show through when the collar was flipped down. I suggested green for the embroidery because of Shay's Irish heritage. I also thought using green would break up the overall black & white color scheme of his outfit—but, of course, I double checked with Shay before moving forward. (I actually wanted to have his family crest embroidered or printed on the inside of his jacket, but unfortunately ran out of time.)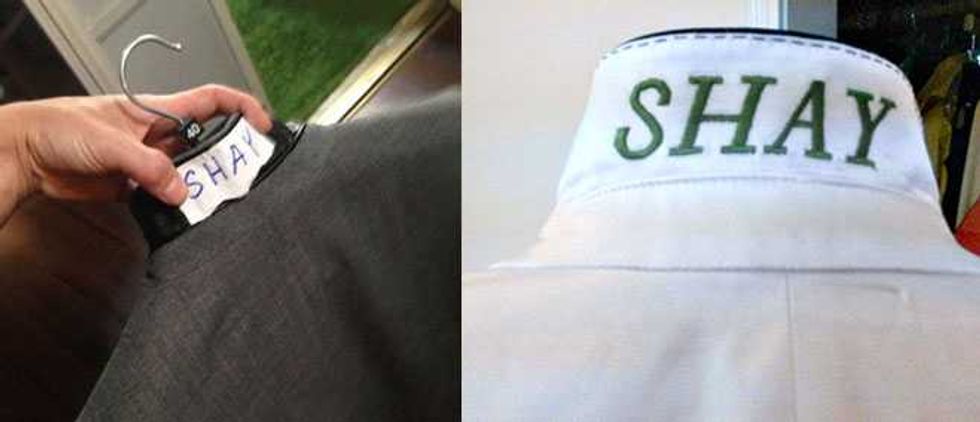 My idea was for Shay to have a tied bow tie, with his collar down for a clean look at the wedding. For the reception, the bow tie could hang untied while having the embroidered collar flipped up to go with his fun, laid back personality—complimenting his high-tops.
Overall, Shay's tux was not what I would consider cheap (close to $900 after tailoring), but seeing him look like a million bucks—and the (almost!!) jealousy I felt—was priceless!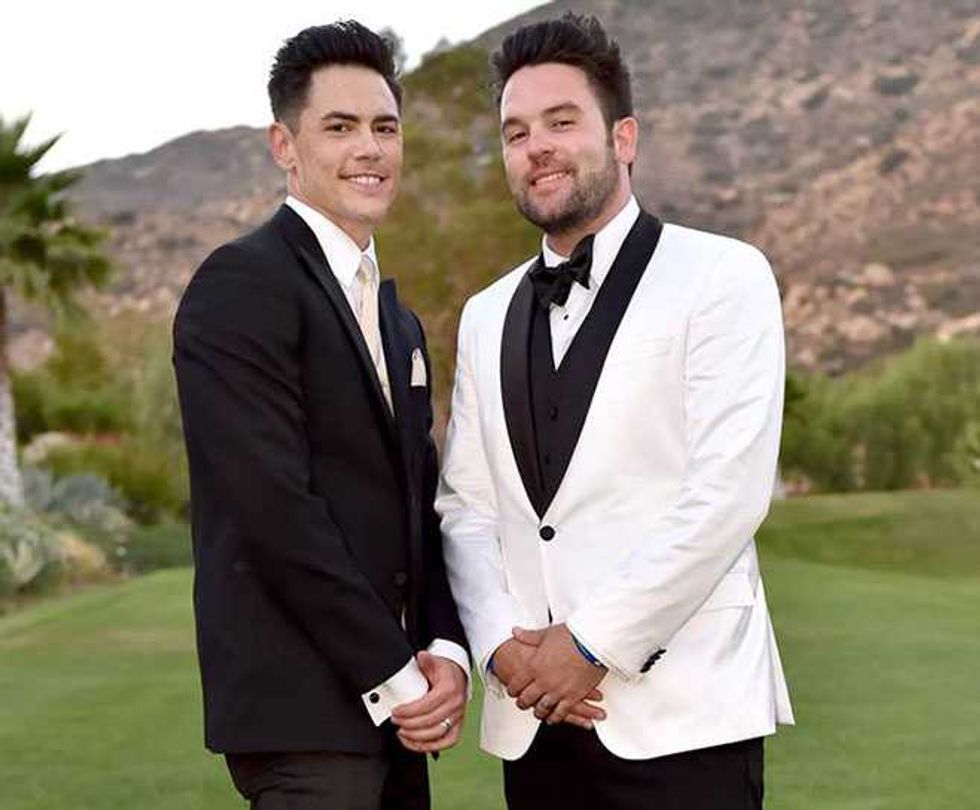 When it came for me to buy a tux a few years ago for the Cannes Film Festival, I couldn't afford to spend much money at the time, so I ended up going to Men's Warehouse. I had found a pair of used tuxedo pants for $20, and bought a single button jacket for $75. Then I went and had them tailored for $60.
Mens' tuxedo pants run incredibly big, even if they are a slim fit. I normally wear a 31", but in tuxedo pants, that size would be too big in the legs and the butt. None of the ones that I tried on in my size fitted like the European style I was going for. So, instead, I bought a pair of 27" pants that fitted perfectly in the legs and back, but didn't fit on the waist. When I took them to the tailor, I had him take out the pants to fit my 31" waist. The result was a pair of pants and full tuxedo that looked as though it was made just for me.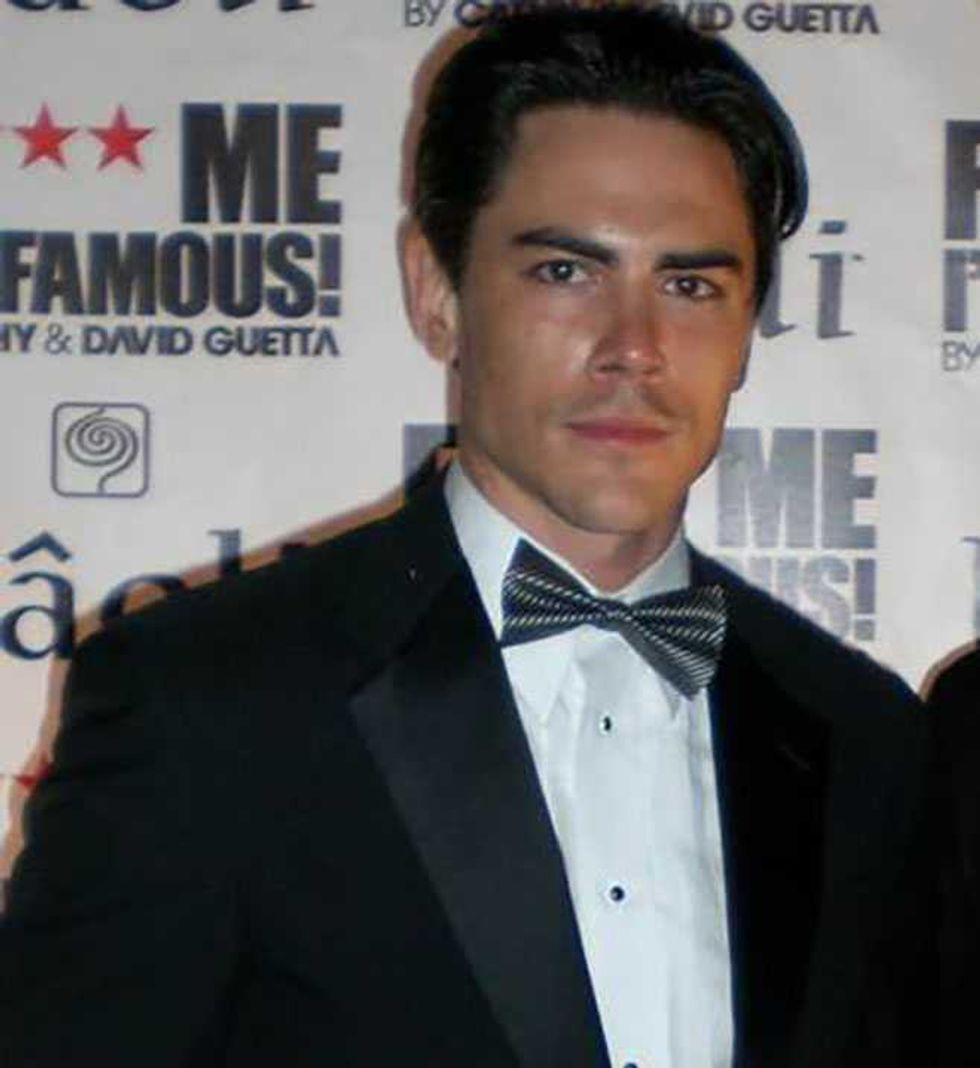 The point that I'm trying to make here, is that you don't have to spend a fortune in order to get your own custom tux. Mine looked and fitted like a $1,000 suit, but cost less than the average rental—which is around $200. I not only saved money, but I now had a tuxedo that fit perfectly....well at least for a while—Sadly, I left it in the overhead compartment on a connecting flight in Germany, and it was never seen again. R.I.P. Tuxedo.
When it comes to what to wear on your wedding day remember these points:
Give yourself time! I would've easily been able to find a jacket very similar to Shay's Hugo Boss one, at a fraction of the $$$, if I could have waited an extra week to have it shipped in from overseas.
Your jacket doesn't always have to be a tux. For instance, a blue jacket accompanied by black tuxedo pants and a tuxedo shirt will sell the look of a tuxedo just fine. Don't just go running to the local tux shop and look through their catalog. Get online and image search until you hit the jackpot!
When you find the one, BUY don't RENT. That rented 40 reg jacket is made to be worn by you AND the guy wearing it next week who's maybe sporting 40 more pounds in the mid-section, but happens to have the same size chest/shoulders as you. Renters only adjust pant and sleeve length.
If you find something too expensive online, trust me, where there's a will, there's a WAY. You can probably find something similar that's WAY cheaper than you think if you keep looking and shop smart.
Your look doesn't have to be tuxedo. Many people get married in suits. Just make sure your suit comes across classier than the rest by possibly adding a vest if your groomsmen are similarly dressed to you. I recommend for the most part to stay away from linen or other fabrics that stretch and wrinkle easily unless that is the look you want.
A suit or tuxedo doesn't have to be expensive to look upscale. It should be all about the fit and not the brand. Most of the time with expensive suits, you are actually paying for the fit and not the fabric. Make sure there are no language barriers between you and your tailor.
The length of your tux or suit pants and jacket sleeves should be shorter than normal. There should be only a slight break in the front crease of pants at the most, and a quarter-to-half-inch of your dress shirt protruding from the sleeve of your jacket with your arms at your side. Don't stress if you feel like your pants flood too much when you sit down. Besides dinner, the only time when you will NOT be on your feet is after the wedding when your pants will most likely be off and strewn across the floor of your hotel room.
In summary:
Don't settle. Be specific. It's your day too, dammit! Don't settle for the rental. Your soon-to-be wife wouldn't, and neither should you. Save it for the rest of the wedding party. Your wedding photos are going to be hanging somewhere in your home for (presumably) the rest of your life.
If and when I get married, among other things, I have definitely thought of what I will wear. Obviously I'm a ways off, but there exists a color called Sandoval Blue and I can assure you that it will be somehow included in the ensemble of epic.. and who knows, maybe a jet pack while I'm at it!
I guess you'll just have to wait and see...
Check back on Popdust next Thursday for a whole new TOM's TAKE