MUSIC
Looking back at the most memorable moments that made 2017 a banner year for the culture.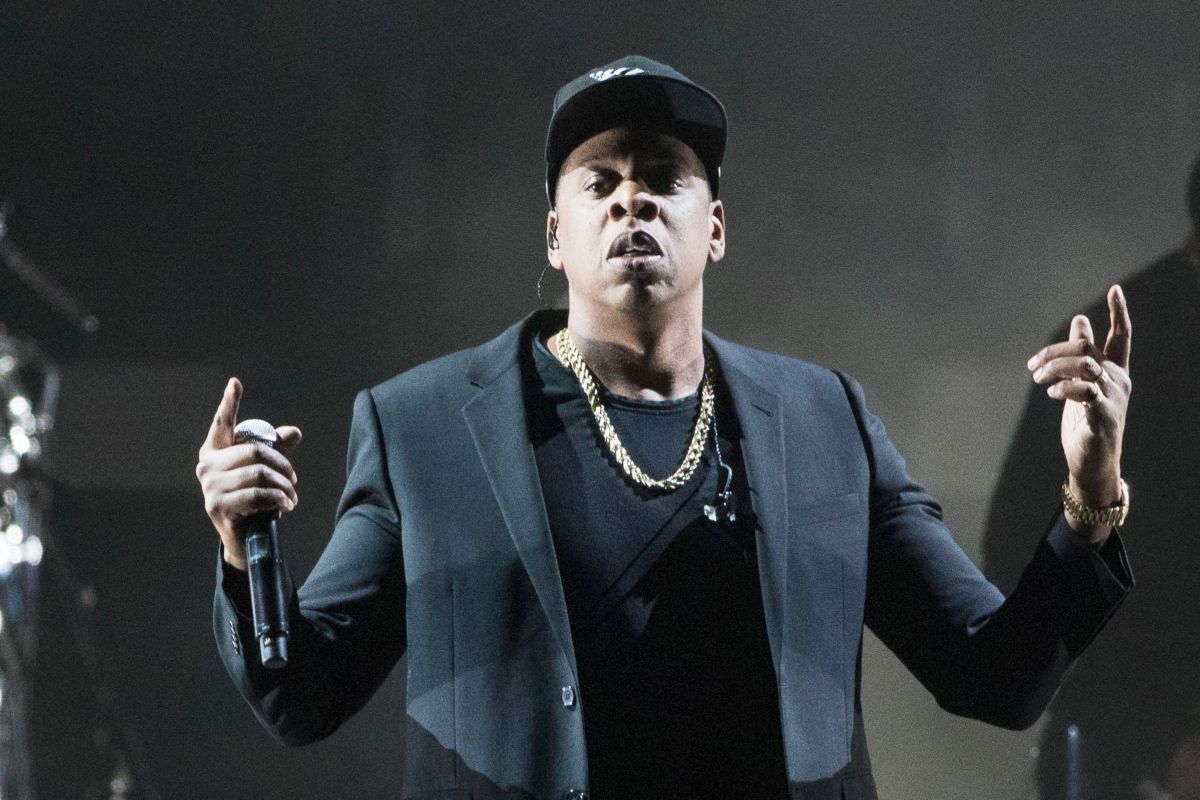 2017 was the year that Hip-Hop became the most popular music genre in the United States.
According to Neilson music stats, Hip-Hop is more streamed and consumed than Pop and Rock. For those who have been fans of the culture for years, even decades, the numbers are now a reflection of the influence rap music has truly had over mainstream America.
Since the days of Run-DMC on MTV, rap music has had a stronghold on popular culture. It has inspired fashion trends, dance moves, and slang which has permeated other forms of entertainment. Hip Hop artists are just as visible as any A-List actor or top athlete and have fans who are of the former and the latter. But the music itself is only a small part of what makes Hip-Hop popular this year.

The moments that happened outside of music helped with the overall visibility of the art that originated from The South Bronx. We took a look at the 10 moments from the beginning of the year to the most recent that helped make Hip-Hop the king of the music mountain in 2K17.
---
1. Donald Glover Shouts Out Migos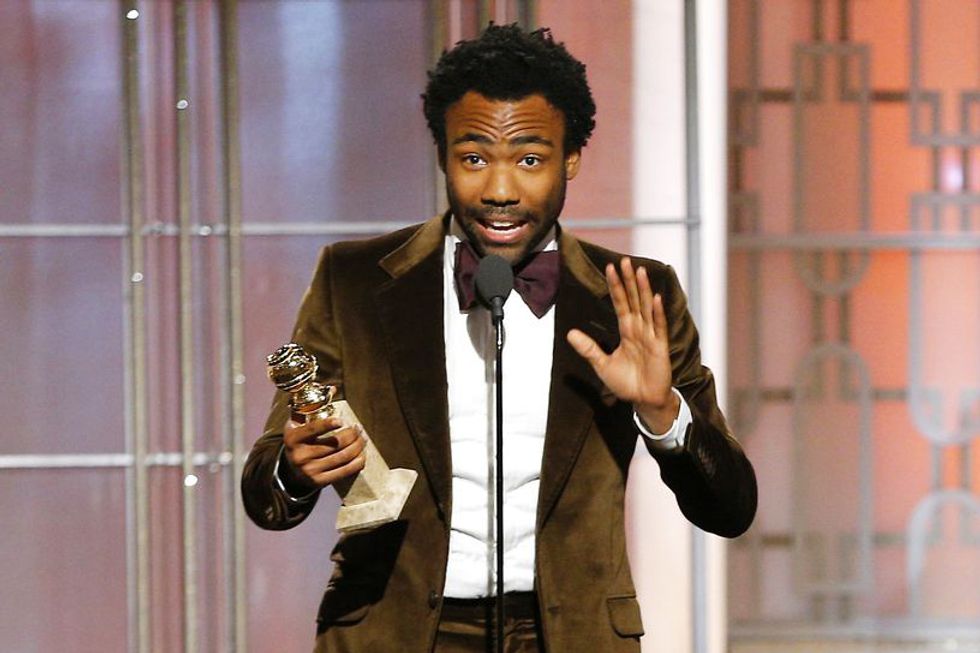 January 8, 2017 -- Hip-Hop Renaissance man Donald Glover kicked off the year by winning a Golden Globe for Best Comedy Series for his FX series "Atlanta". The actor/writer/musician/ who adheres to the moniker Childish Gambino gave what would be perceived as an odd nod to the rather bland Golden Globe audience to Atlanta's Hip-Hop supergroup Migos and their song "Bad and Boujee". "I'd like to thank the Migos — not for being on the show, but for making 'Bad and Boujee," said Glover. "I think that they're the Beatles of this generation and they don't get a lot of respect, I think, outside of Atlanta." This cosign went from Gambino's mouth to God's (well, listeners) ears as Glover's shoutout spurred a 243% Increase in Spotify Streams for Migos' "Bad and Boujee".
---
2. Chance The Rapper Wins Grammys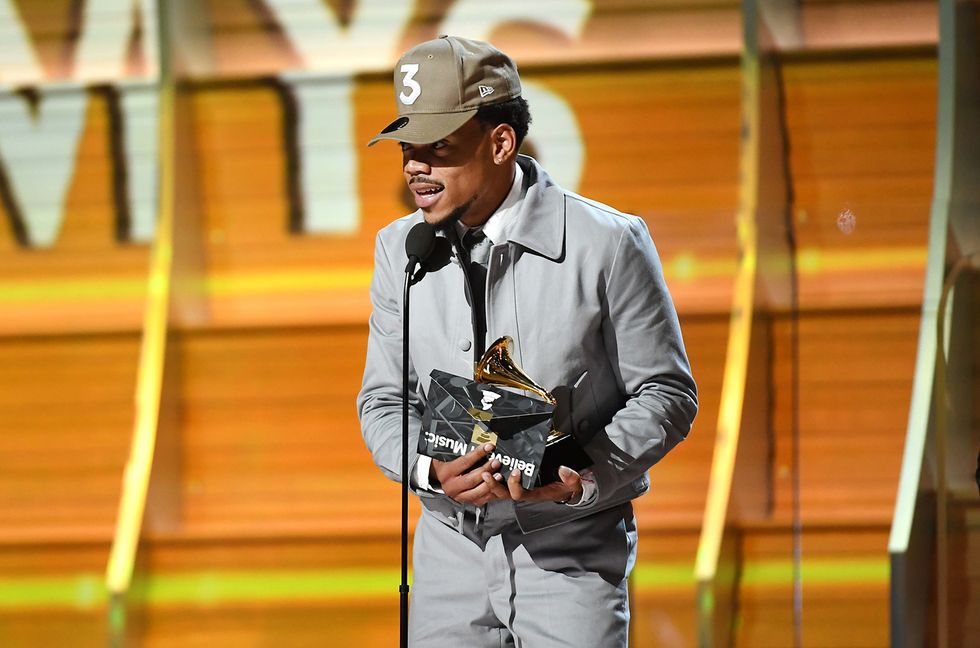 February 12, 2017 -- Chicago's own Chance The Rapper took home some hardware on Grammy Night for not only being talented, but innovative. Chance was nominated for 7 Grammy's off the back of his 3rd mixtape "Coloring Book" which was released exclusively through Apple Music in 2016 and his contributions to his mentor Kanye West's album "The Life Of Pablo". Chance won 3 Grammy's including Best Rap Album and Best New Artist. "Coloring Book" is the 1st album to chart on the Billboard 200 solely from streams and Is the 1st streaming-only album to ever win a Grammy.
---
3. Nicki Minaj vs Remy Ma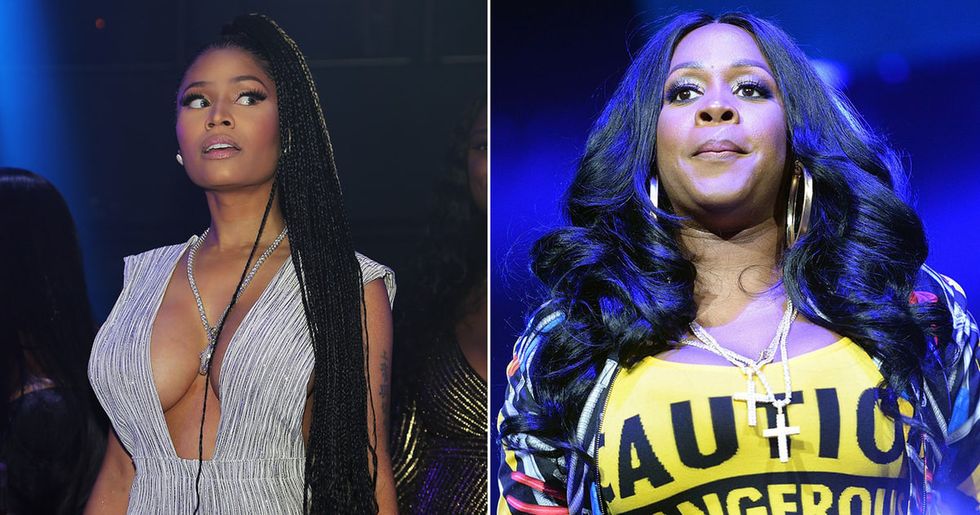 February 25, 2017 -- For the nearly a decade, Nicki Minaj has been hailed as the undisputed Queen of Hip-Hop. With chart-topping singles and a fan base that spans across all genres of music, Nicki had very few contenders who were a threat to her title. Bronx femcee Remy Ma started her reascension to the throne that she forfeited back in 2008 when she was incarcerated. Remy picked up right where she left off when she was released in 2014. She was featured on "Love and Hip Hop: New York", and was nominated for a Grammy's for the song "All The Way" with Fat Joe. Initially, it seemed as if the two respected each other and didn't have any issues. Until Remy released her diss record "Shether" which was over the beat of Nas' legendary Jay-Z diss "Ether". The nearly 7-minute onslaught gave fans a glimpse into the apparent tension that was simmering between Nicki and Remy. Remy took jabs at Nicki's industry politics, her business dealings with her label, and Nicki's brother who was then on trial for sexually abusing a minor. The diss sent shockwaves through the Hip-Hop community. Nicki would respond to Remy in a song called "No Frauds", and Remy would respond with another record. Since the release of "Shether", the two alpha females have been known to throw occasional jabs at each other in interviews and various records.
---
4. Kendrick Lamar releases "DAMN."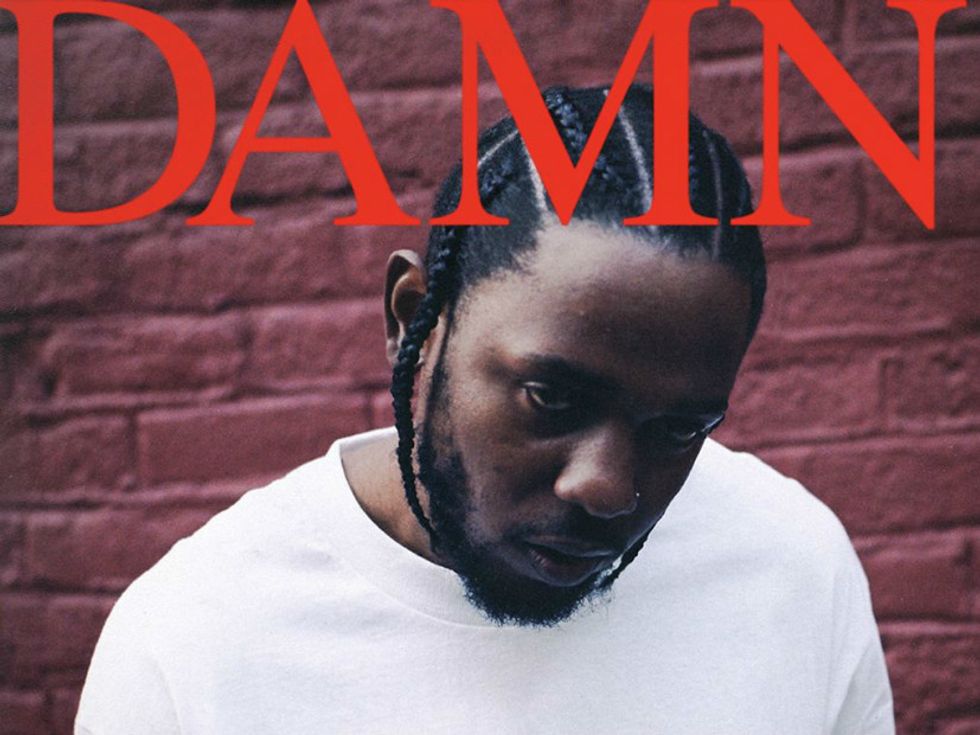 April 14, 2017 -- Since bursting on to the scene in 2012 with his debut album "Good Kid, M.A.A.D City", Compton emcee Kendrick Lamar has been labeled as the voice of the new generation of Hip-Hop by fans, critics, and a large variety of his peers. Known for his vivid storytelling and captivating visuals, King Kendrick has set the bar time and time again whenever he's released a body of work. This was no different when he dropped his 3rd studio album "DAMN." in April of this year. "DAMN." like most of Kendrick's albums, plays like a story and contains guest appearances from Rhianna, U2, and legendary New York DJ Kid Capri. The album's lead single "HUMBLE." debuted at number two and later peaked at number one on the Billboard Hot100 with the album itself debuting at number one. "HUMBLE." is also the only rap song to sell over 1 million digital copies in 2017.
---
5. Prodigy Passes Away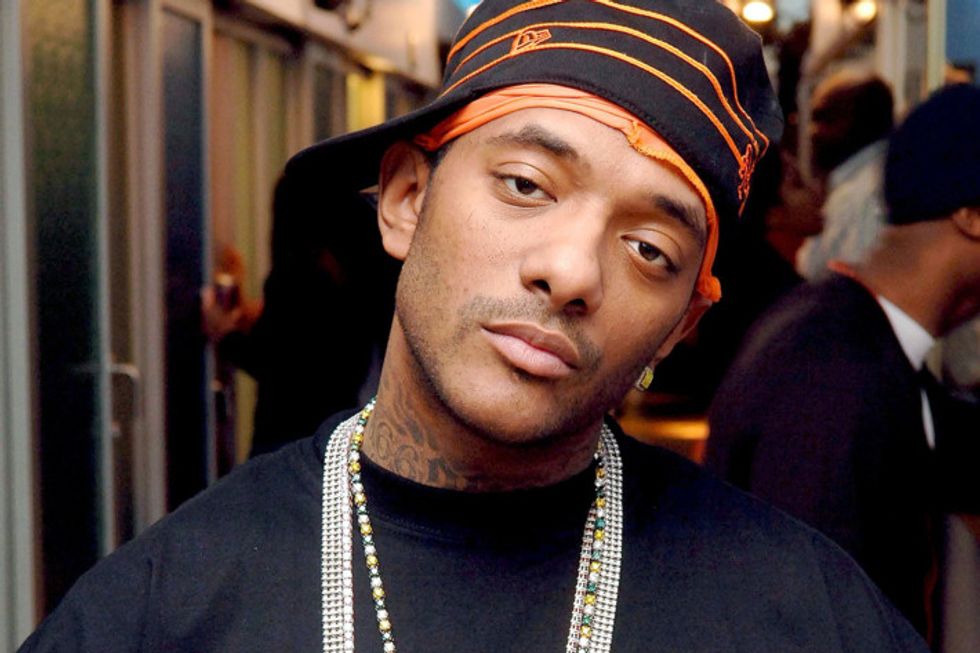 June 20, 2017 -- Hip-Hop lost a legend this year when Queens emcee and one half of the rap duo Mobb Deep Prodigy passed away. The rapper died from accidentally choking in a Las Vegas Hospital. Prodigy, born Albert Johnson, was receiving treatment for his sickle-cell anemia which he's battled his whole career when he choked while eating eggs. His funeral was held in New York City where the likes of Diddy, 2 Chainz, and Raekwon all gathered to pay respects to a man who was both to them an artist and a friend. As one half of Mobb Deep and a solo artist, Prodigy helped shape the soundscape that was East Coast Hip-Hop in the 90s and early 2000s. A mural was painted in the rapper's hometown of Queens to honor him but has since been removed after being vandalized on two occasions.
---
6. Migos and Joe Budden Face Off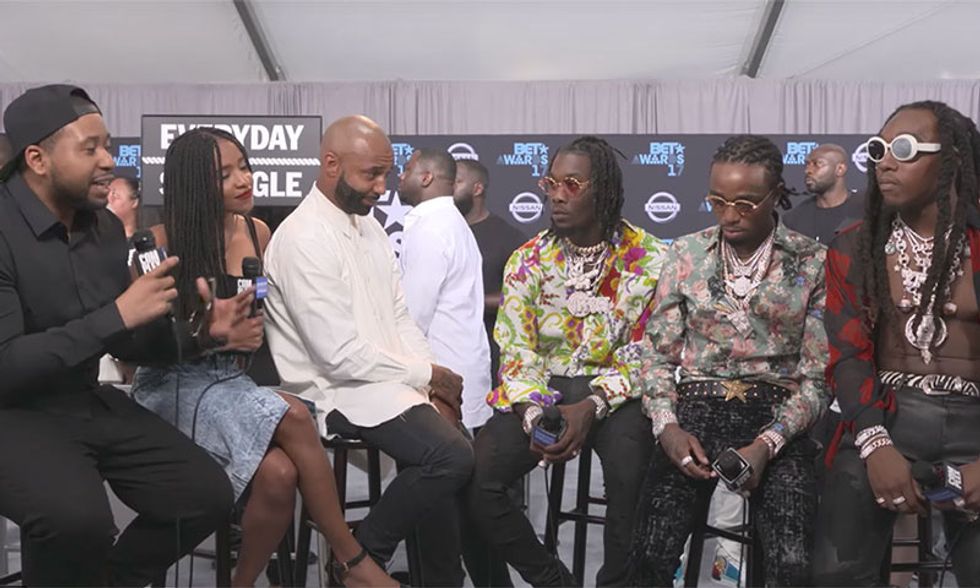 June 20, 2017 -- 2017 saw the debut of the Complex online show "Everyday Struggle". Hosted by rapper Joe Budden, YouTube personality DJ Akademiks, and moderator Nadeska Alexis, the show is a First Take like platform that discusses topics in Hip-Hop in which the shows hosts' comments often times come off as controversial and offensive. The weekend of The 2017 BET Awards was the stage for one of the show's most controversial AND confrontational moments. The "Struggle" crew were interviewing Migos on the red carpet, where tension between Joe and the grouped boiled over. Budden, known for his uncompromising and harsh temperament was annoyed at Migos tepid responses and standoffish disposition. One of the more awkward but memorable moments happened when DJ Akademiks questioned Migos member TakeOff about being left off of their smash single "Bad and Boujee". TakeOff response was "Does it look like I got left off of "Bad and Boujee?", but his low tone was inaudible causing DJ Akademiks to respond with "Huh?" a few times causing him to repeat the question. Joe, visibly frustrated, demands that Akademiks wraps up the interview. He then tosses his mic and walks off camera, which Migos took exception to, prompting all 3 members to stand up as if to confront Joe. No physicality took place, but the clip went viral and was the inspiration for many memes and gifs.
---
7. Jay-Z releases "4:44"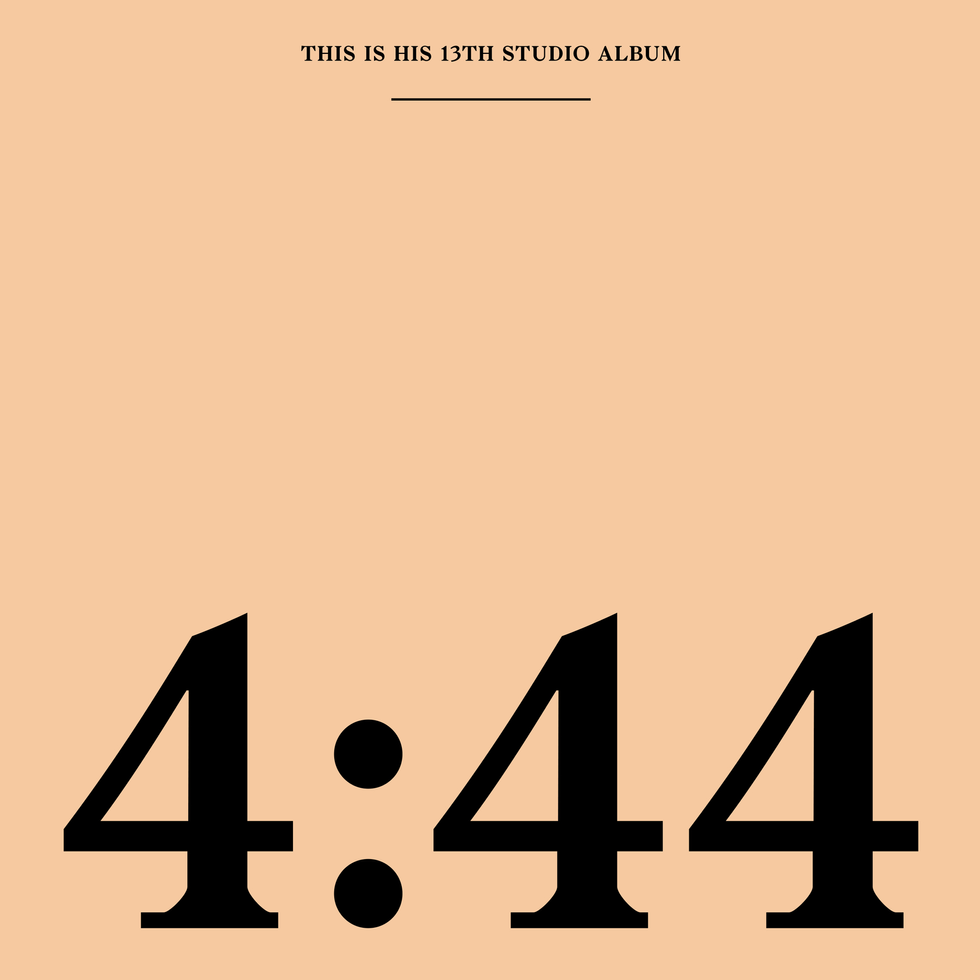 June 30, 2017 -- It's been 21 years since Jay-Z released his debut album "Reasonable Doubt". Since then, he has become not only one of the wealthiest men in Hip-Hop but one of the most influential men in the world. So, you could imagine the excitement when rumblings of a new album emerged in the beginning of 2017. Those rumblings would reveal themselves to be his 13th studio album "4:44". This album isn't just a testament to Jay's longevity and his ability to have his finger on the pulse of Hip-Hop, but it was a body of work that delved deep into who Shawn Carter really is. From making amends for his infidelities to educating his people on the importance of financial freedom, Jay was able to display a sense of maturity without coming across as an out of touch old man. "4:44" is heralded by critics as yet another classic in the discography of the man from Marcy known as "Jigga". Prior to the album's release, Jay-Z was inducted into the Songwriter's Hall Of Fame making him the 1st rapper in history to have been done so.
---
8: Cardi B Goes Number 1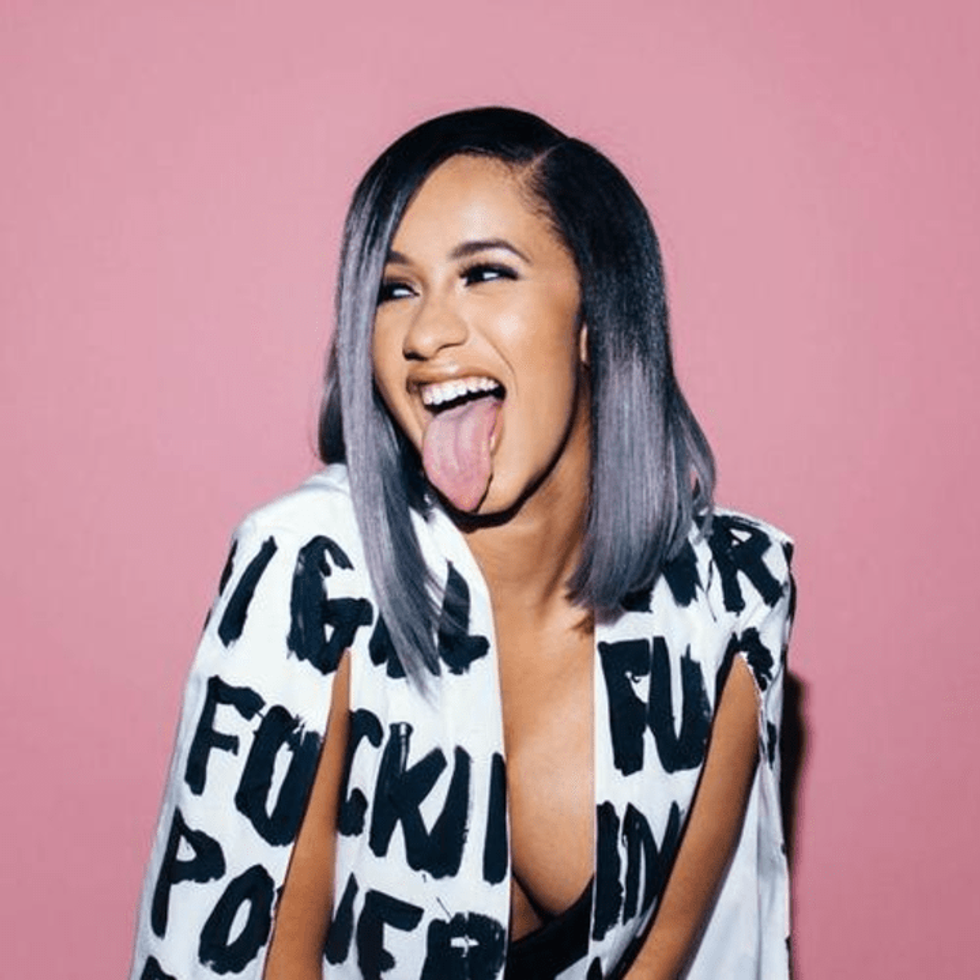 September 25, 2017 --Lauryn Hill's "Doo Wop (That Thing)" was the last time a female rapper held the number one spot without any other featured artists...That was close to 20 years ago. Fast forward to 2017, and The Bronx's Cardi B has broken the streak. The former stripper turned Hip-Hop star charmed her way into our hearts as a cast member of "Love and Hip Hop: New York" with her brash but funny personality and antics on social media. She used these platforms to bring attention to her music career and the result was the infectious yet braggadocios smash hit "Bodak Yellow". Patterned after Kodak Black's 2014 song "No Flockin", "Bodak Yellow" debuted at number 85, but through support from radio and genuine love for both her and the song it only took a few weeks before it jumped to number 14 on Billboard Top 100. The song officially went became number 1 in September. Since then, Cardi has won a BET Hip Hop Award for Single Of The Year and recently became engaged to her boyfriend, Migos member Offset. Cardi's debut album is slated for a 2018 release on Atlantic Records.
---
9. Eminem's BET Hip Hop Award's cypher verse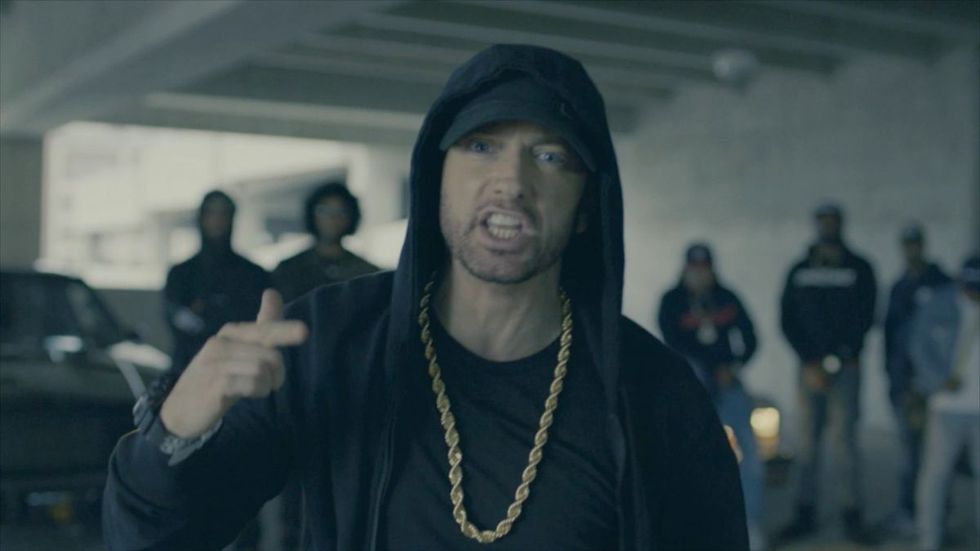 October 10, 2017 -- "This is the calm before the storm". Those were the word's uttered mocking a comment made by President Donald Trump before Eminem unleashed a lyrical tirade in his cypher at this year's BET Hip-Hop Awards. The cyphers normally showcase multiple emcees's displaying their best bars over a beat provided by a DJ. Eminem's, however, did not include a beat and his bars took aim at the Commander In Chief, systemic racism, and his support for NFL player Colin Kaepernick. The almost 5-minute verse comes across more as a poetry slam than a rap verse, but nonetheless, it's filled with plenty of venom for anyone's who is in support of Trump and what he stands for. Many applauded the 45-year-old Rap God for using his privilege and this platform to speak on issues that are hot topics in this political and racial climate. Eminem since has released a single titled "Walk On Water" featuring Beyoncé and his album "Revival" is expected to drop before 2017 is over
---
10. Gucci Mane and Keyshia Ka'oir's wedding.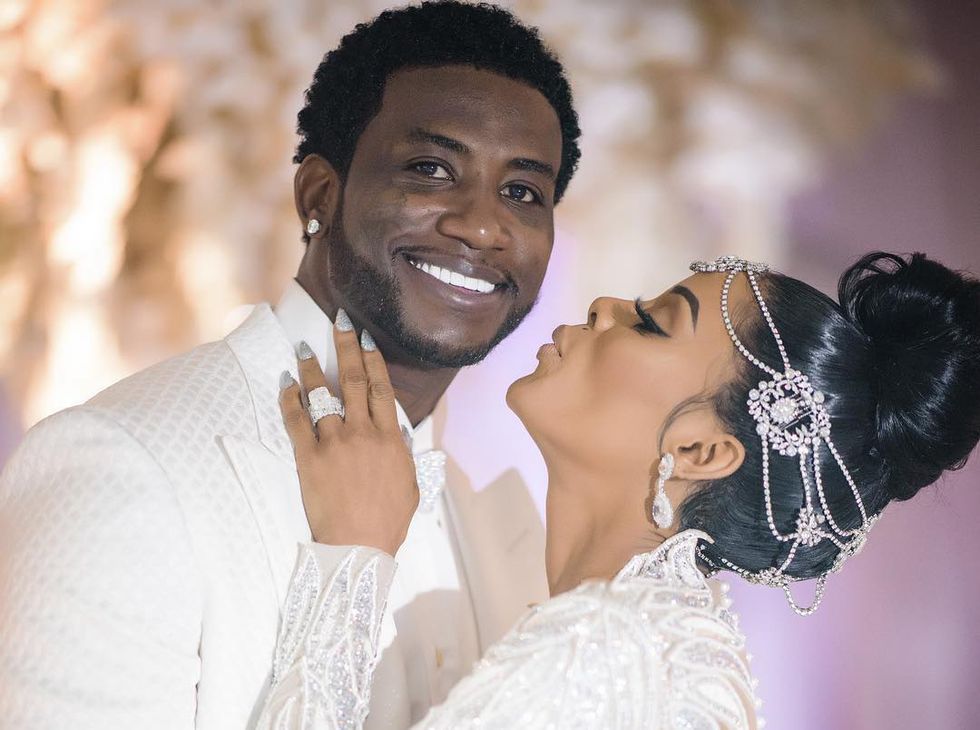 October 17, 2017 -- When Gucci Mane was released in May of 2016, No one would have predicted the complete 180 he did. He lost weight, gave up drugs, and started to be more of an asset than a liability in the business world. He was much more invested in his relationship with longtime girlfriend Keyshia Ka'oir. The couple had been together for quite some time, but it was when he was last released and seemed to be on a better path that we got a good look at a burgeoning Hip-Hop power couple. It has been said that while Gucci was incarcerated, Ka'oir took care of his affairs and even turned a profit on money he had given her to invest in. With a clearer mind and new mission, Gucci decided to make an honest woman out Ka'oir and proposed to her at an Atlanta Hawks game back in November of 2016. The couple got married on October 17th, and the wedding itself and the events leading up to it were made into A BET special called "Gucci Mane & Keyshia Ka'oir: The Mane Event. The couple's wedding was estimated at a whopping $1.7 million.
---
Deascent is a Hip Hop artist, music writer and on-air personality for "Popdust Presents". He's also the co-front man of The Cold Press. Follow him on Instagram.
---
POP⚡ DUST | Read More…

Popdust Presents | TruthCity: Never Let Me Down
BIG BOI -- Exclusive Interview!!! He talks about Atlanta and latest video
Popdust Presents | DERRICK MILANO: Play No Games
From Your Site Articles
Related Articles Around the Web